Another example of 027 successful aspiration. Presentation is expressive aphasia
There is an old left parietal stroke
We challenge anyone to prospectively recognize that there is an occlusion on a CTA, without perfusion imaging.
This is where perfusion is key.  The purpose here is not to make a decision re go vs not go — but to make a quick and efficient diagnosis of a vascular occlusion and help look for the missing branches.  Also important to note that this is somewhat posterior and superior to Broca's area so really helps localize.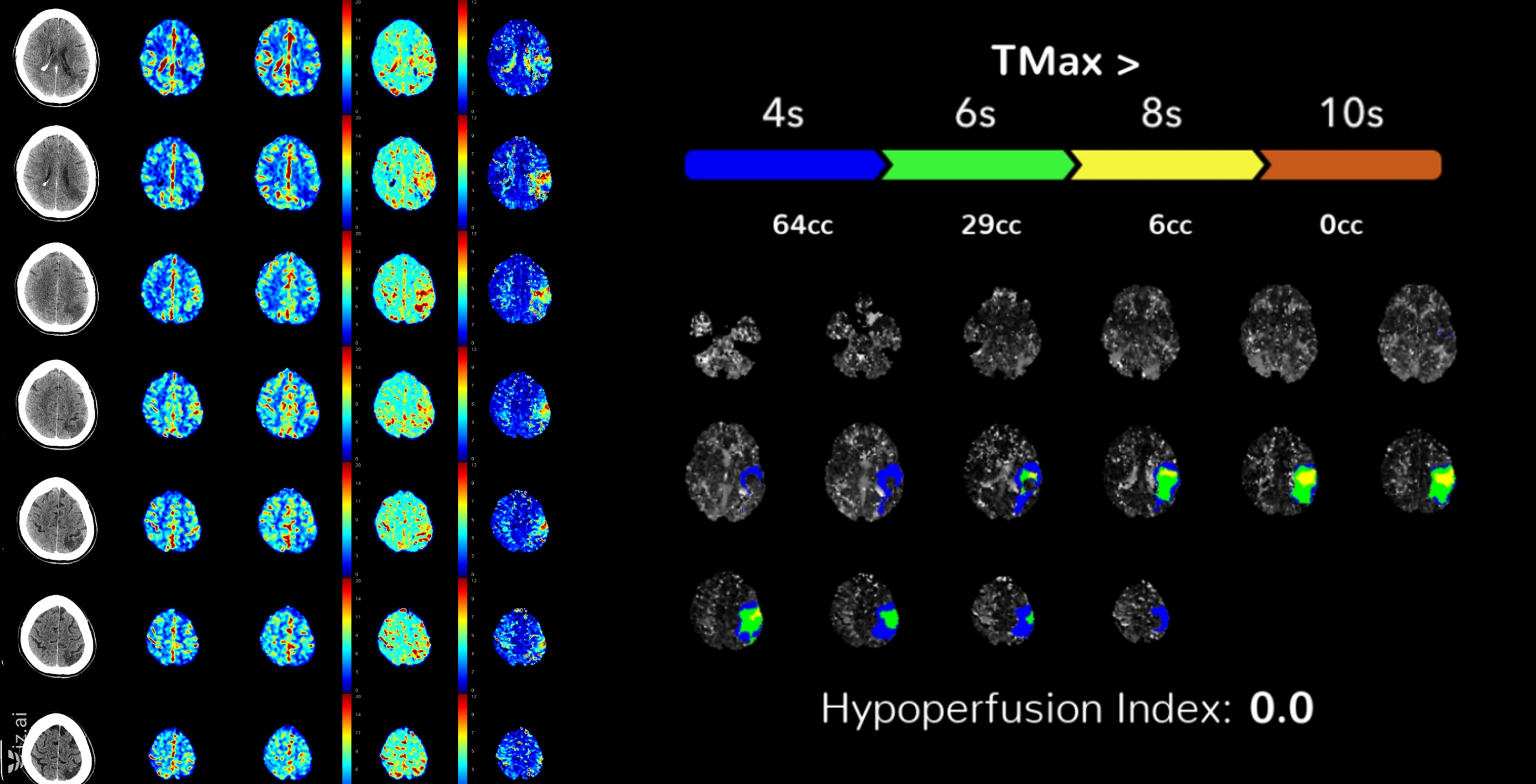 The quality of perfusion processing algorithm does matter.  Thankfully, the major players at this point are doing well.  Meanwhile, the same dataset, processed using a "different vendor" — you be the judge… at least it picked the correct side.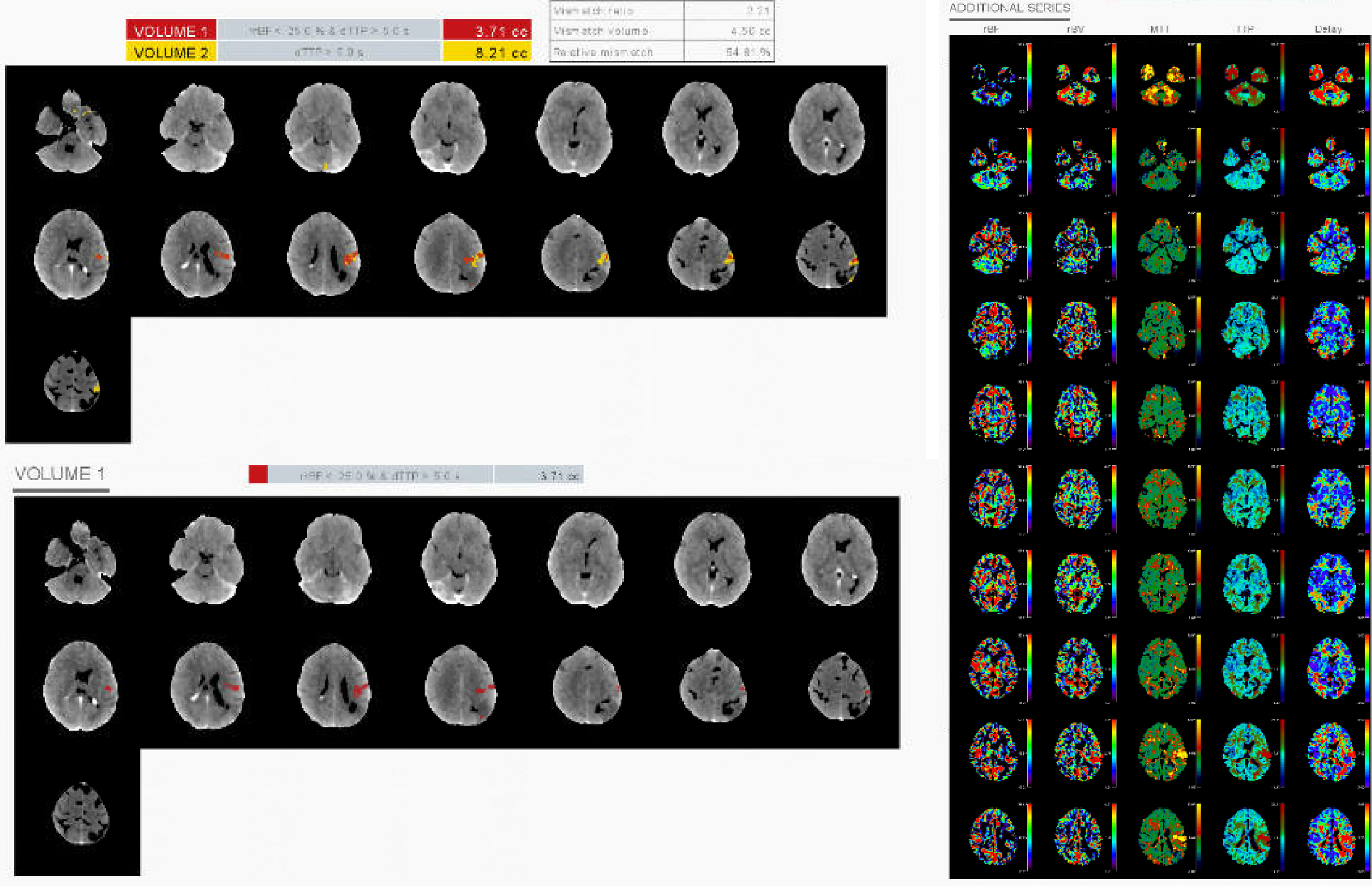 Occlusion point on CTA — pretty much impossible to see without perfusion helping guide where to look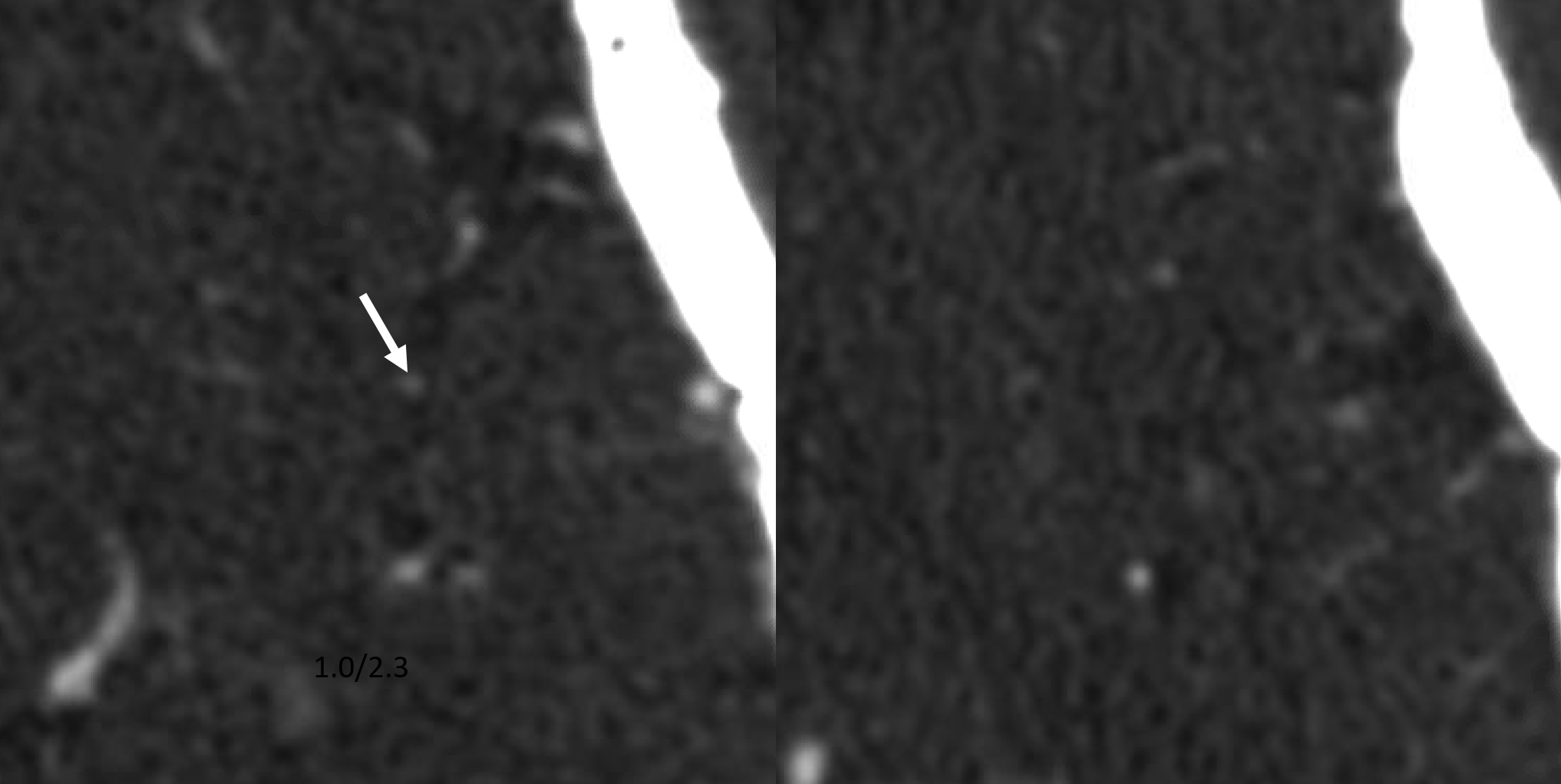 Even on angio its not so easy to know where to go.  Helps to have GA for this kind of work. Note lack of classic MCA bifurcation — an all too common reality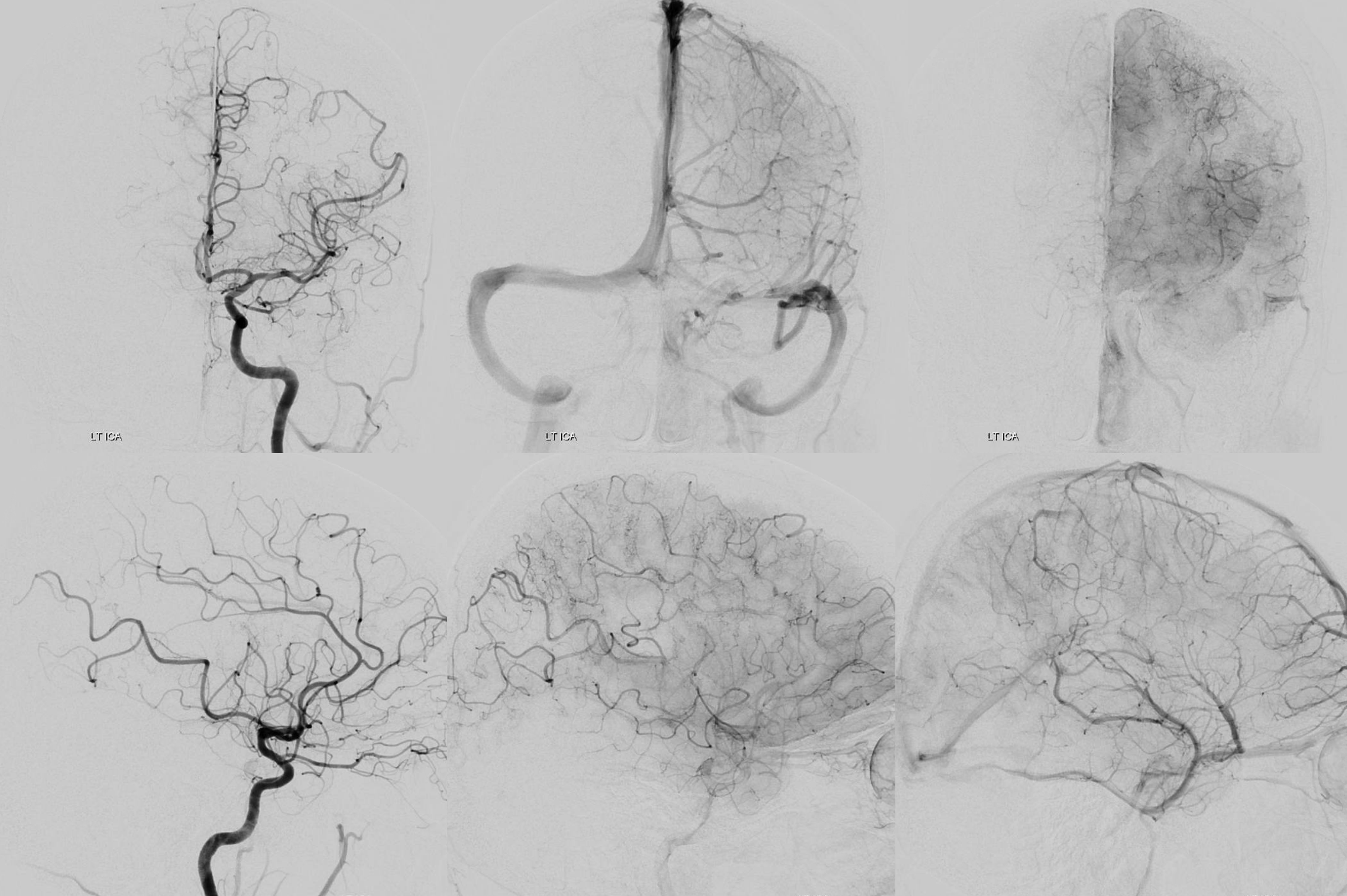 Magnified images of parenchymal / early venous phase show both ends — antegradely to point of occlusion and retrogradely via collateral circulation.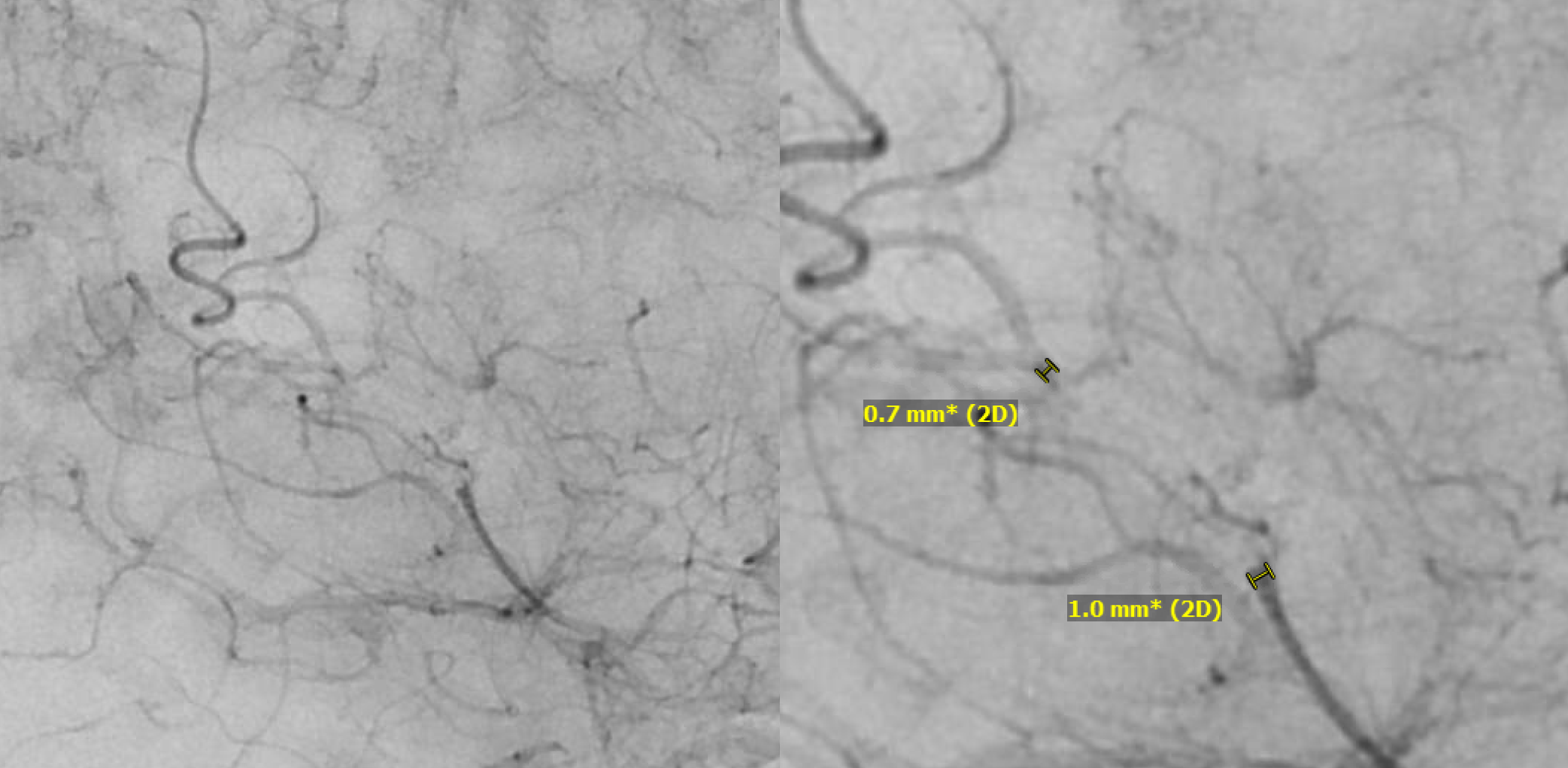 The embolus is likely to choose the straightest path.  So is a J-shaped wire.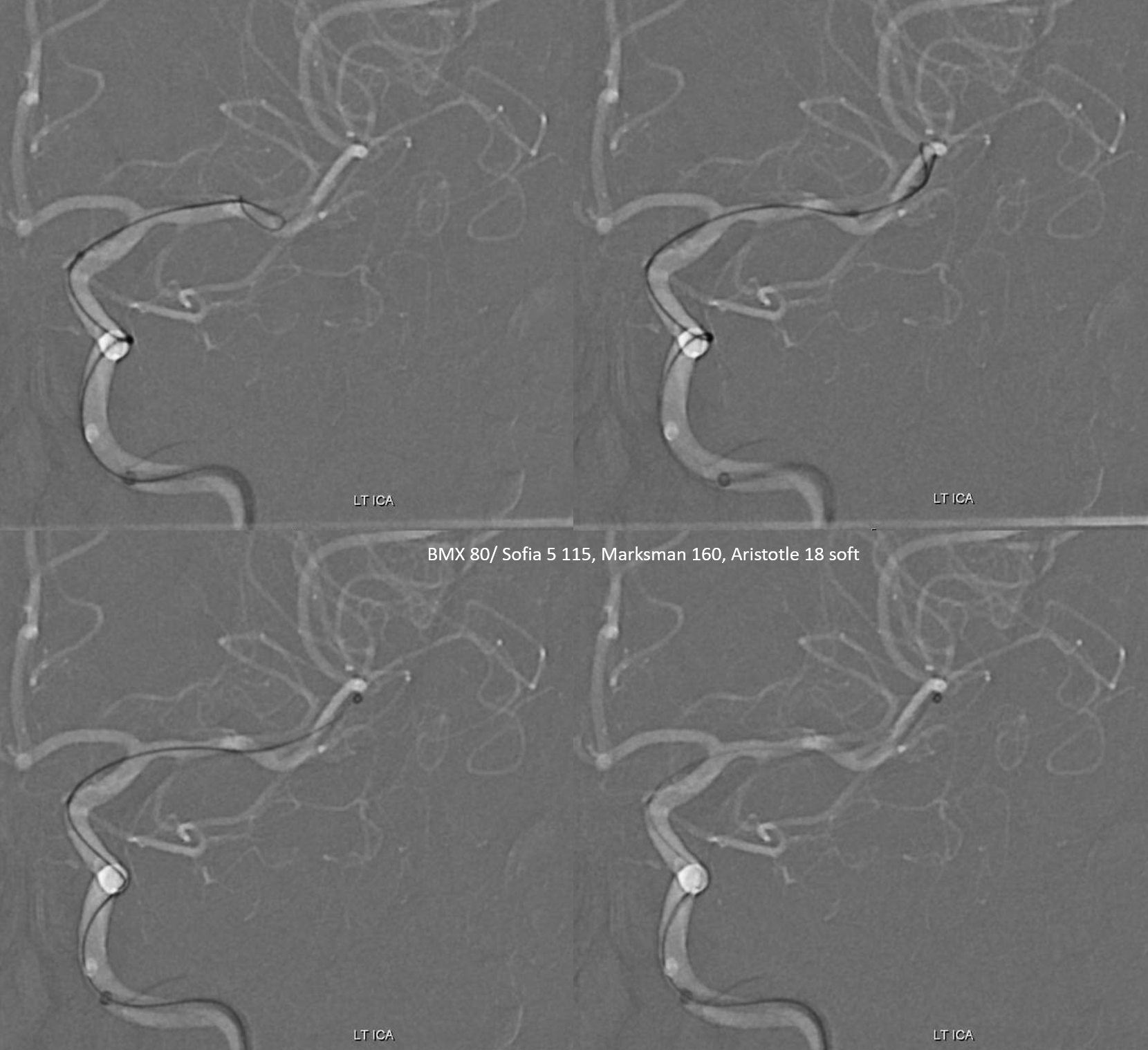 The Marksman needs to be imbedded in the embolus and Sofia brought up into the distal M1 or wherever its wedged.  Both Markmsan and Sofia need to be under vacuum.  We typically use a 12 cc syringe for 027 and either a 20 or 60 CC syringe for Sofia.
First, the Marksman is withdrawn under aspiration into the Sofia.  The clot is often found at the tip of Marksman.  If not, Sofia is removed under aspiration.  As soon as there is flow in the aspiration syringe, we can check to see if it worked.  The clot is often in the aspiration syringe so be sure not to re-inject it.
This one looks good
Final post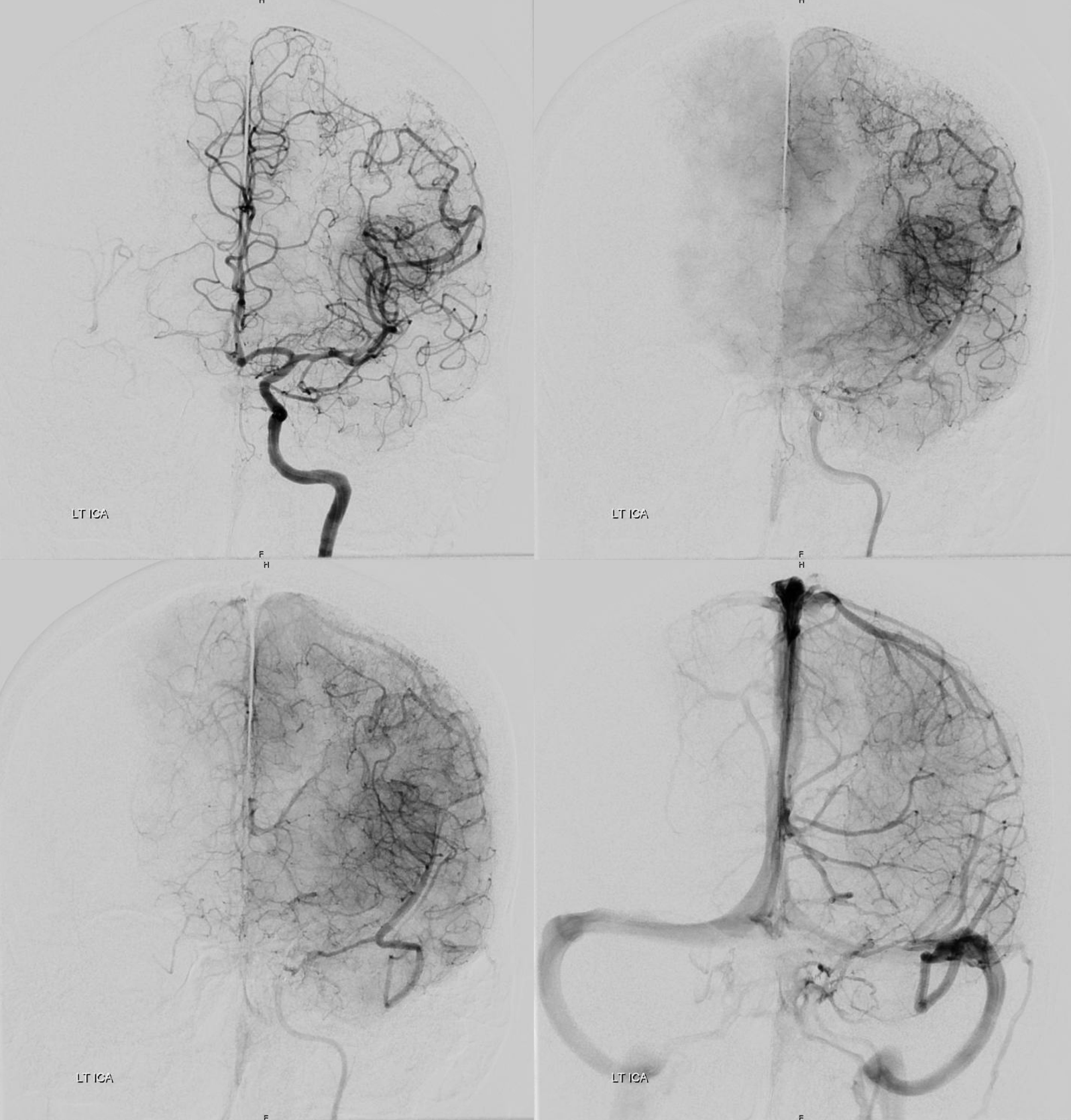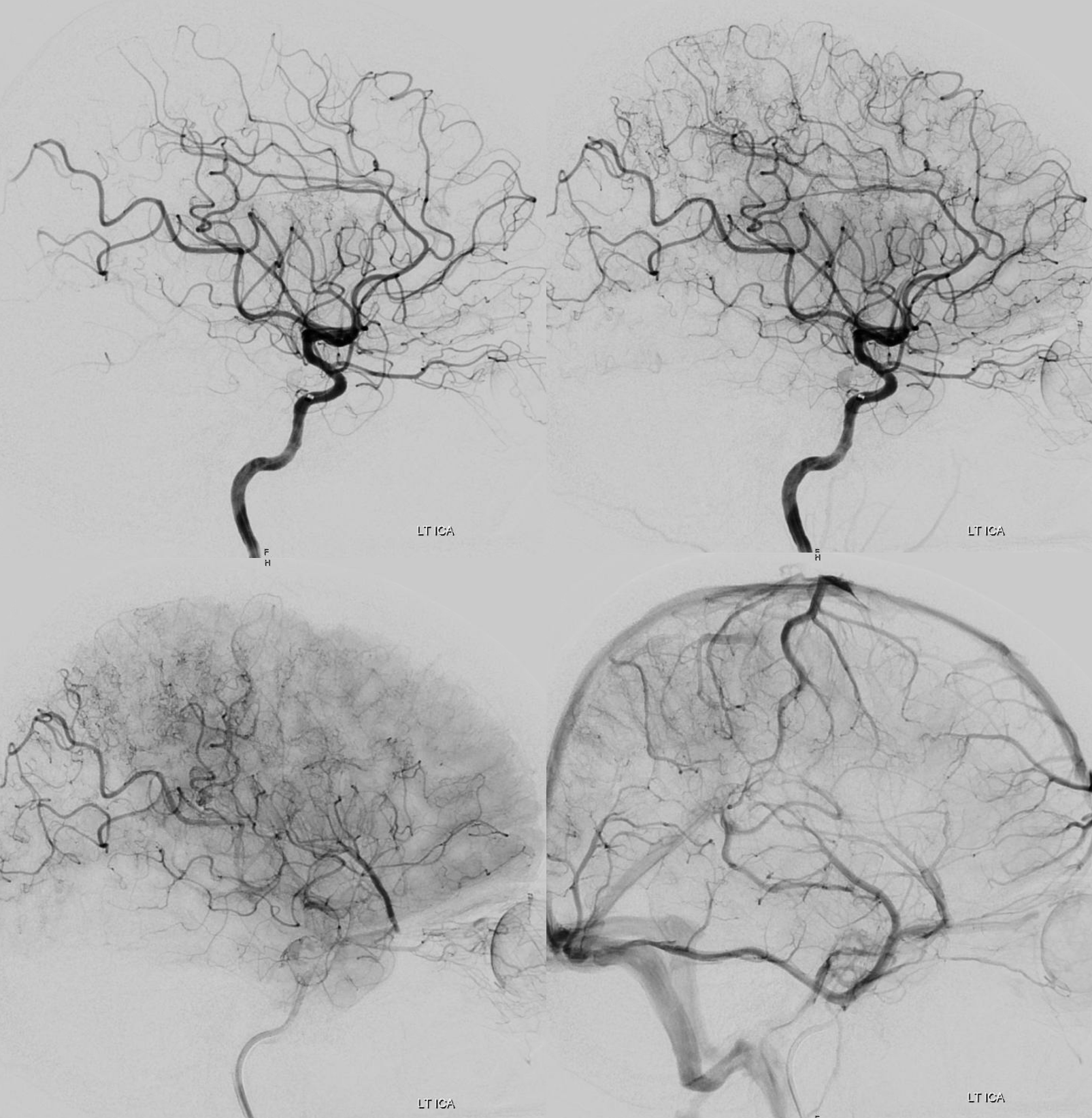 Overall, this aspiration strategy works about 50-60% of the time — less than 80% for the LVOs, but worth trying in smaller vessels.  Notice how the artery now looks larger in caliber than on initial angio.  An 035 aspiration system would have probably worked here also, but can be harder to advance.  The fact that occlusion was in a straight segment really helped also.  We really like the 018 Aristotle Soft for these kinds of jobs.
What is the etiology of stroke? So far the leading culprit is FMD.  Unusual — the vast majority are asymptomatic, and even here could be unrelated. But so far found nothing else.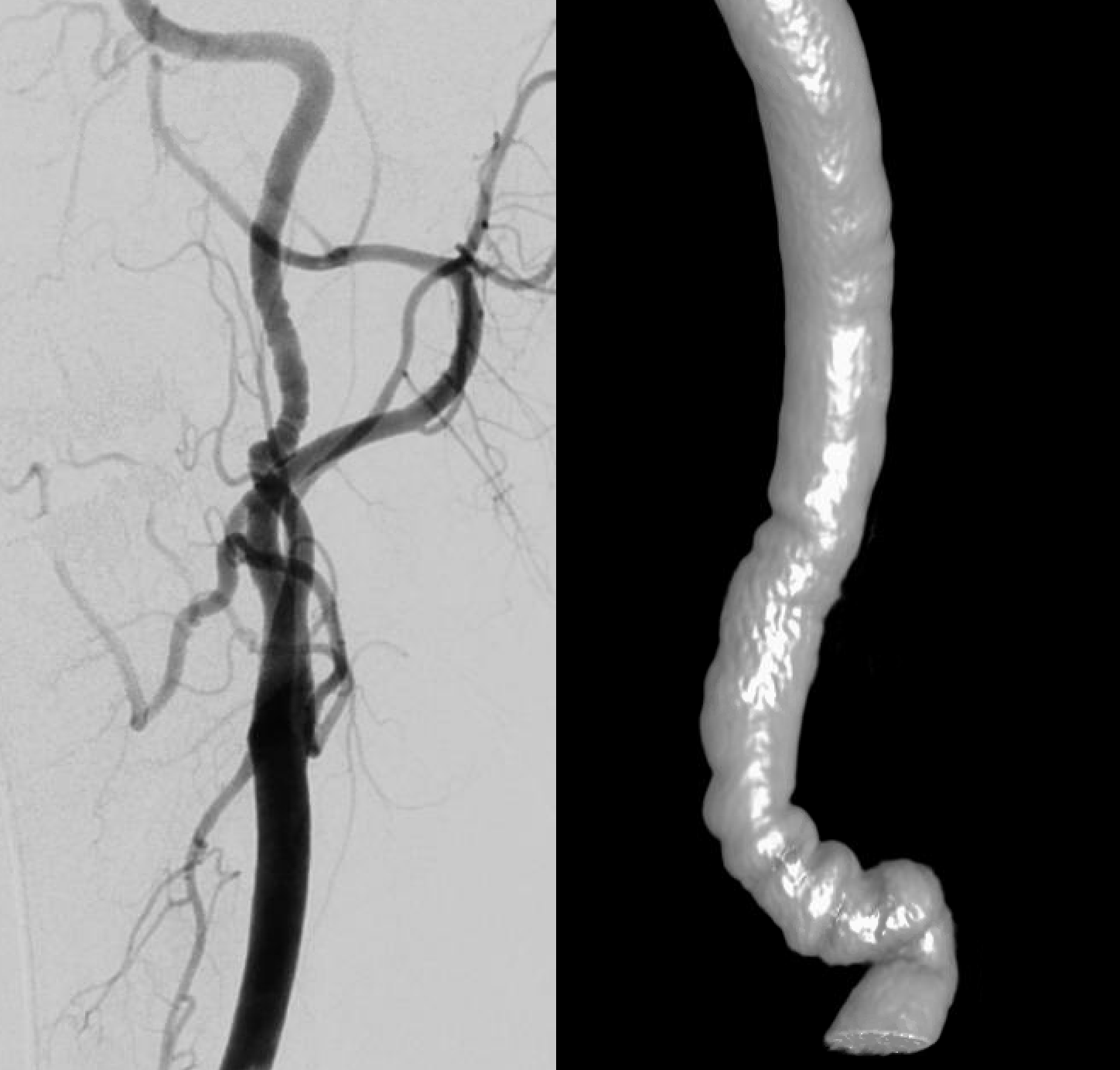 Now we turn our attention to the strangely looking corkscrew vessels in the sulci. Look above to see what we mean.  An unusual appearance. This is what they look like on MIP reconstructions of Cone Beam CT.  Interesting, no?
Deep white matter arteries are involved also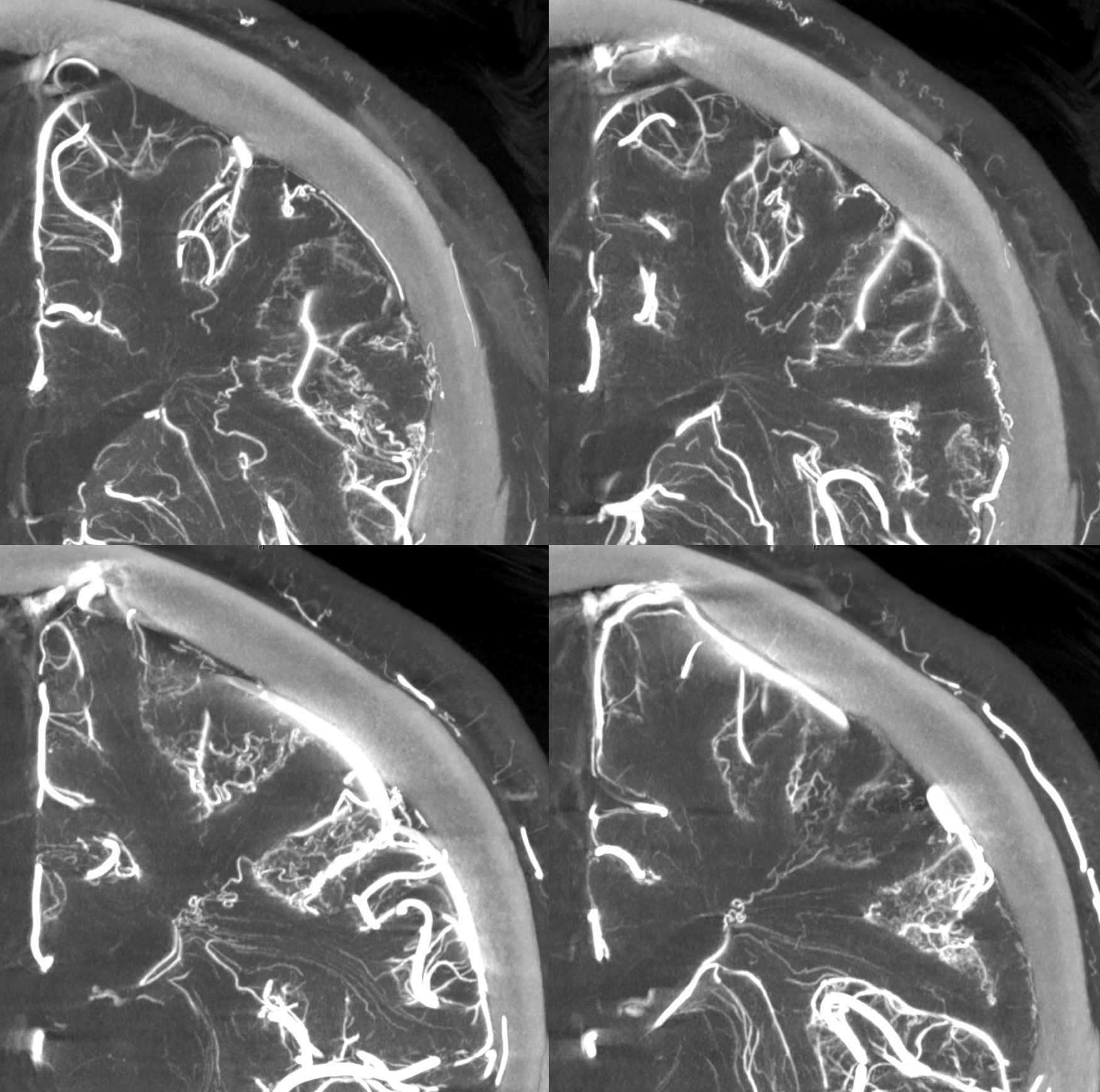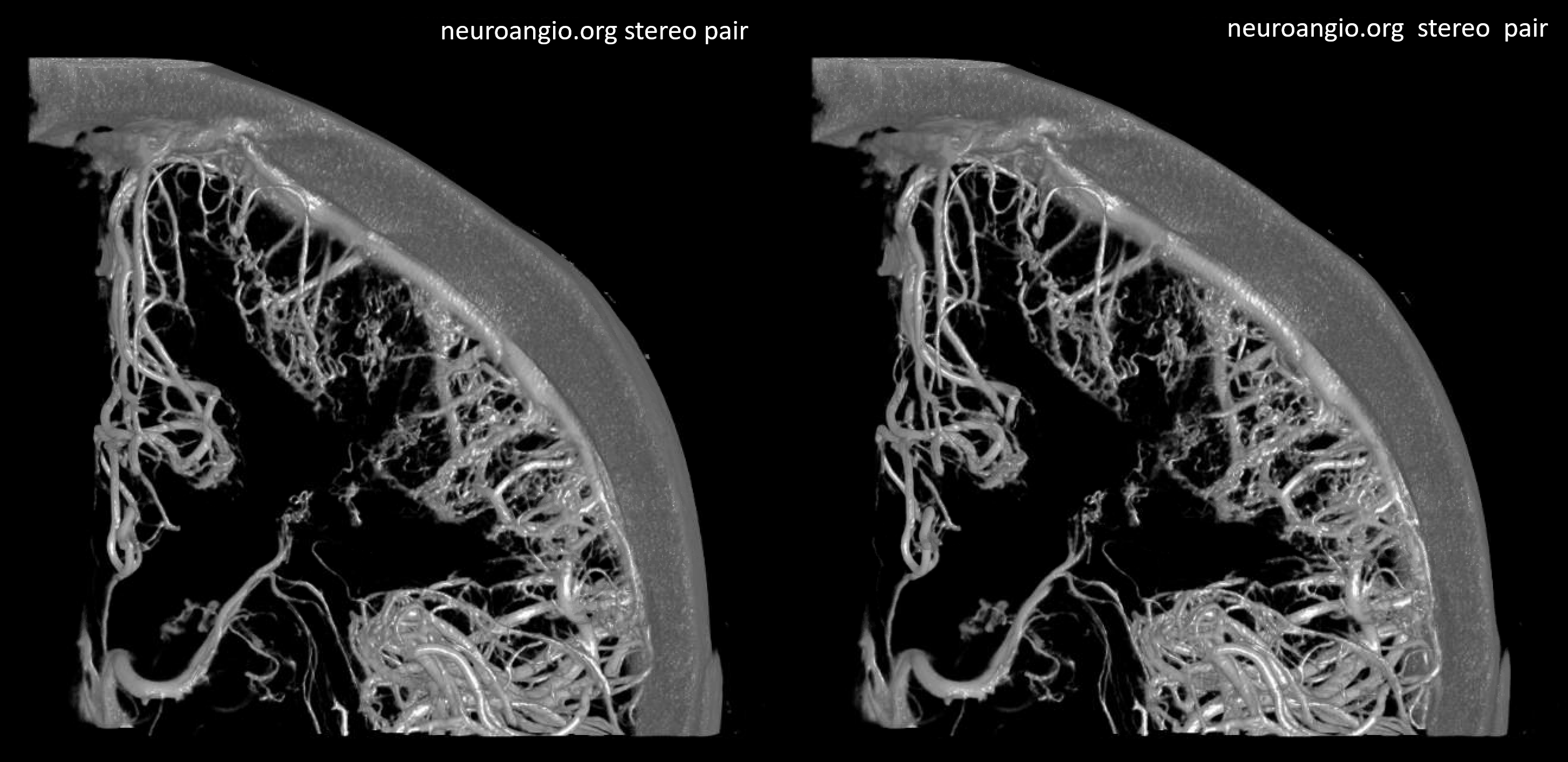 Anaglyph stereo
What are they?  Nor sure.  Maybe revascularization of remotely ischemic tissue.  However they are not where the remote stroke was.  Or another expression of FMD?  
Very hard to see on CTA.  Faint blush in sulci can be seen retrospectively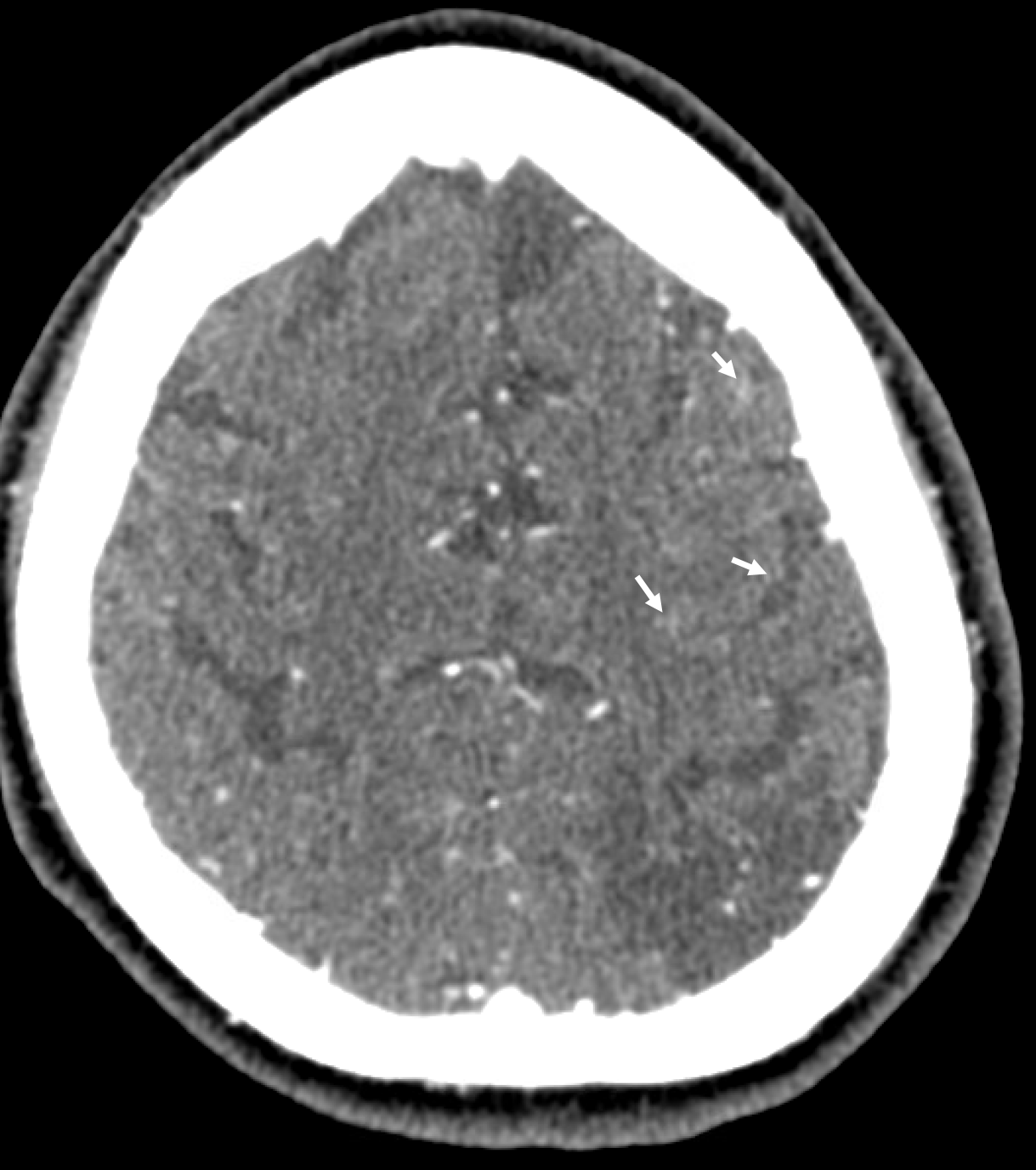 Now for other benefits of DYNA — superior hypophyseal (left) supplying anterior pituitary and stalk, and inferior hypophyseal (MHT origin, center) supplying posterior pituitary tissue (right)

Just the pituitary — beautiful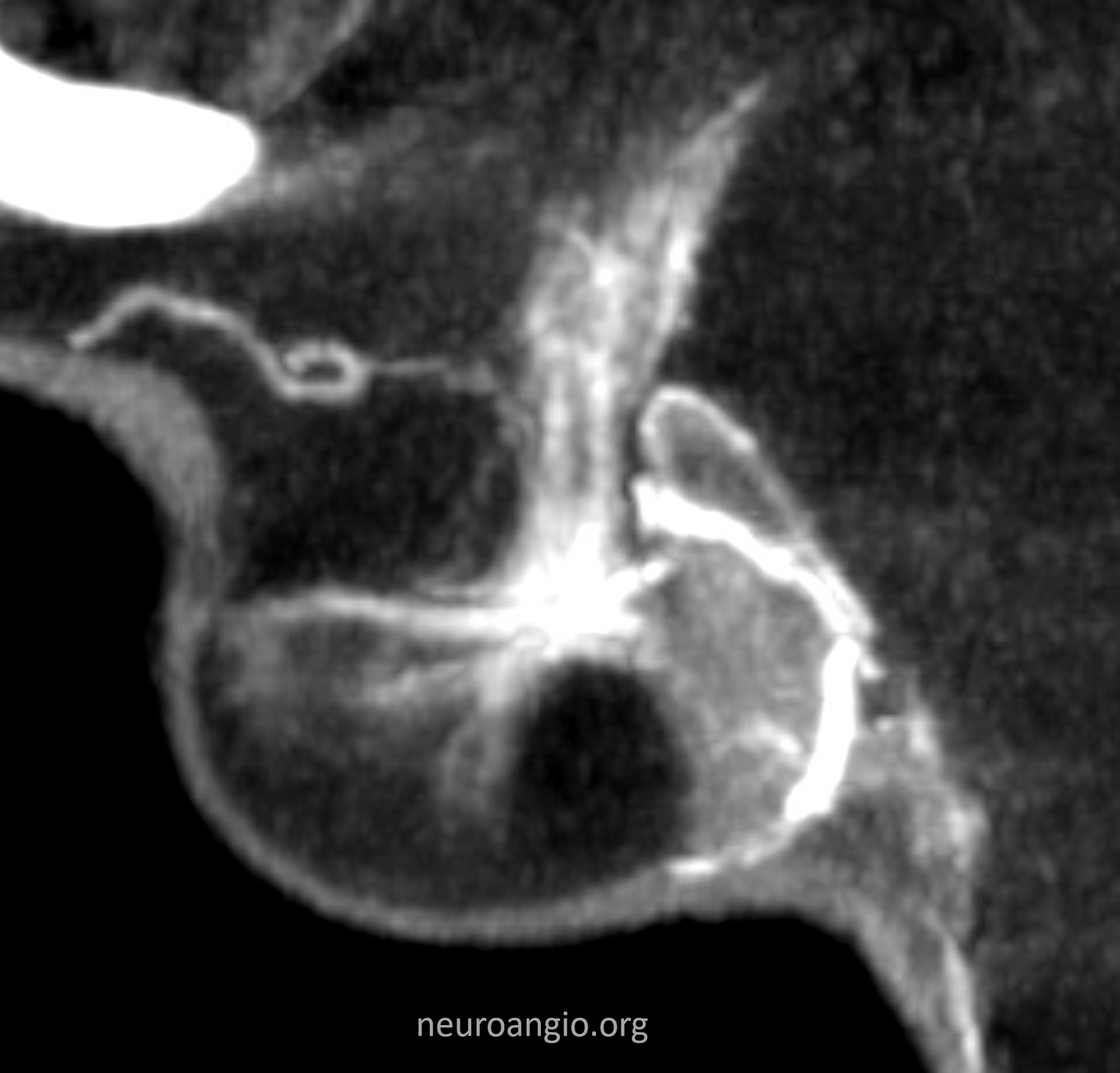 For other 027 thrombectomy cases, see Case Library page