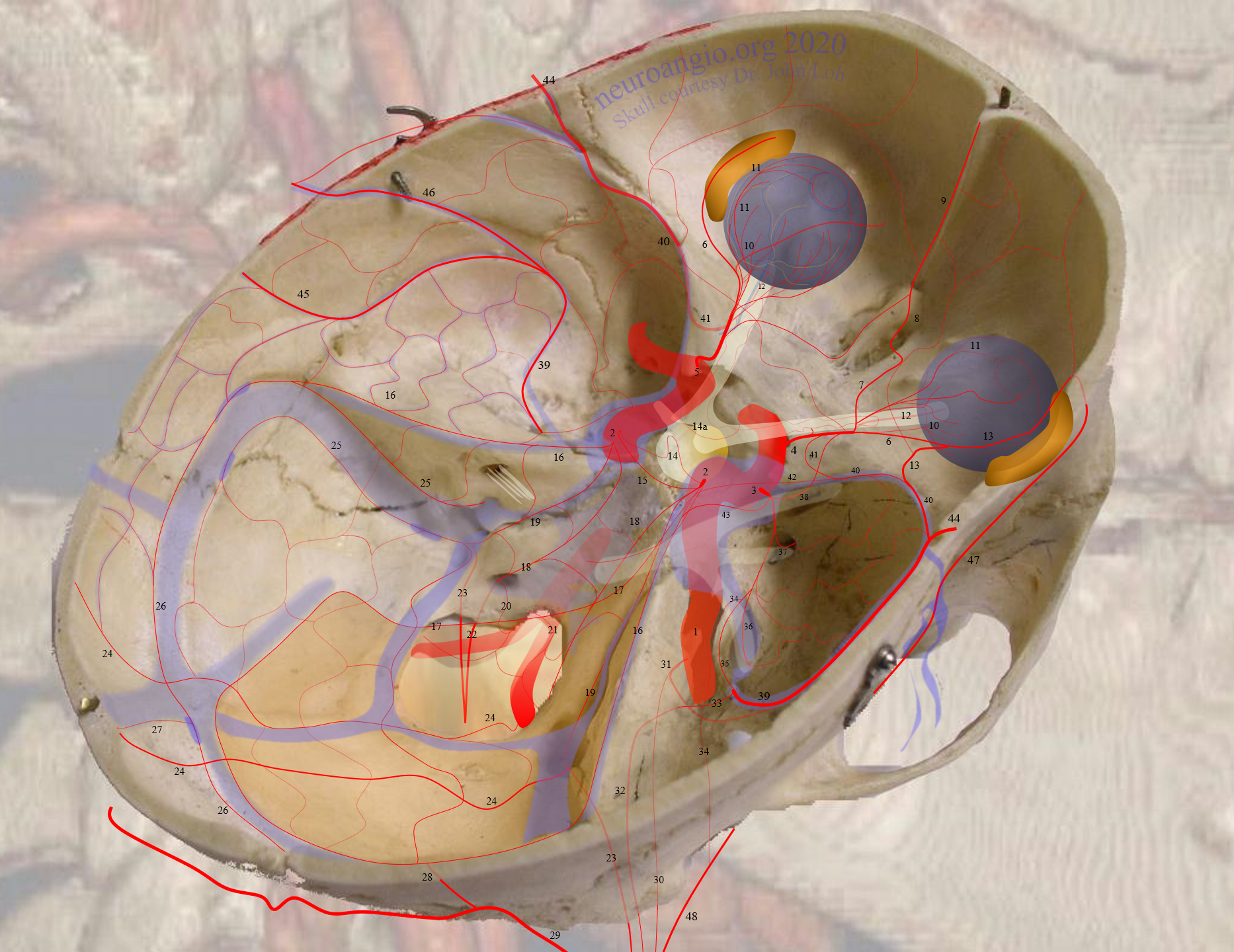 It is paramount to see vessels as part of a network, not isolated entities.  This is the big picture of neuroangio.  There is tremendous variability in size of ILT and everything else, the extent of territory it supplies etc — reflecting balance with neighboring territories.  Often, the same connection seen from different vessels has different names.  The spinosum branch of ILT and cavernous branch of MMA are the same vessel/network.  Either end may be dominant, but all are part of a whole.
Below are some examples of normal variability in ILT branches.  The numbers always refer to the key skull base figure above.
Well-seen anterolateral (38) and cavernous sinus (36) branches — going through Foramen Spinosum (FS) of ILT (3).  The MHT (2) and its clival (18-19) branches are also well-seen.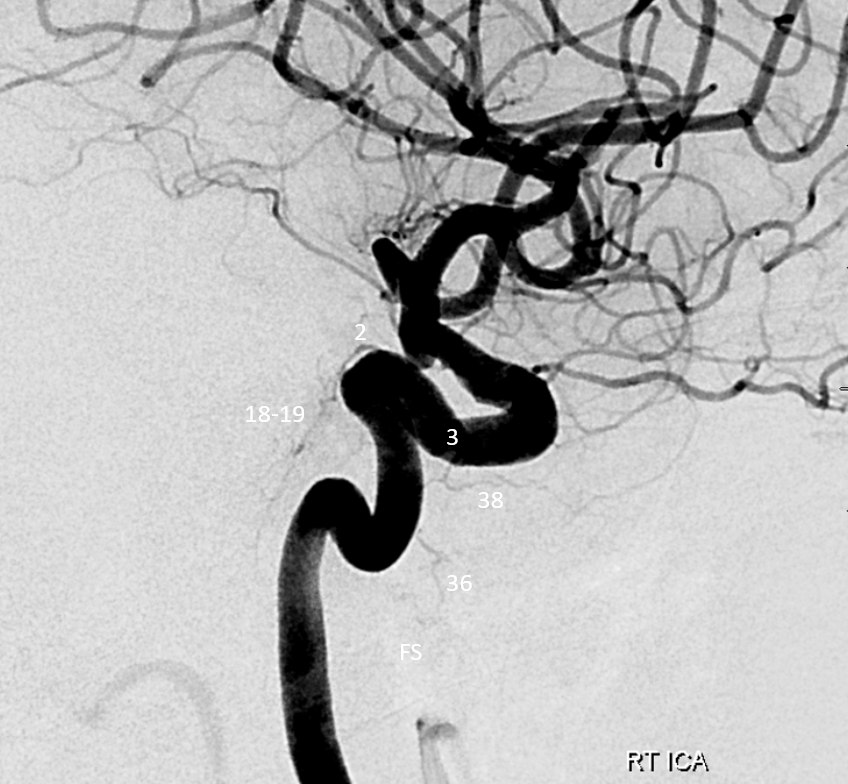 How do we know its FS?  Well, here is venous phase images with superficial sylvian veins draining into both Foramen Ovale (FO) and FS.  Normally, this kind of drainage is into FO, but here it helps to outline FS as well.
Frontal views show that this drainage is not cavernous sinus at all — it is a "paracavernous sinus" (arrows), with common carotid injection double mask image (lower right) also showing drainage into spinosum, as defined by the MMA.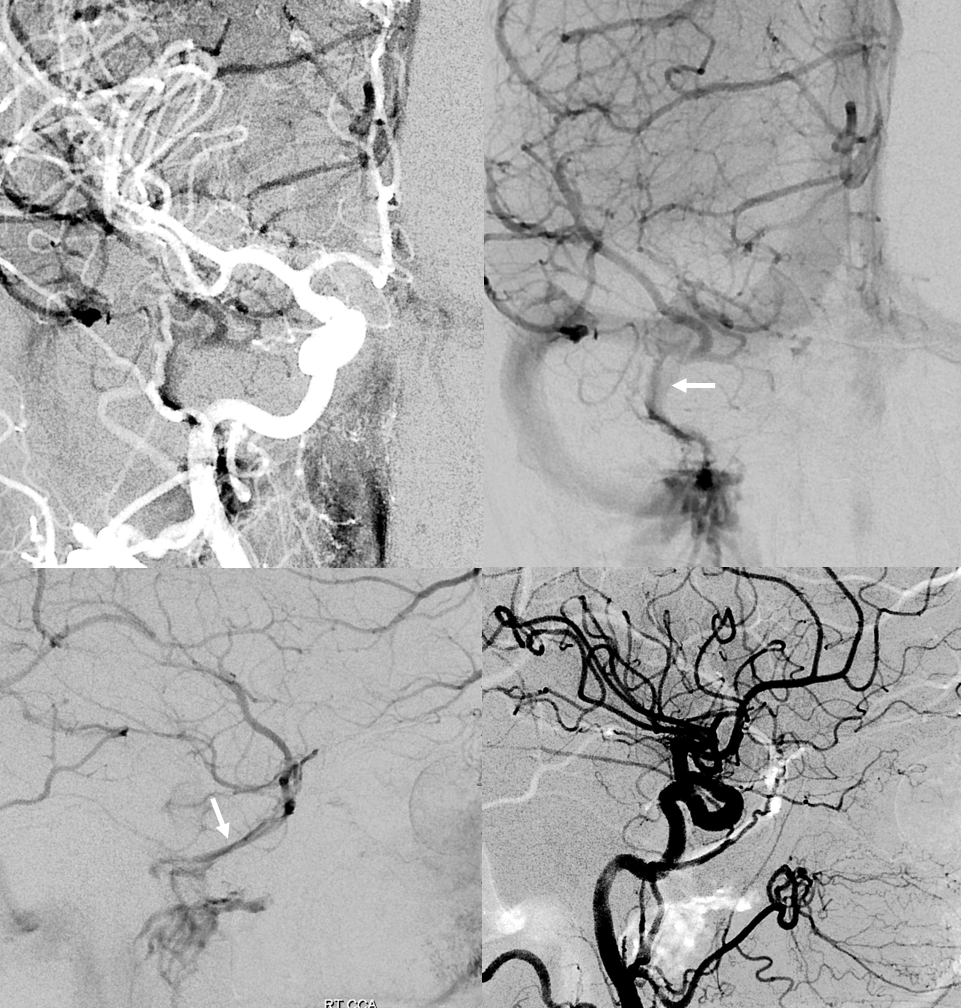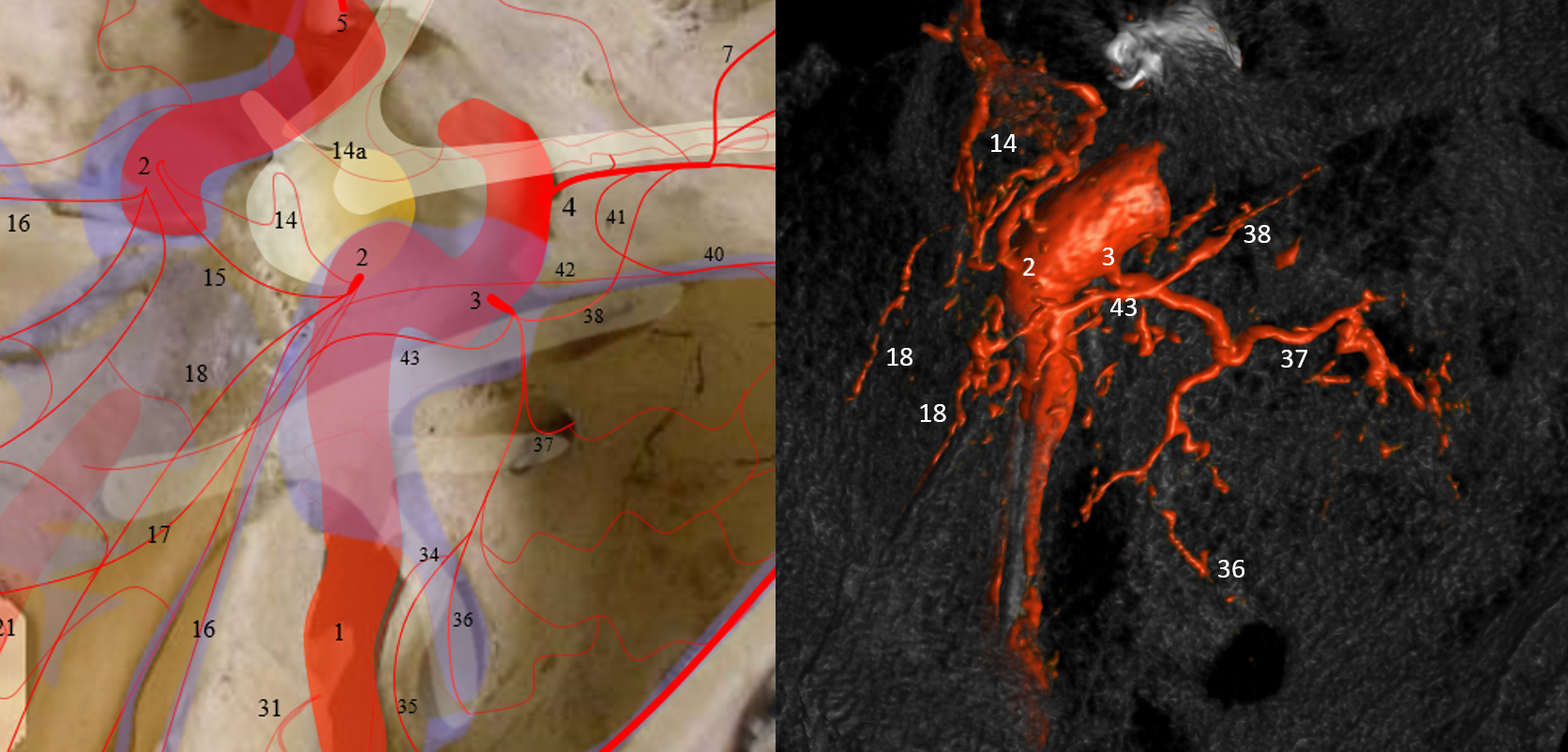 Cross eye stereo pair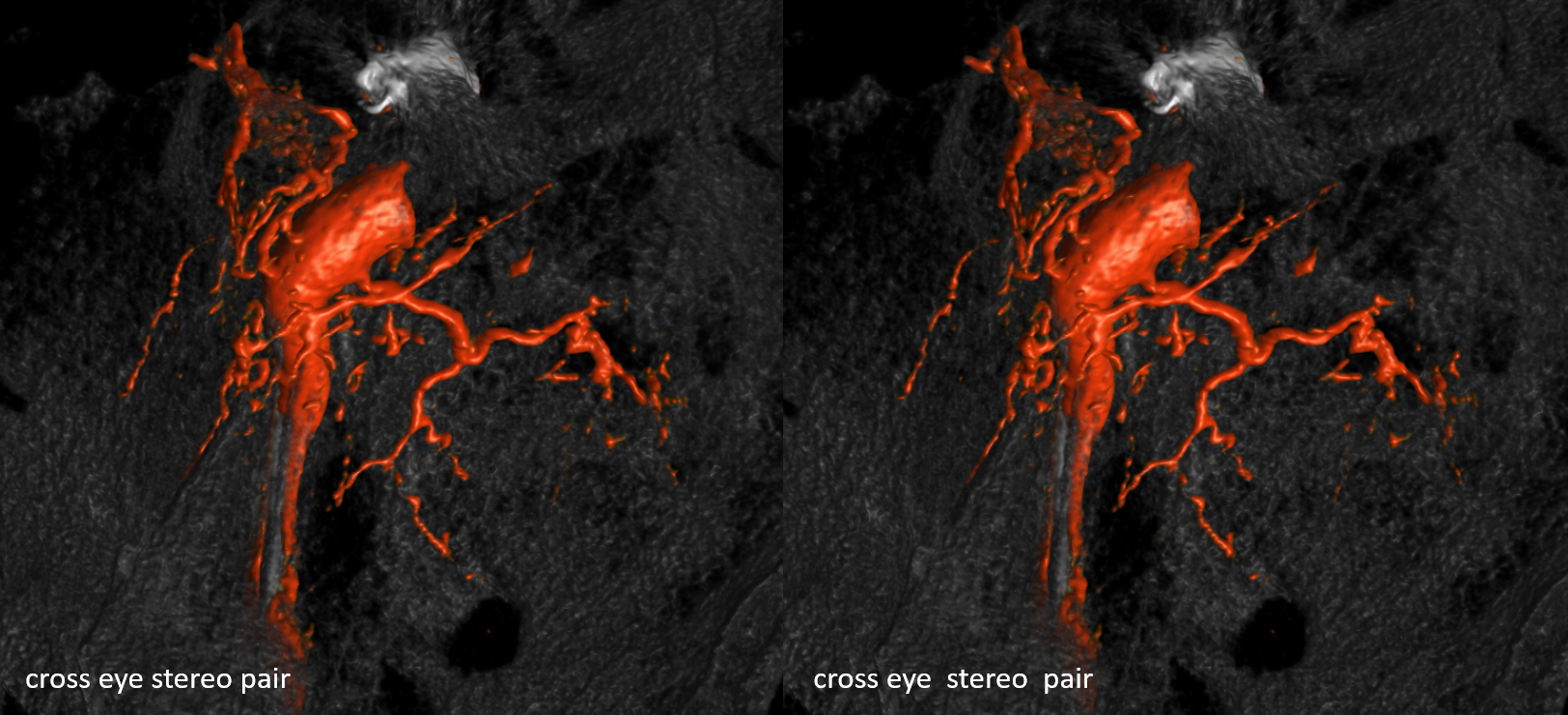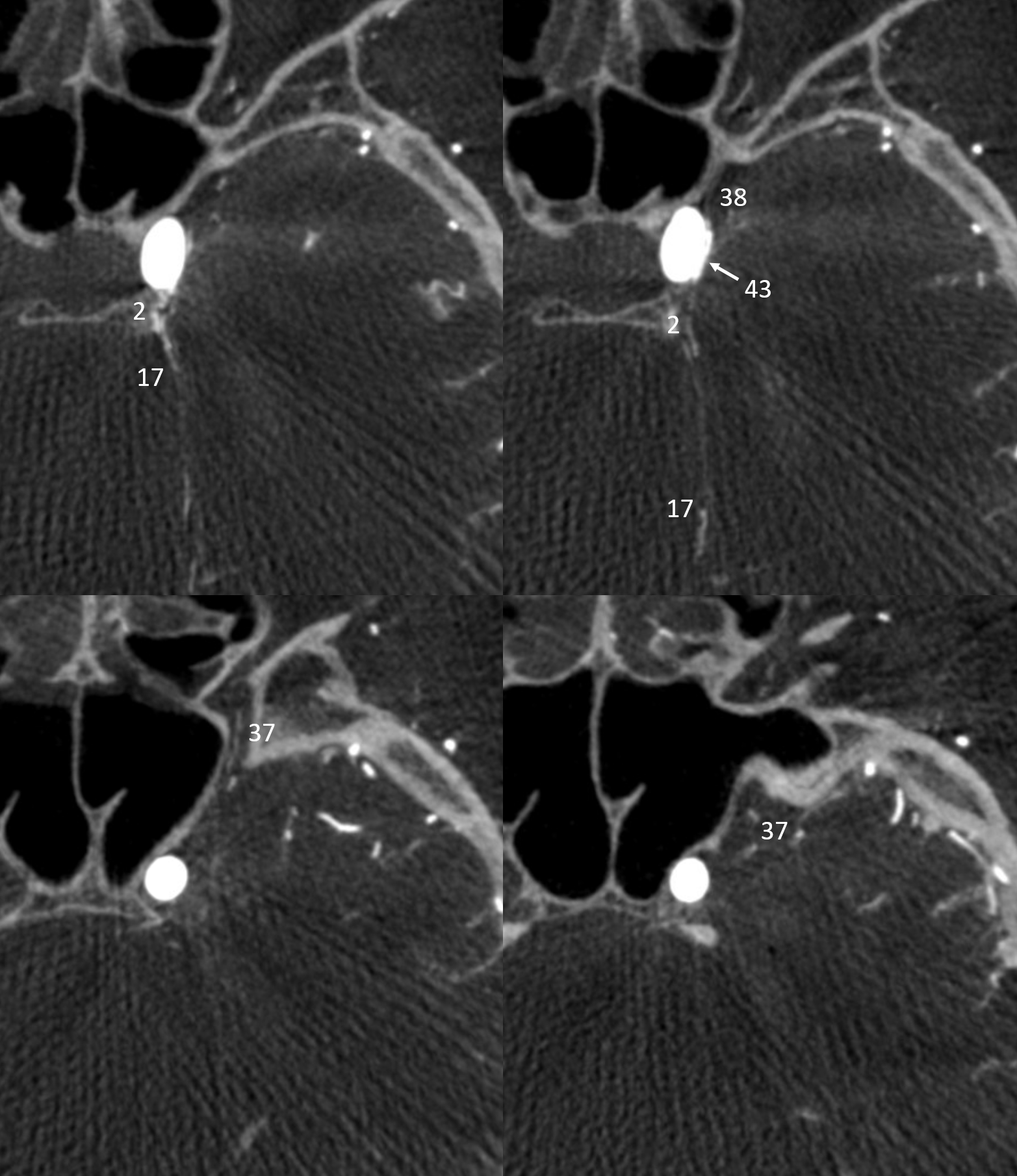 Left ICA injection shows a very large dorsal ophthalmic artery — embryologically this is the same as the anteromedial branch of the ILT.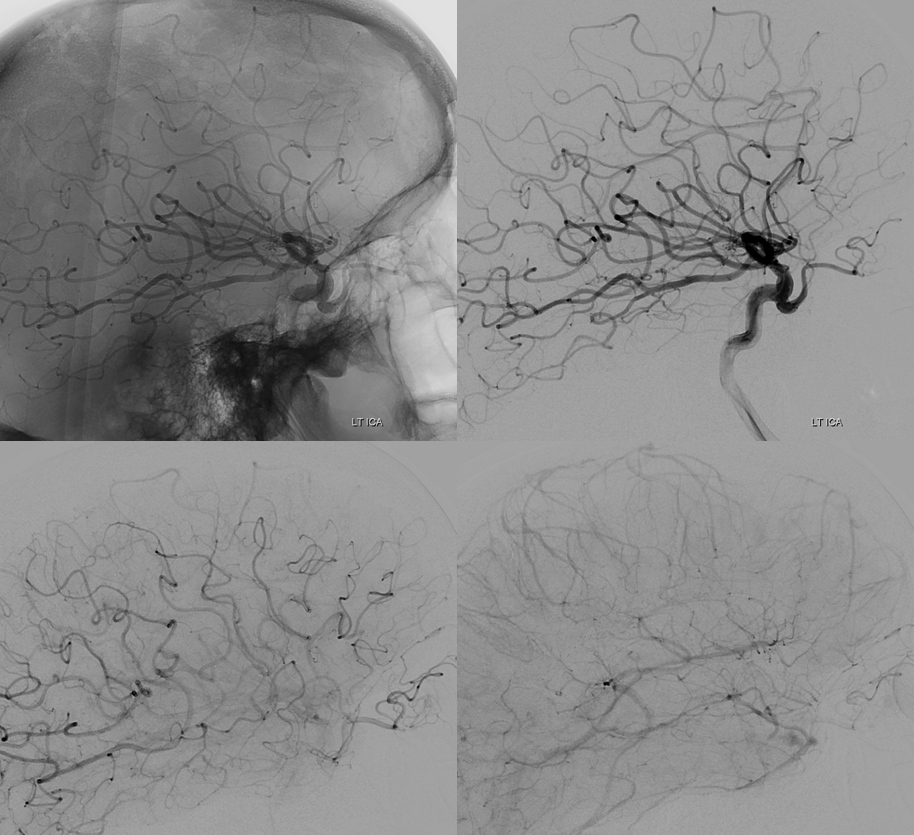 Cross-eye stereos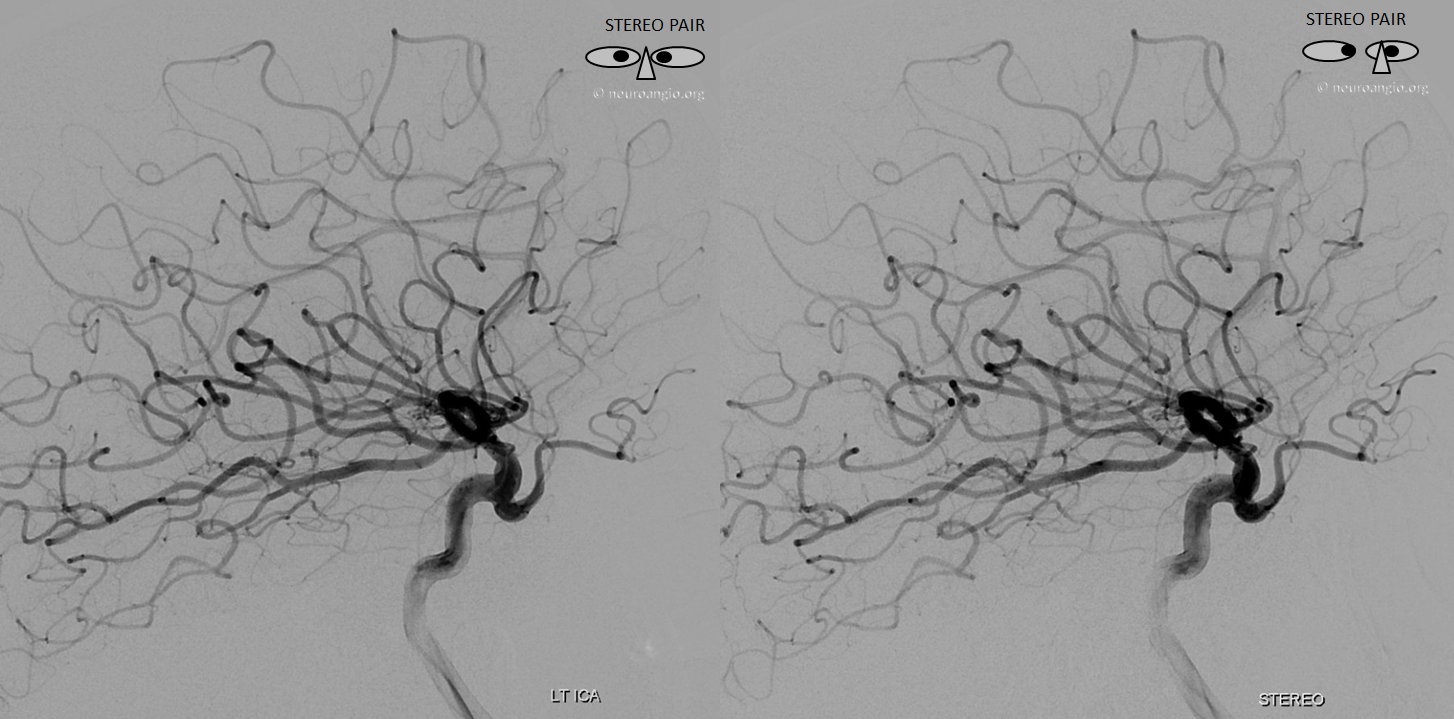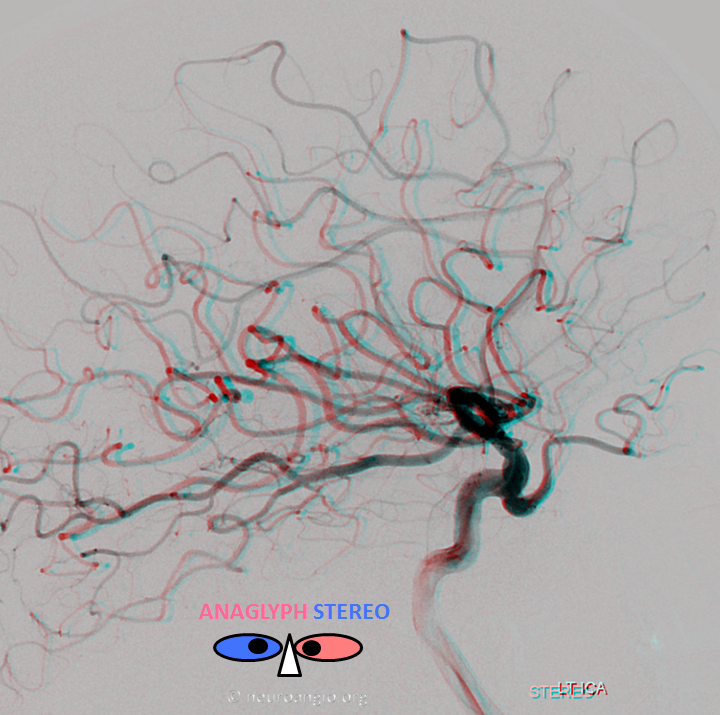 VRs, showing a another branch of the ILT/dorsal ophthalmic (black arrows)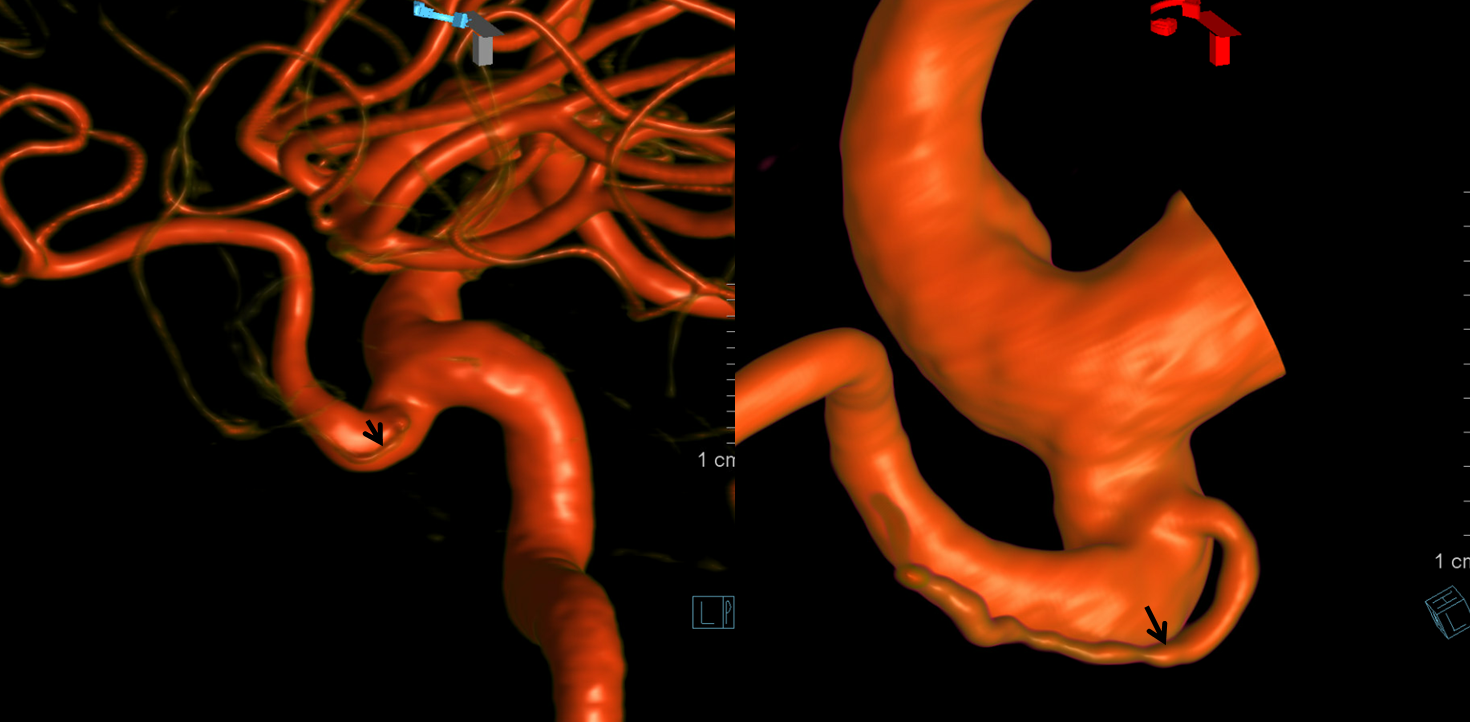 Dyna CT axial views trace the dorsal ophthalmic (white arrows) through the superior orbital fissure.  The smaller branch (black) also traverses the superior orbital fissure to enter the orbit more laterally — perhaps a lacrimal branch
Anaglyph VR stereo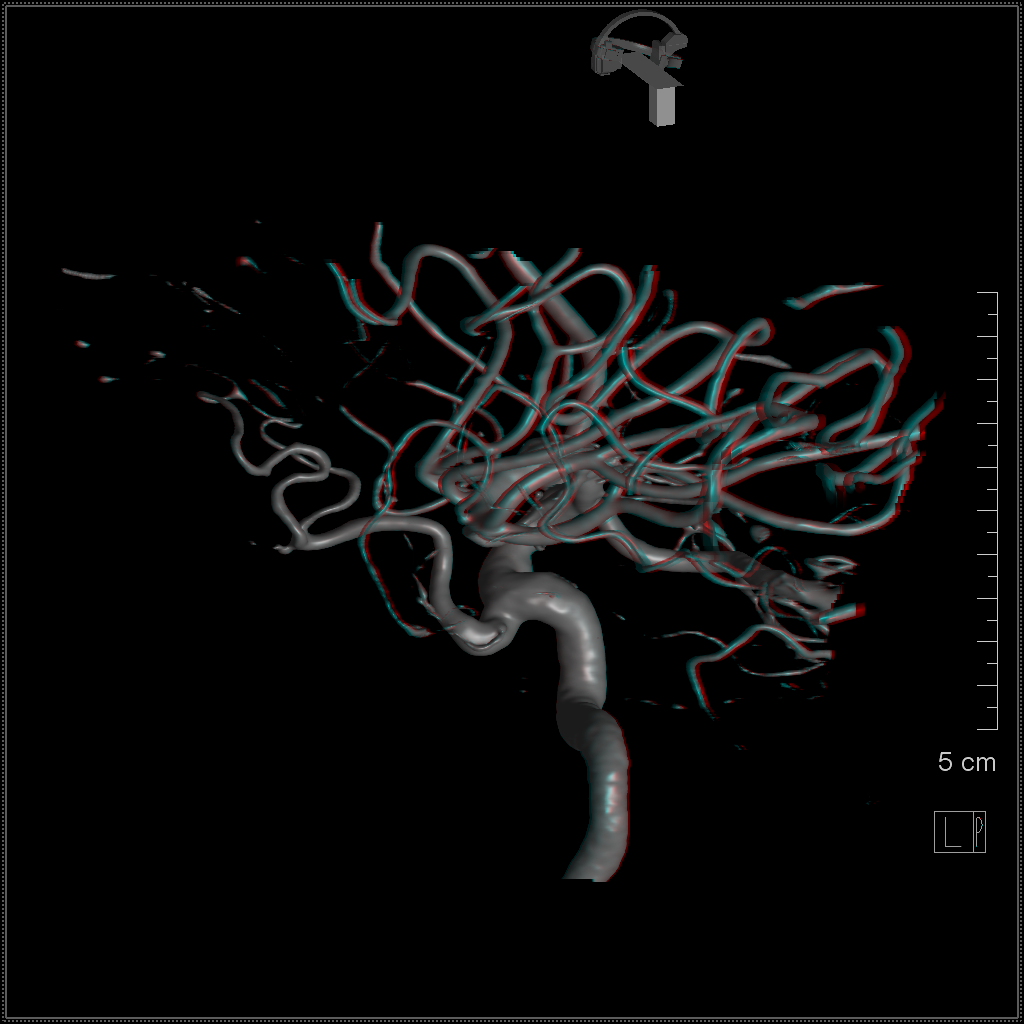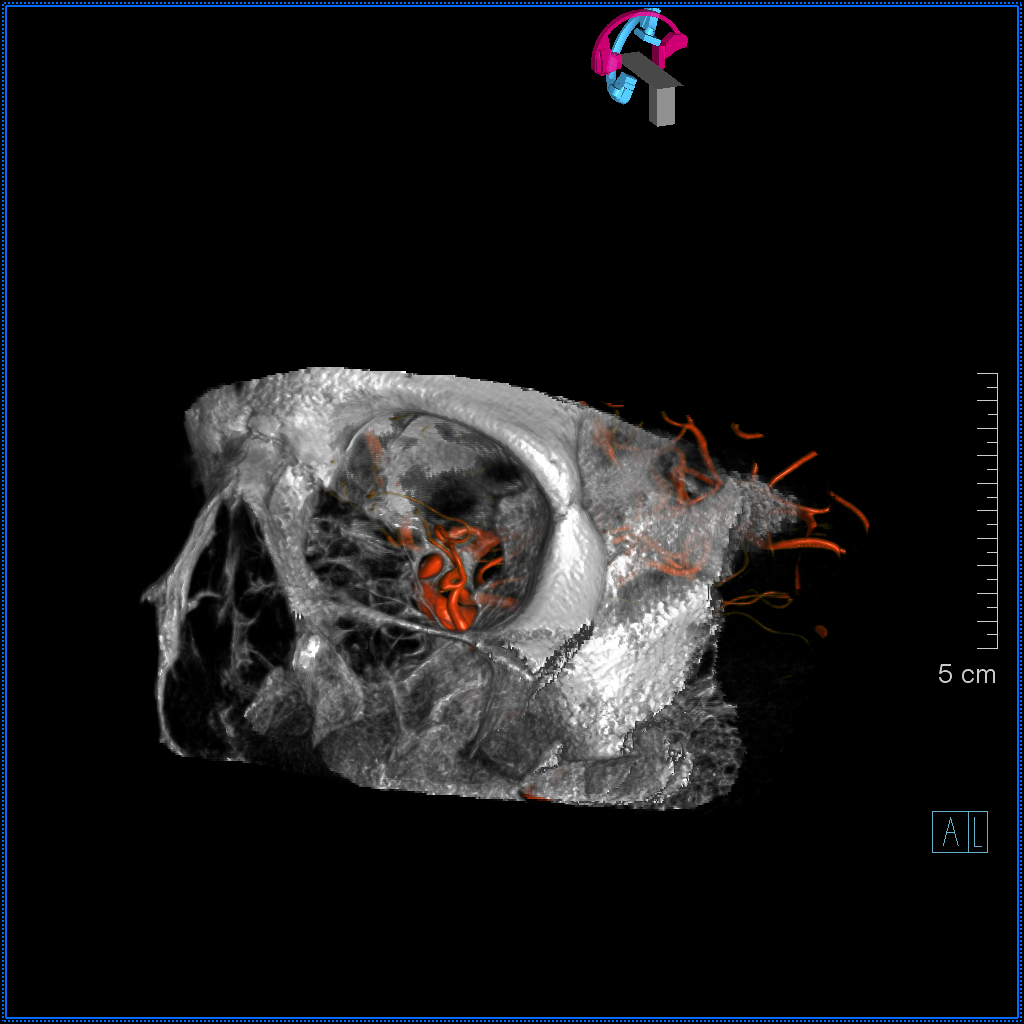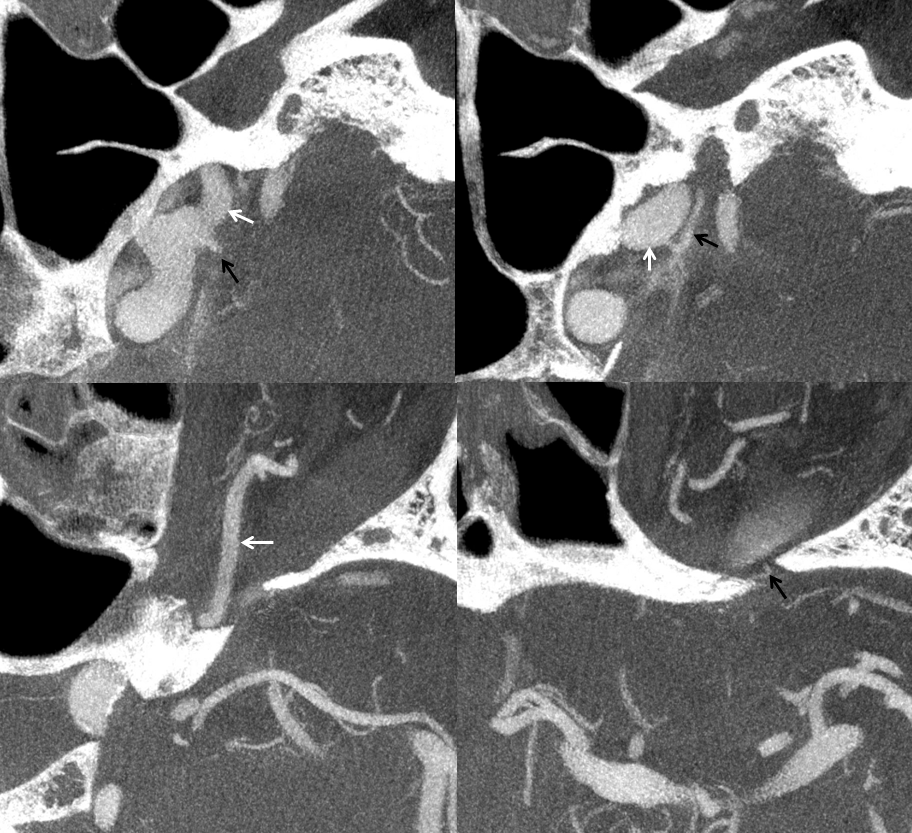 See Ophthalmic Artery Page for more info
"Duplicated" ILT — main trunk usual territory, smaller one free margin artery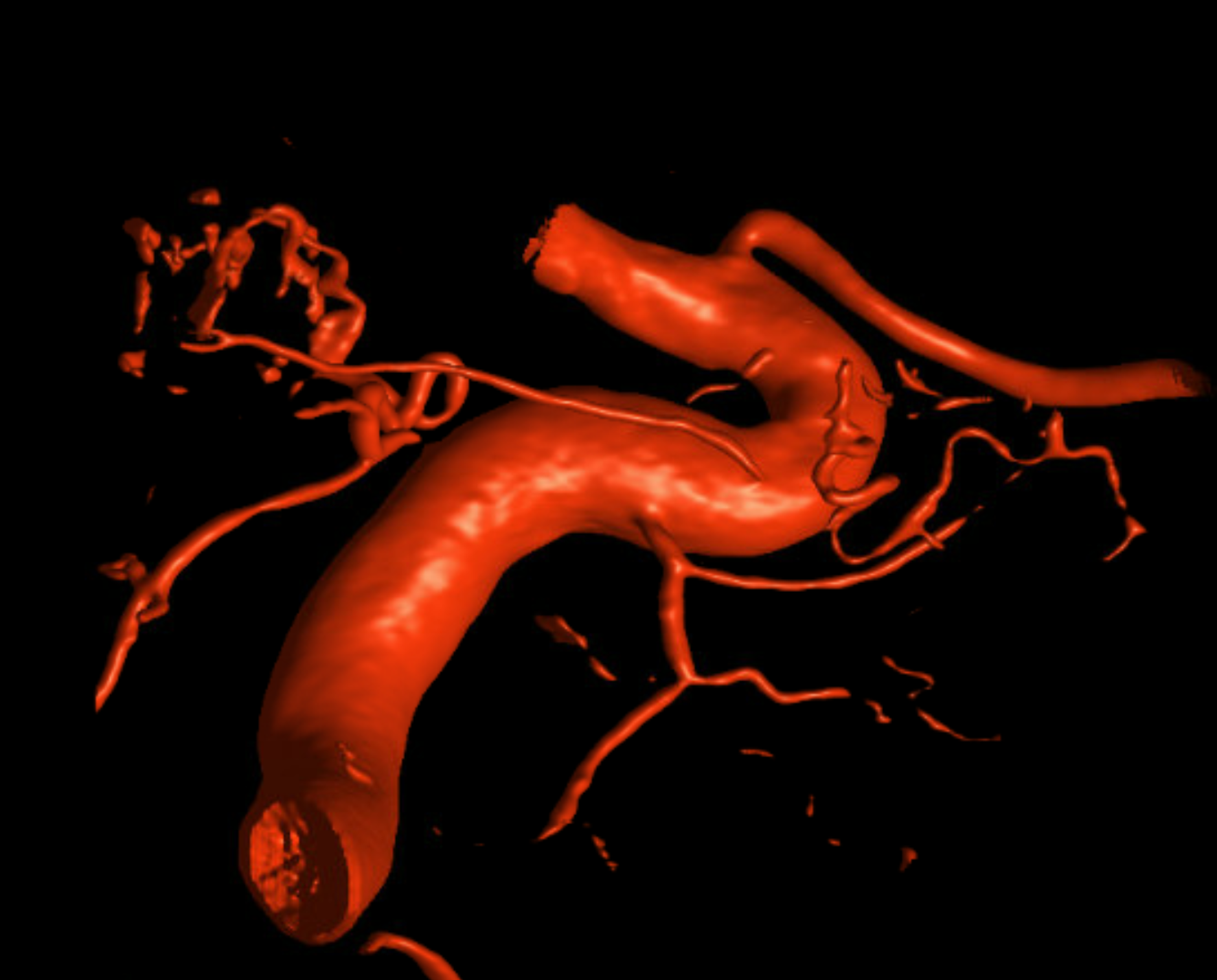 ILT Supply of the Pituitary
Very rare.  ILT branch (arrows) passing underneath the ICA supplies anterior pituitary, and is in balance with the superior hypophyseal branch (dashed arrow) and inferior hypophyseal branch (arrowhead, inset)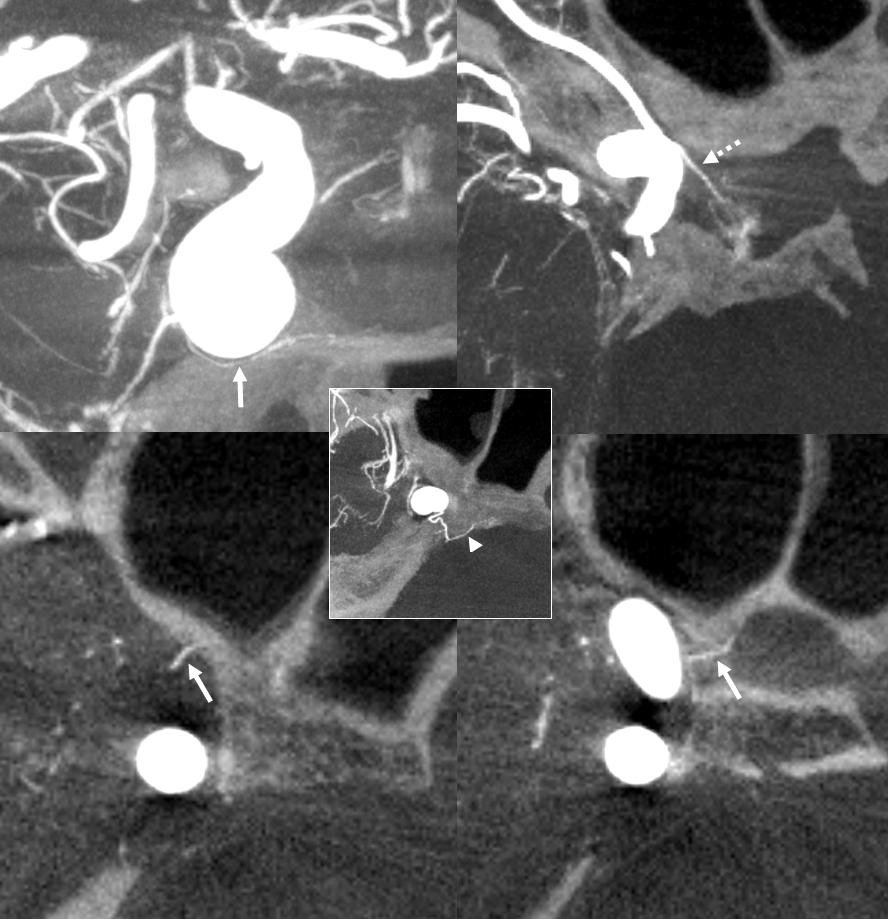 No arrows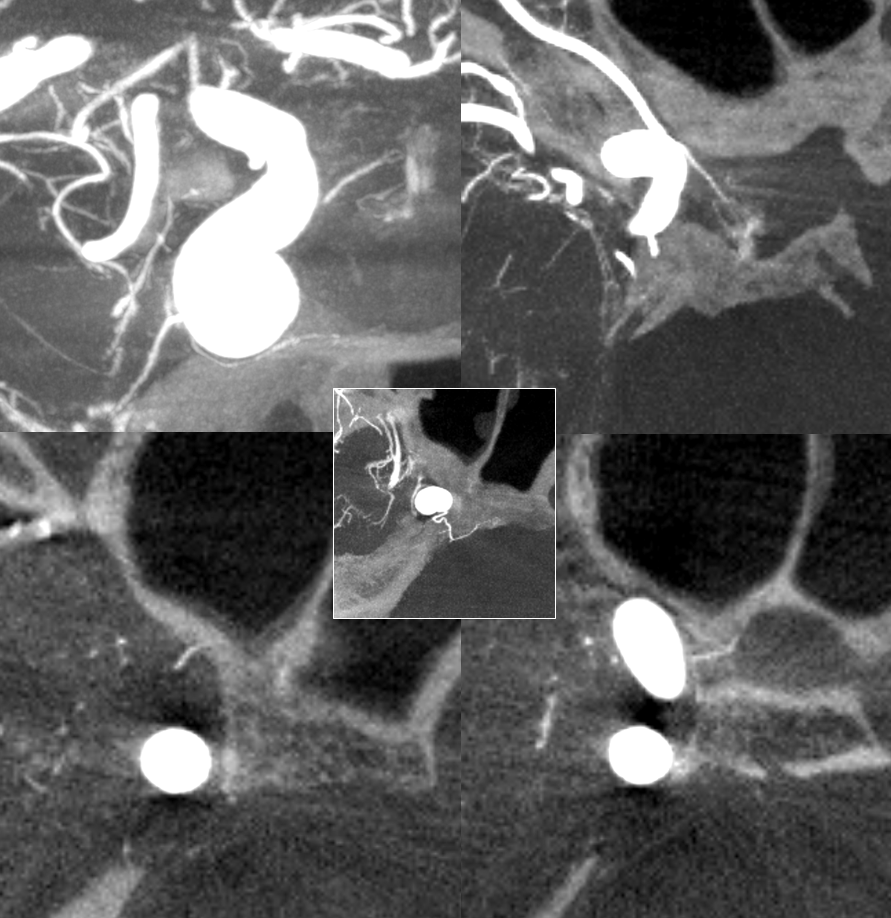 ILT and mandibulovidian reconstitution of IMAX territory
Proximal origin of ILT
Here is another tumor embo — and showing that ILT sometimes arises quite proximally along the horizontal cavernous segment
Big CPA mening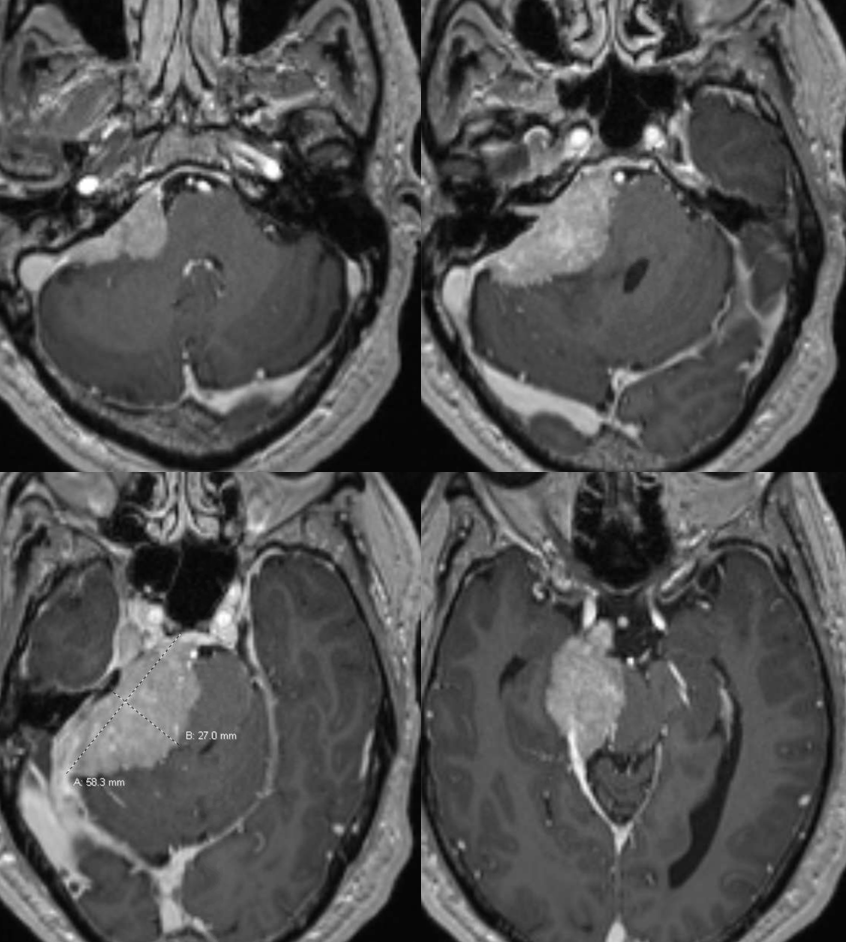 Very proximal origin of ILT (3), from very proximal horizontal segment.  Typical origin MHT (2)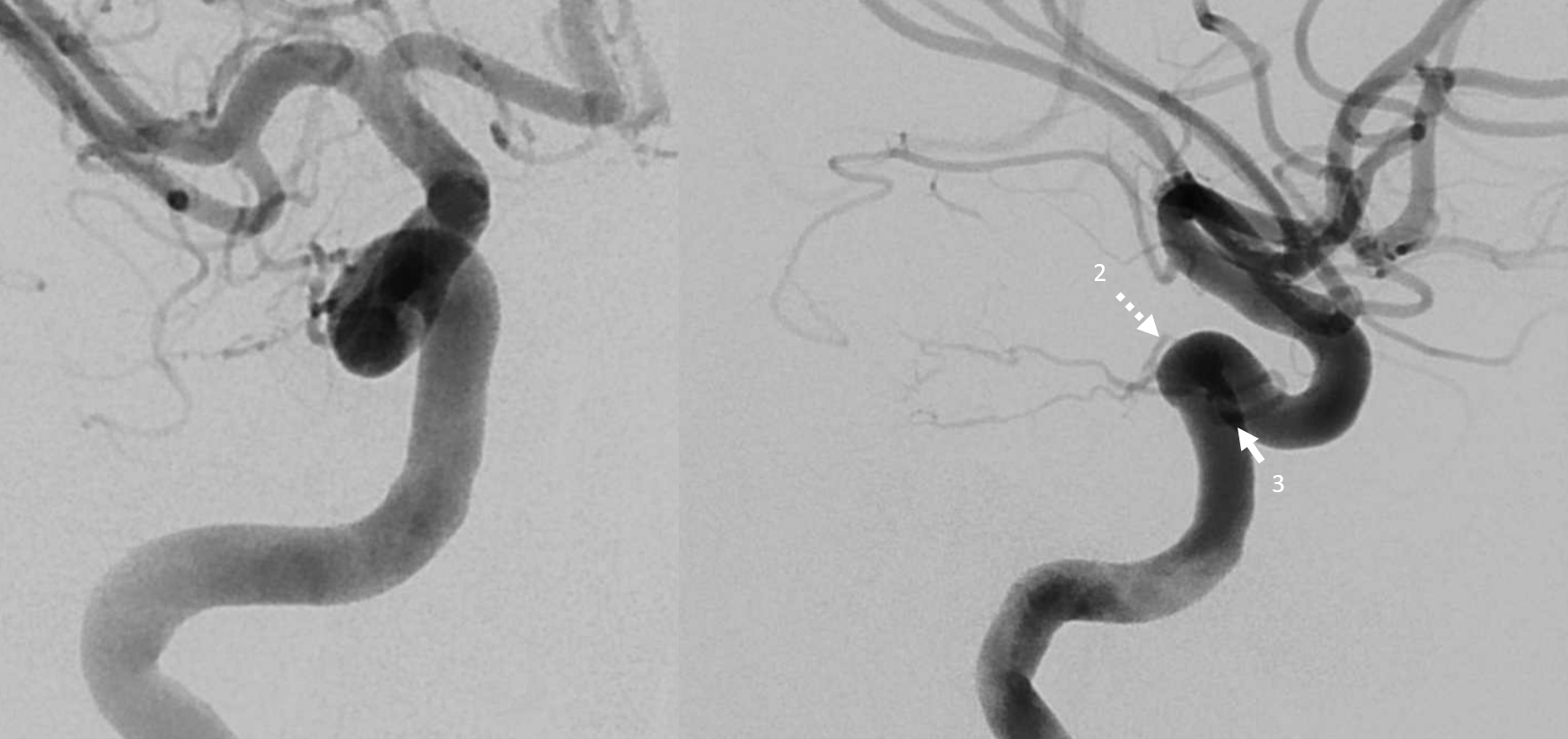 MHT catheterization and micro run — subsequent embo with 45-150 um Contour PVAs was done
ILT catheterization — Headway Duo 167 cm and Synchro 2 soft — the winning combo for these — notice again proximal ILT origin, also seen in DYNA axial inset (arrow)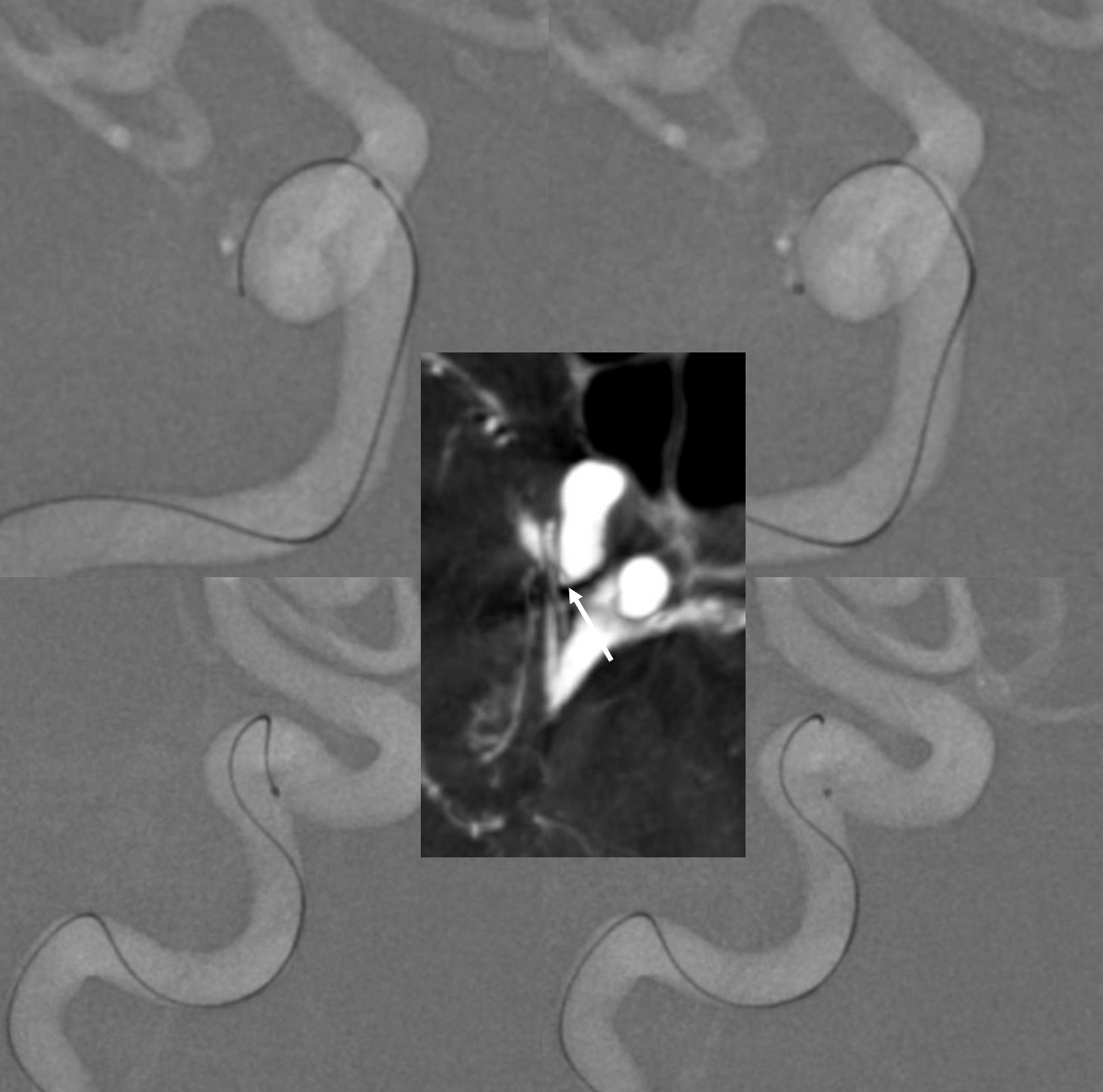 Micro run shows tumor supply along the lateral tentorial arcade. PVA embo same particles
During embo, important to check — as tumor is filled with particles, hemodynamics result in increased reflux and contrast penetration of previously unpacified connections.  The run below following partial embo shows all kinds of other ILT branches (proof that this is indeed ILT if you need one)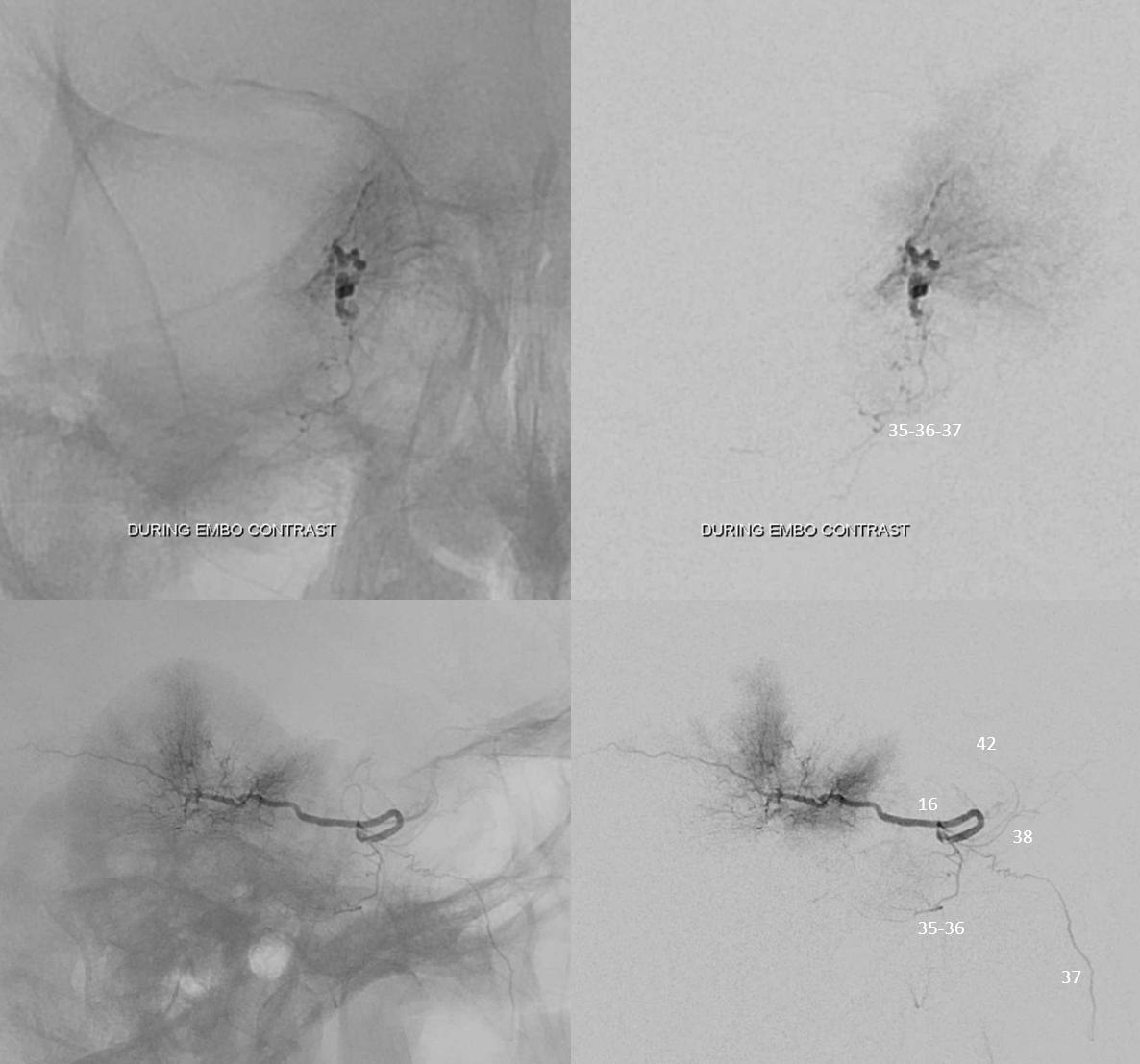 so, we put in more particles — very gently now.  Another check later — these micro injections are done after carefully purging the microcatheter of particles, and injections are stronger than particle injections — to see what happens — shows same branches, but now also reflux into the ICA (arrows).  At this point, we close the ILT with a small nano coil — nanos fit well into the long headway duo