Case courtesy of Dr. Chandra Sen, NYULMC.
Combined embolization and transnasal resection.
Patient presents with early signs of brainstem compression.
Notice stretching of the VIth nerves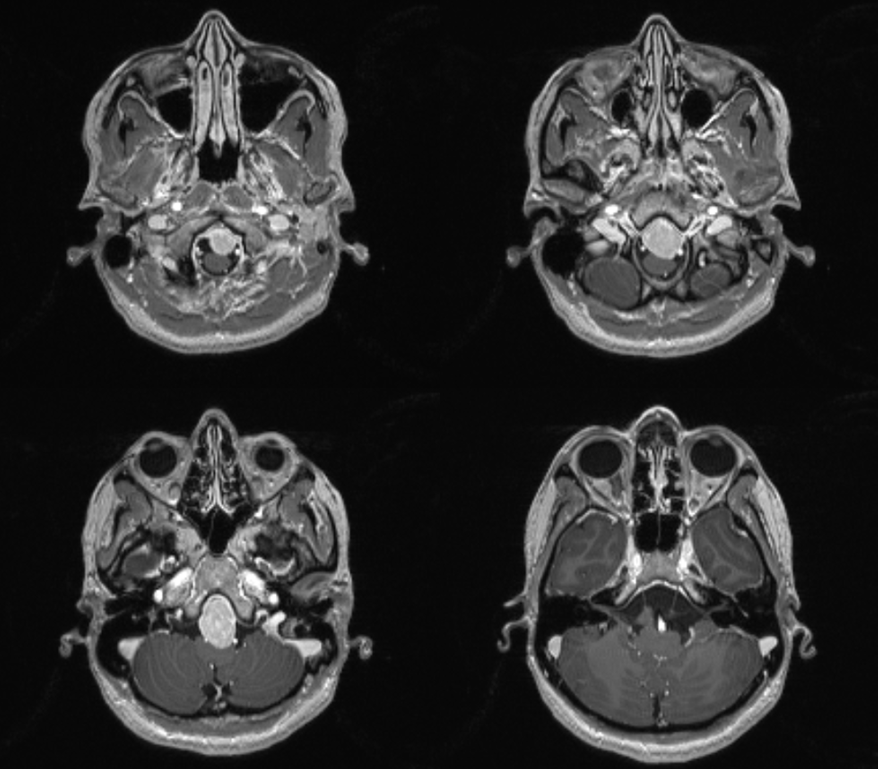 Tractography confirms presence of craniocaudally oriented white matter tracts in the medulla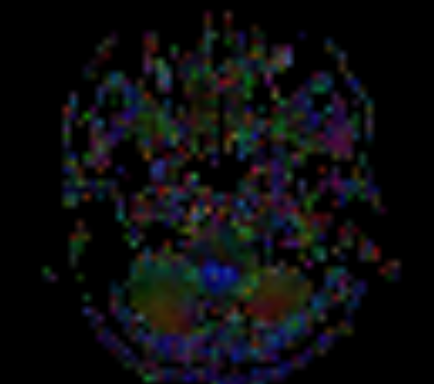 The tumor is situated immediately above the odontoid process.  The soft palate is marked with yellow arrow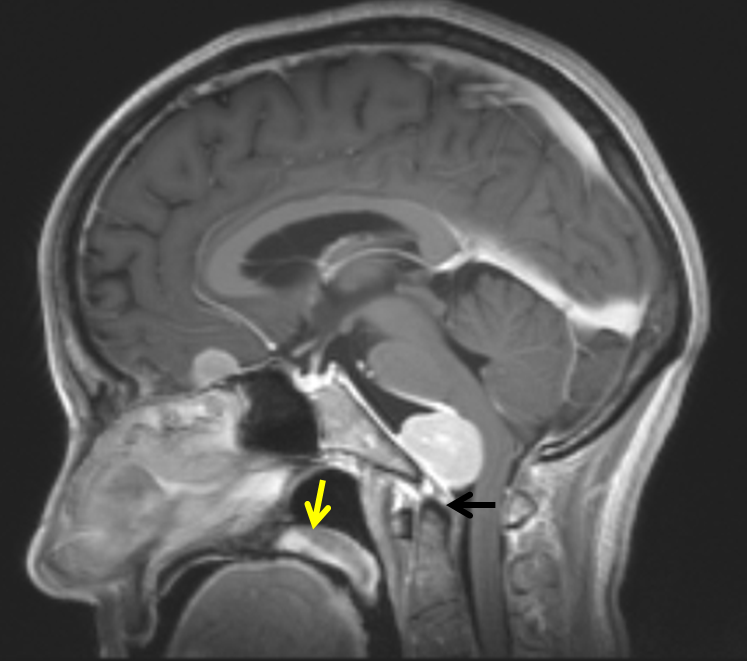 CTA shows tumor vascularity and an enlarged arterial branch within the left hypoglossal canal.  What branch is it?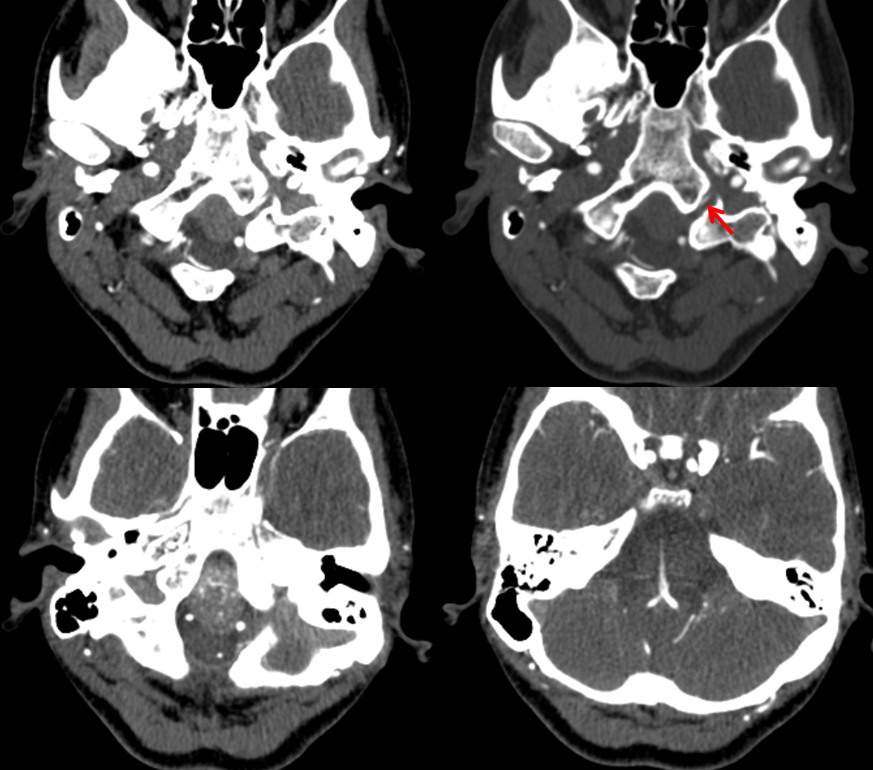 Sagittal recon
Angiogram shows proximal basilar fenestration and hypoplastic left PICA.  Clival venous plexus is not seen.
Stereo views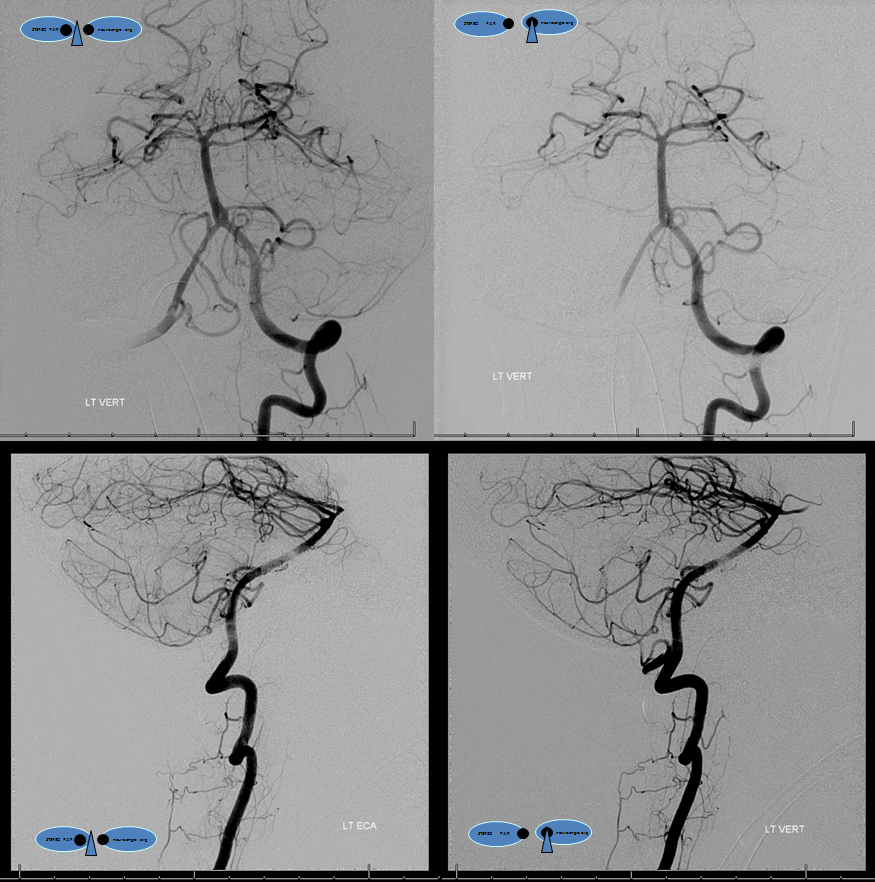 Another standard view of the left vert. Both transverse/sigmoid sinuses are patent. There small inferior petrosal sinuses present.
Stereo views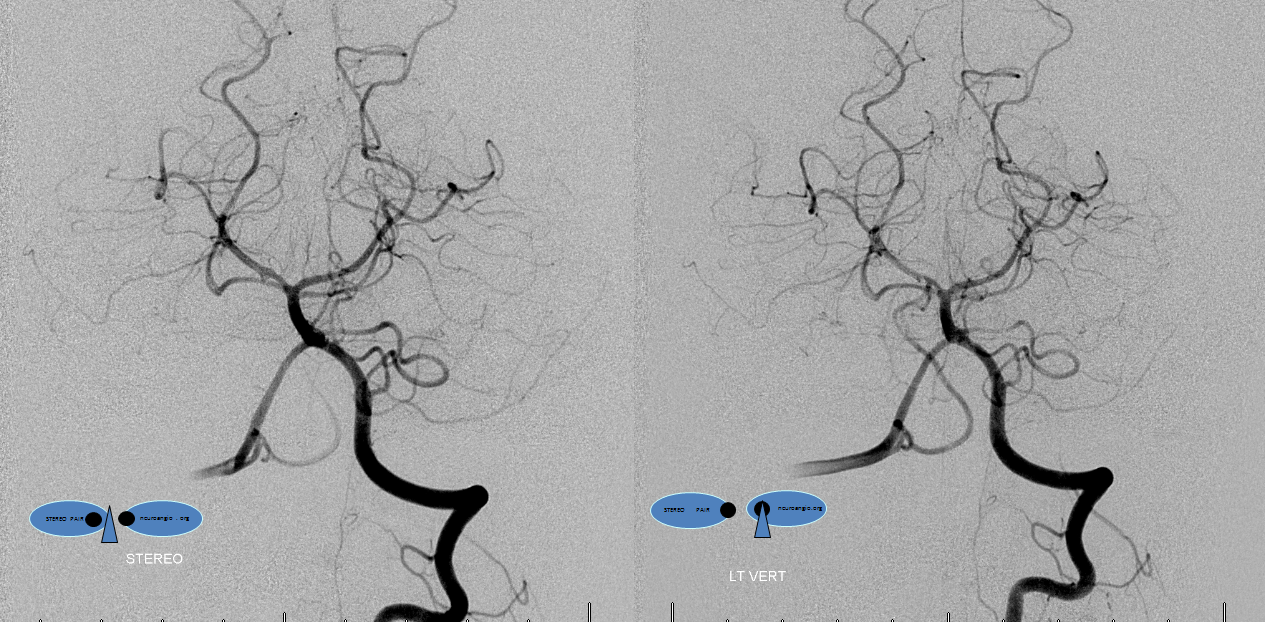 A small anterior spinal artery is seen arising from the vertebrobasilar junction, in a Y-configuration.  It is a key artery to preserve, for obvious reasons.  White arrows point to the origins, and red to the anterior spinal artery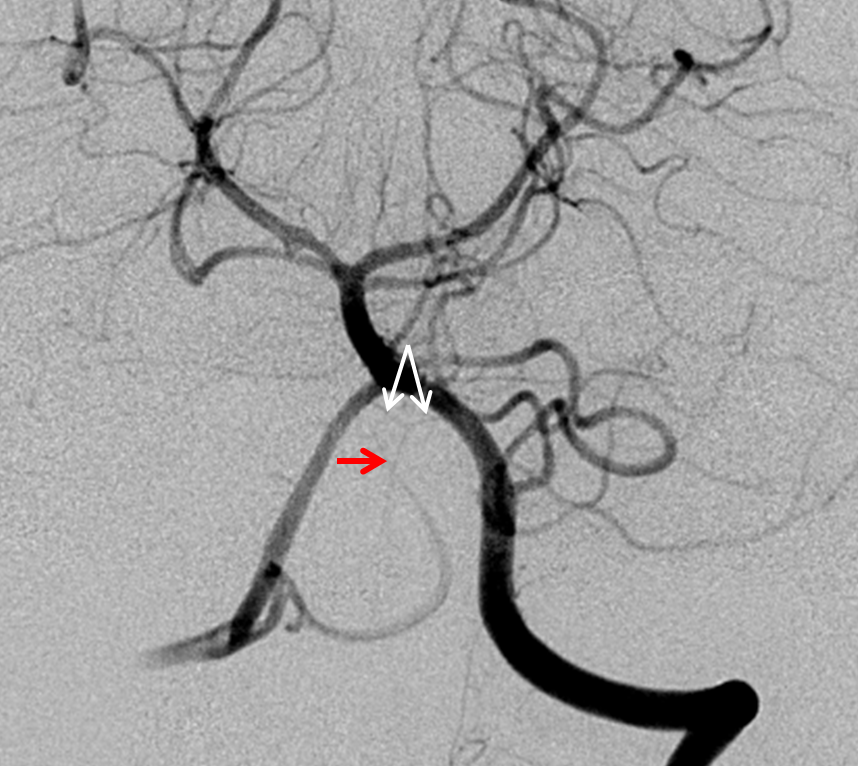 Right vertebral artery stereo views.  There is a dominant cervical radiculomedullary artery supplying the anterior spinal system arising from the right C5 level.  The right PICA is intradural however the tonsillar loop extends below the foramen magnum slightly.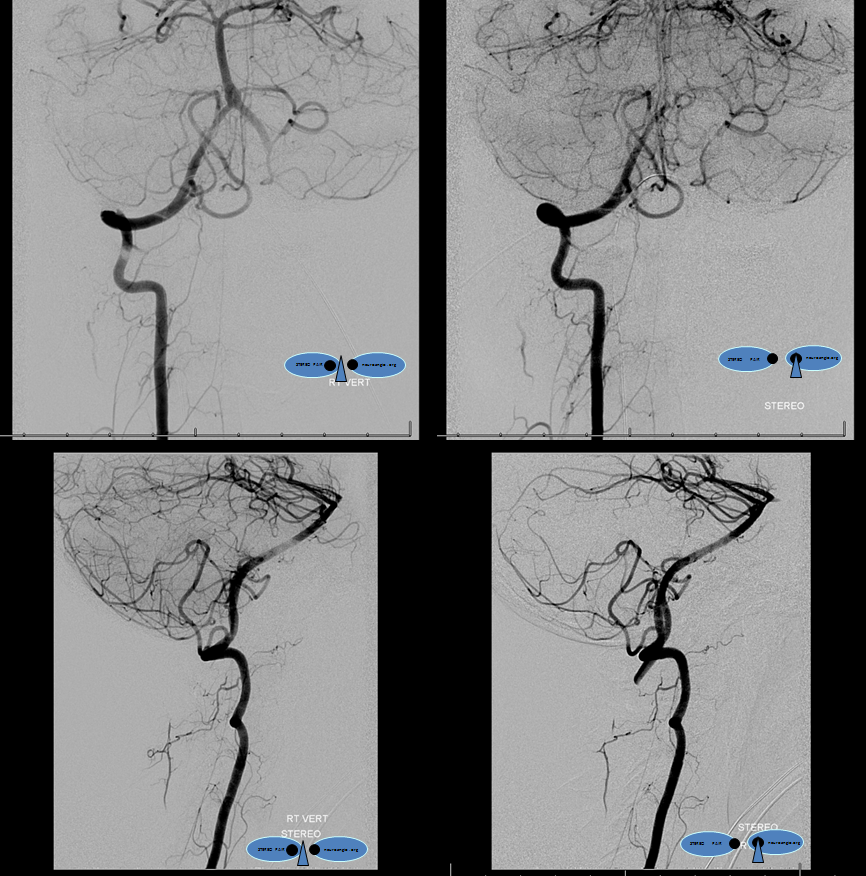 Native views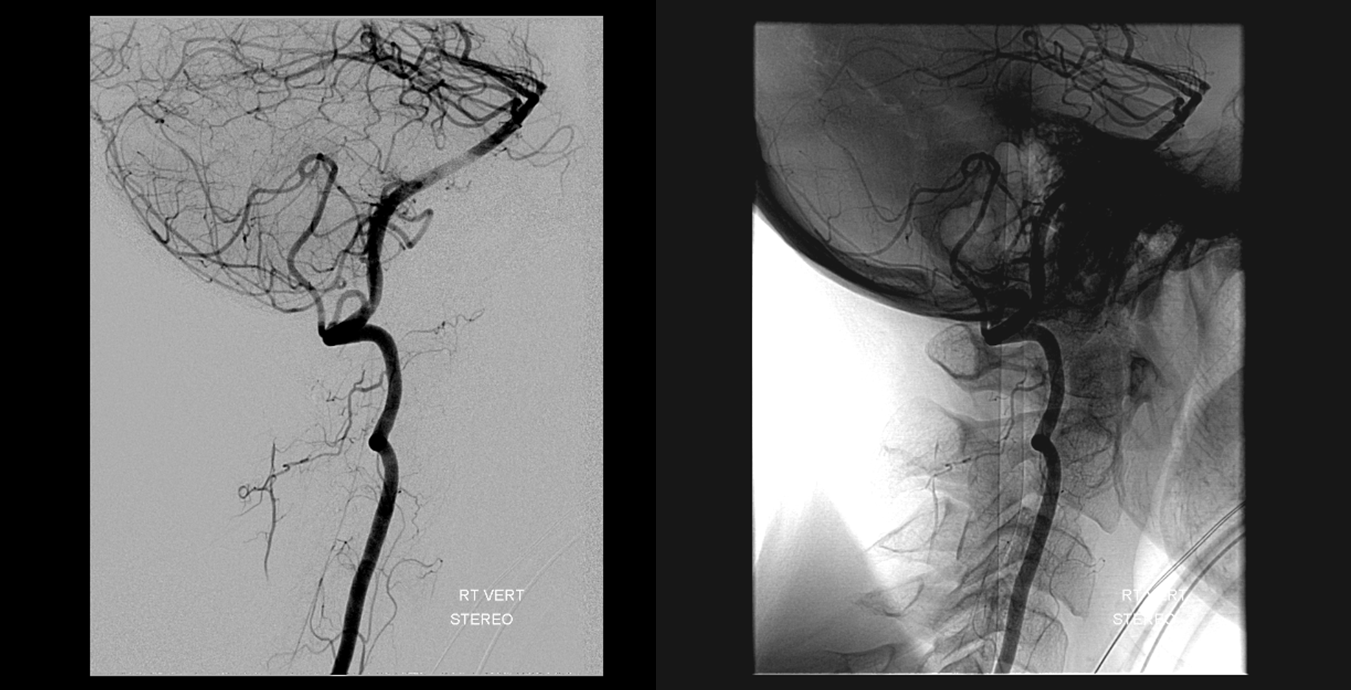 Left ICA views show no MHT contribution.  The venous system is patent. There is no clival venous plexus.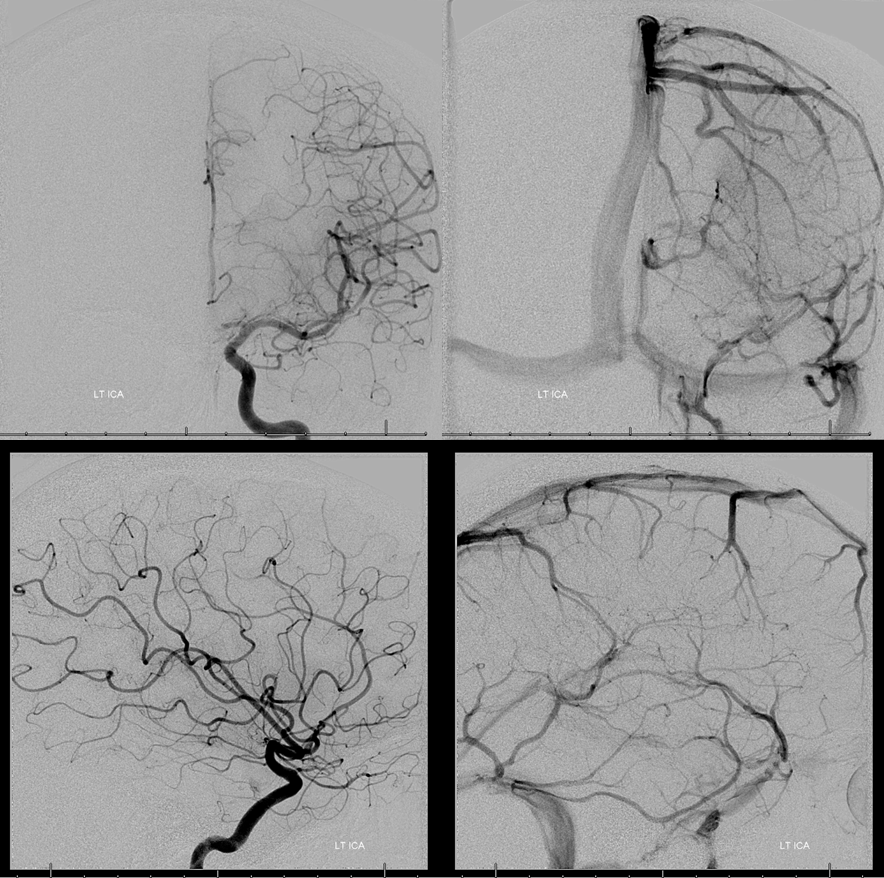 Same deal on the right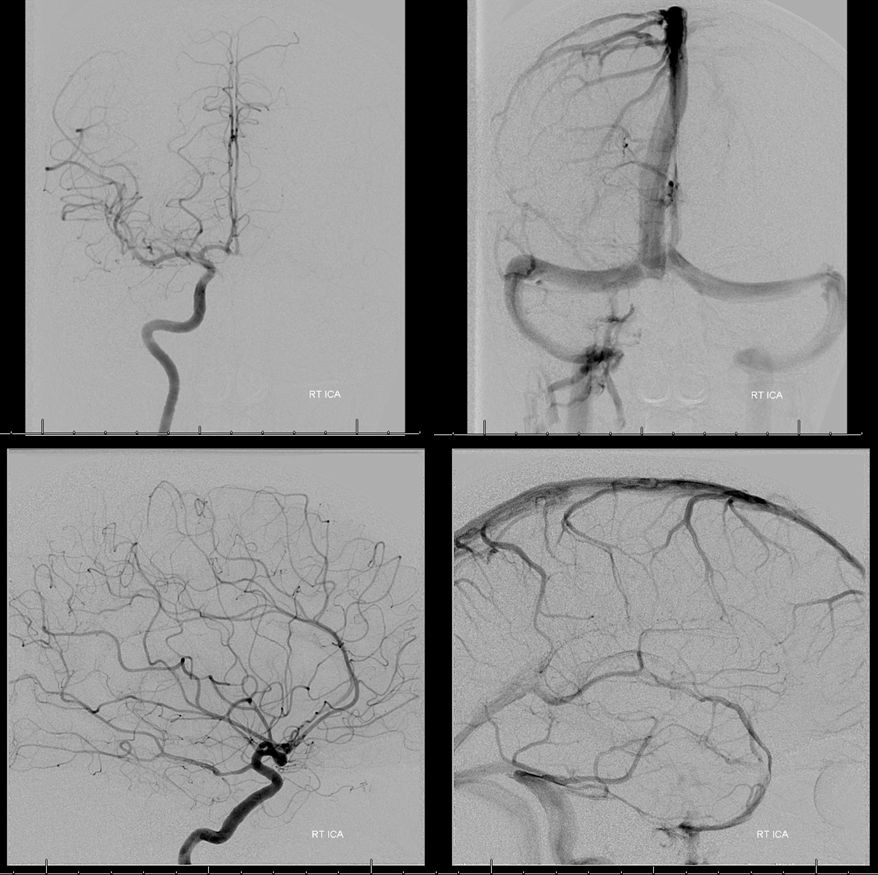 Right ECA has a small tumor blush from the ascending pharyngeal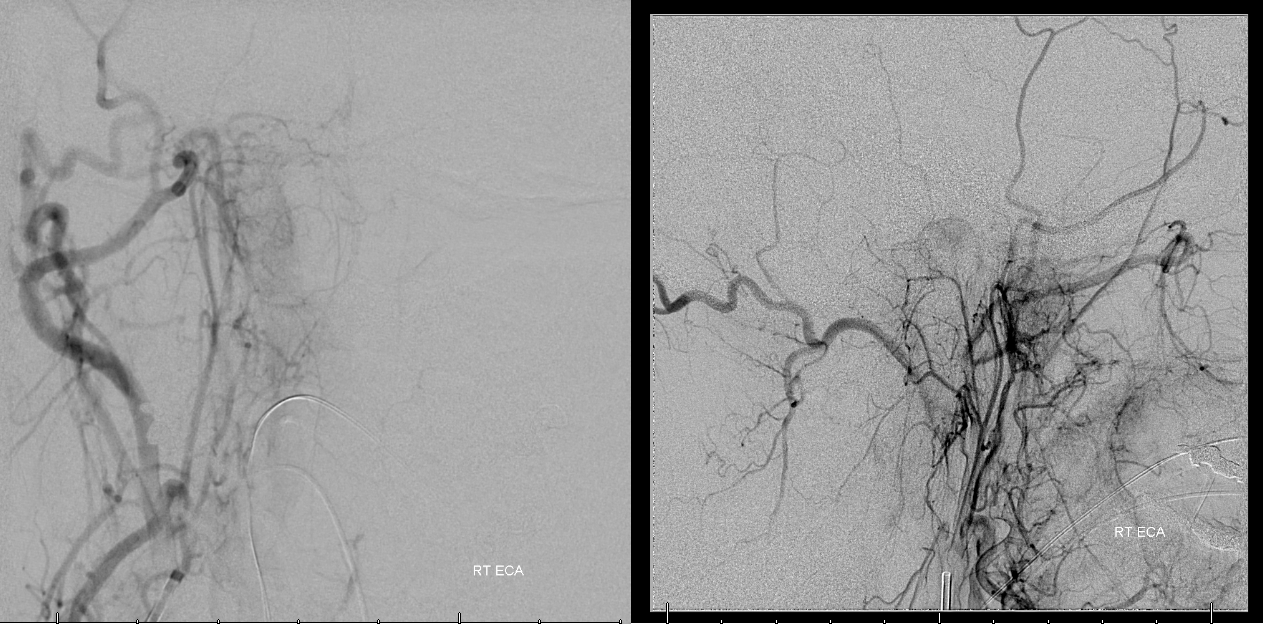 Bulk of tumor supply comes from the left neuromeningeal trunk.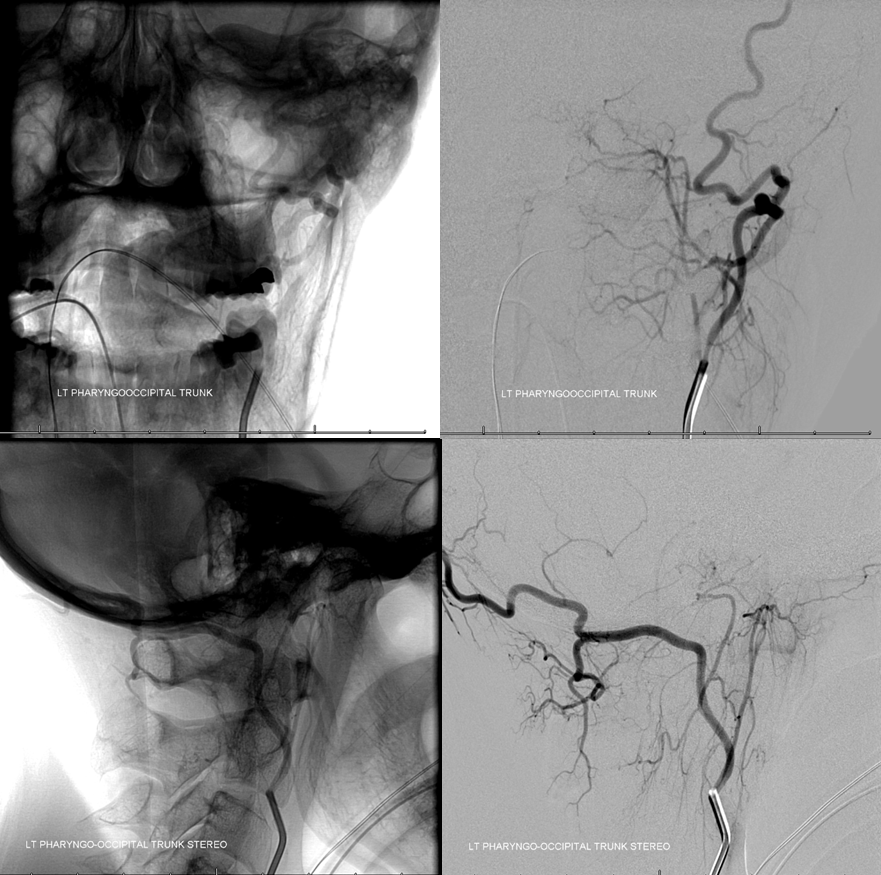 Normally the neuromeningeal trunk and pharyngeal trunk are the two main branches of the ascending pharyngeal artery.  In this patient however the pharyngeal trunk (yellow) and the neuromeningeal trunk (red) arise separately from the occipital artery — probably reflecting different embyologic origins of the two trunks.
Stereo views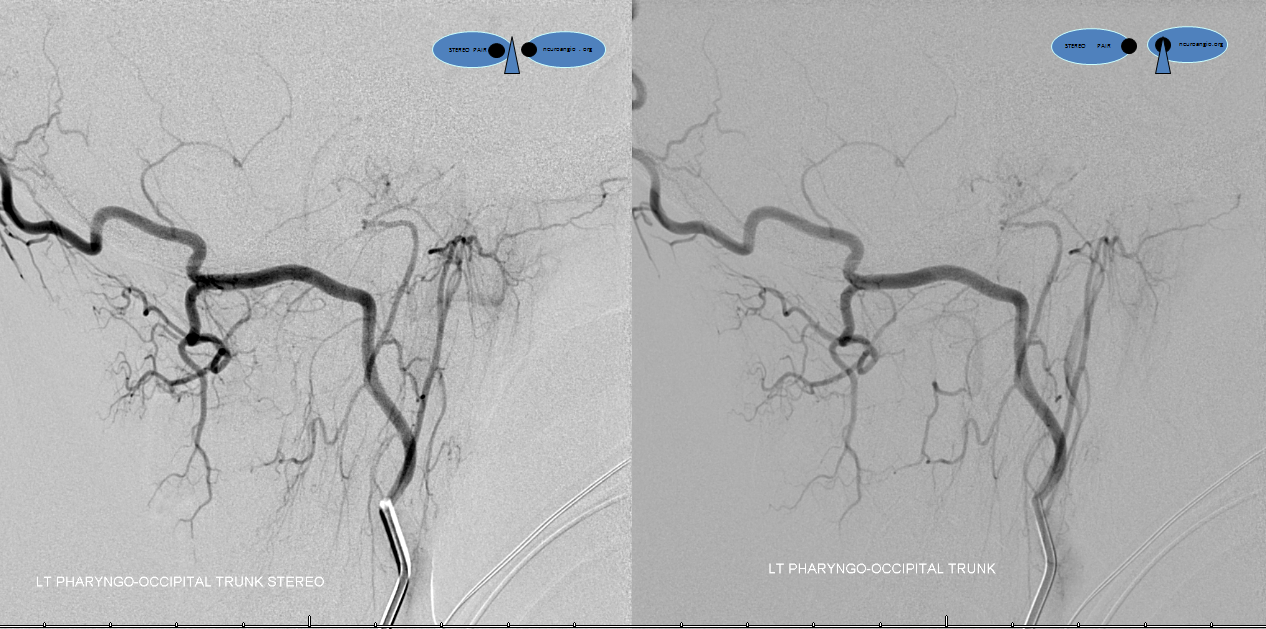 Right neuromeningeal trunk.  Not much of a blush, but for transnasal resection the goal is complete devascularization, so we embolize with 45-150 micrometer Contour particles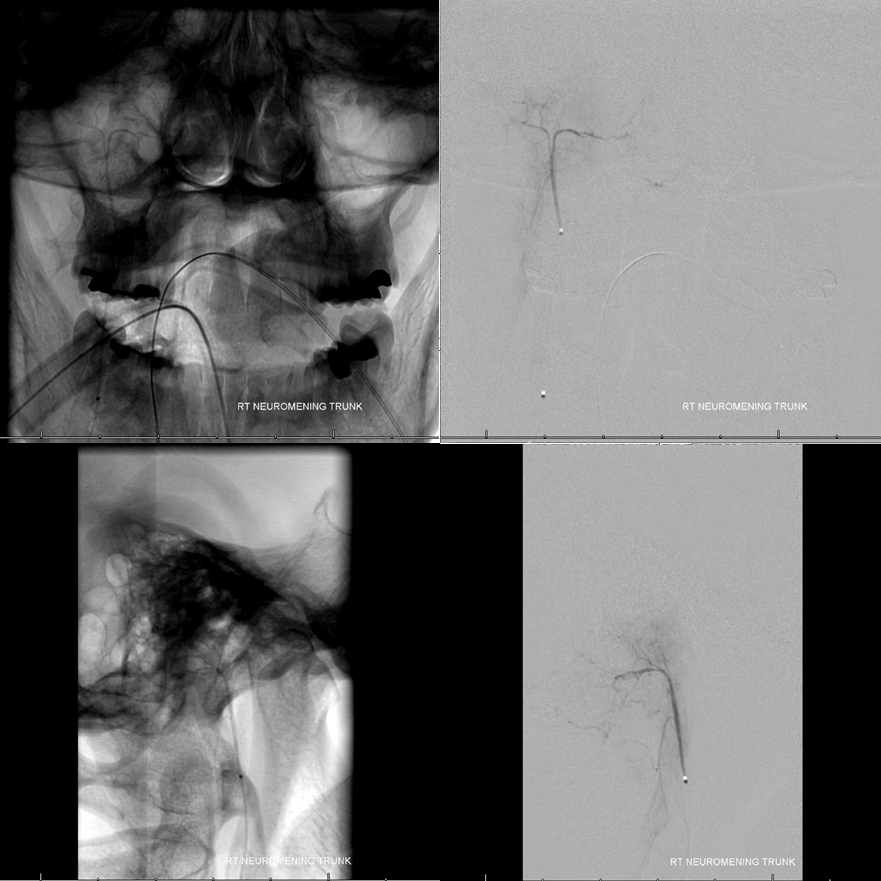 The branch is then closed with detachable coils (Stryker 1 by whatever mm nanocoils, these things are so soft they pack great in these small vessels.  Choose the longest one that works, and it is usually more than enough to close it. A bit expensive, compared to the usual pushable fibercoils we use for this purpose, but in these vessels the microcatheter is too small for the pushables we have.) The tiny coil pack is just under the skull base.
Nothing from the left pharyngeal trunk, as expected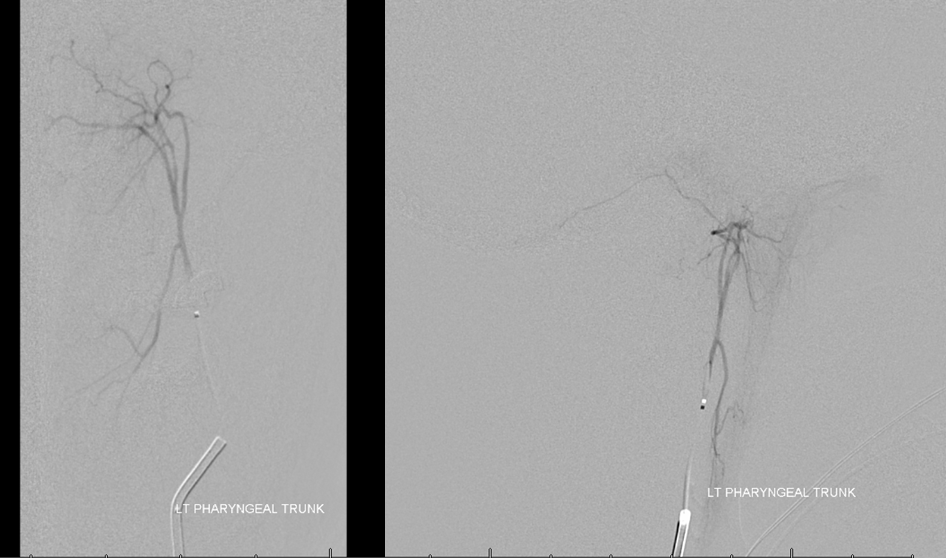 Left neuromeningeal trunk supplies the bulk of tumor, via the hypoglossal division. This is the branch which was seen on the CTA in the hypoglossal canal, and by definition is the only arterial branch that can be in that canal.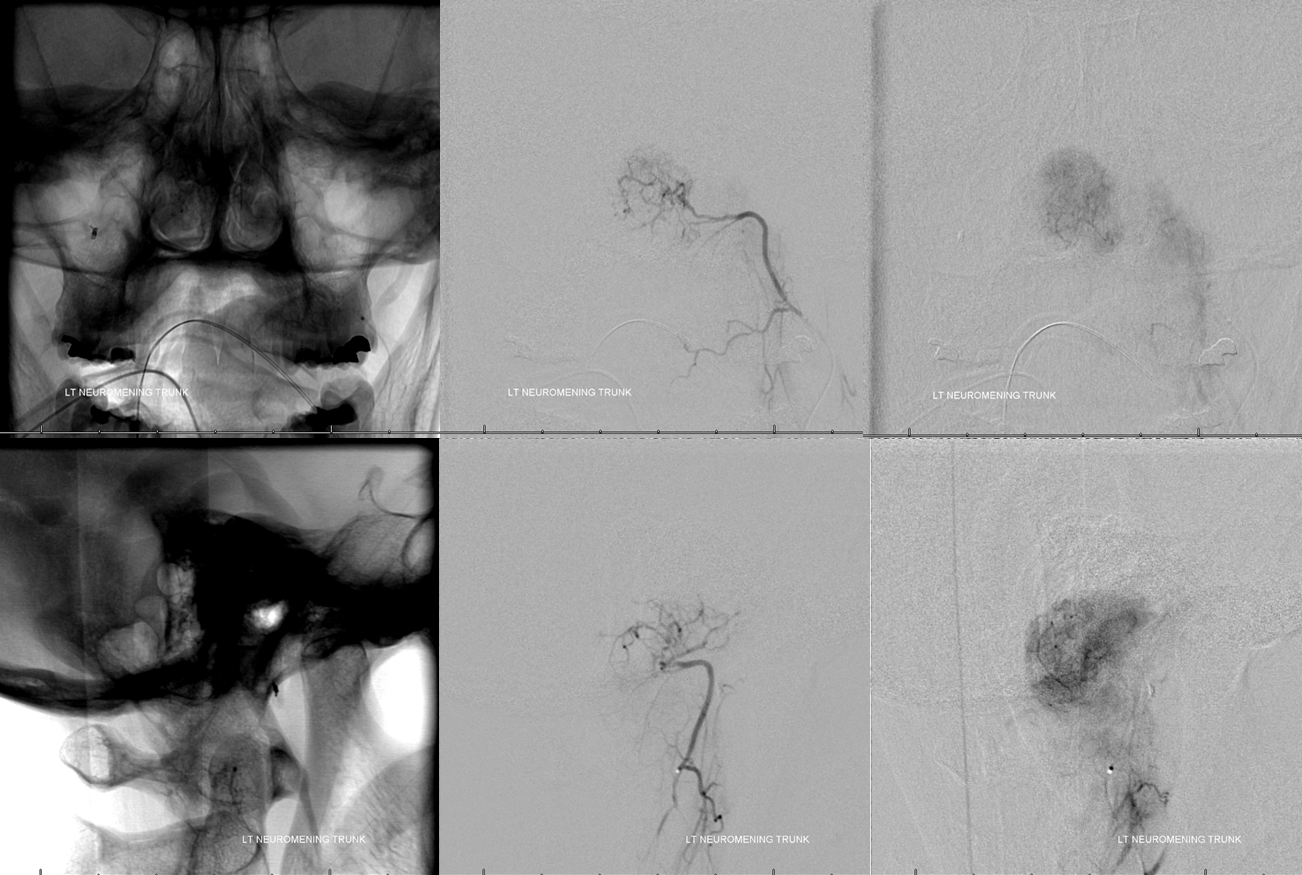 Post particle and coil embo
Next comes the odontoid arcade. Same SL-10 microcatheter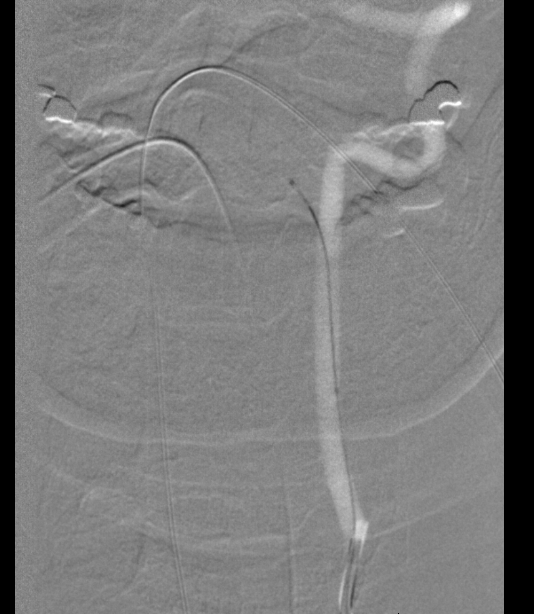 Not much of a blush, but it goes to the inferior part of tumor, that might be difficult to see and every bit counts here.
Post particle and coil embo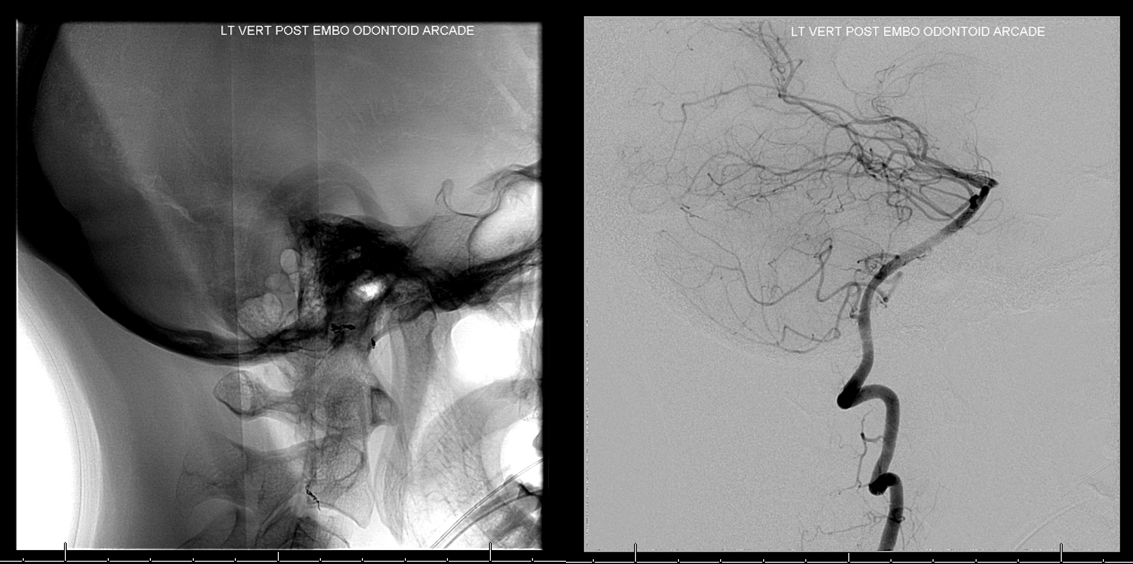 Same on the right
Pre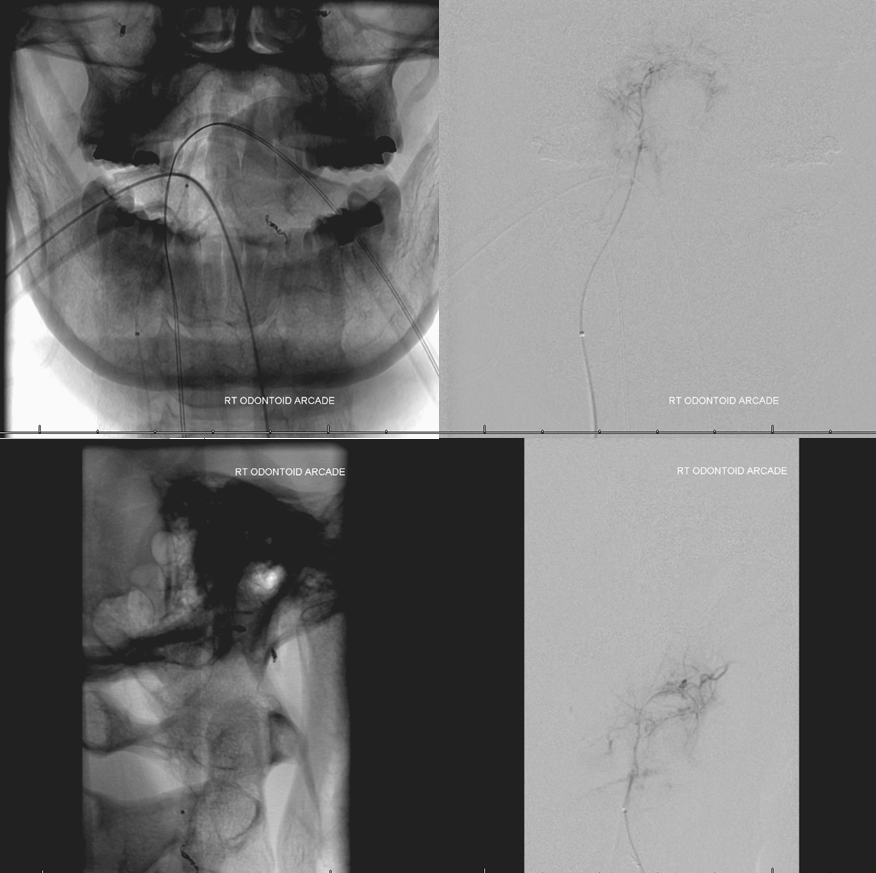 Post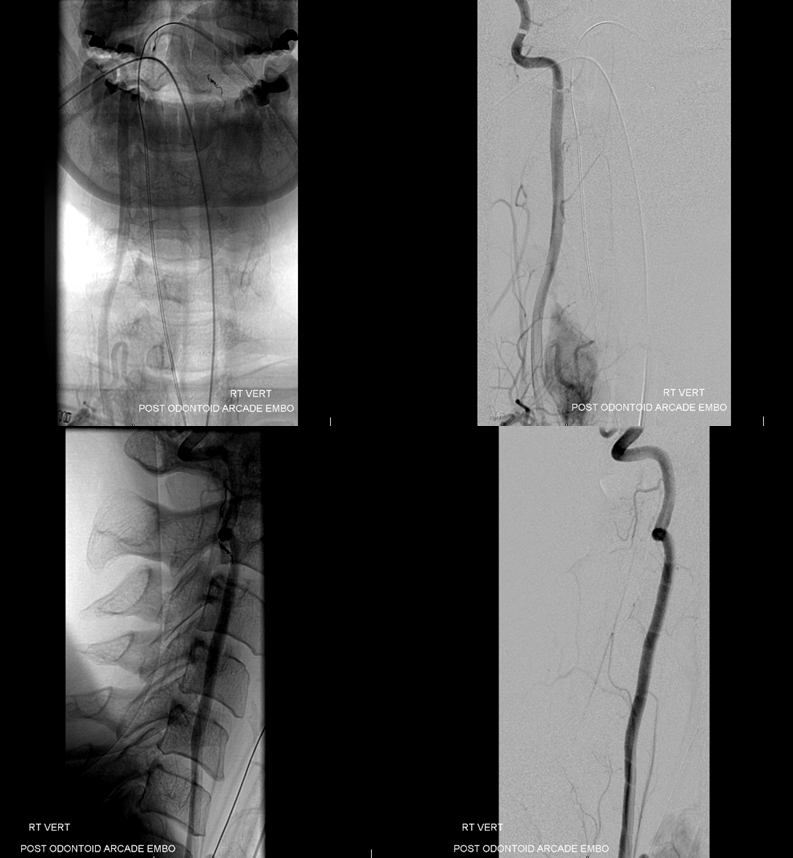 Neurologic status unchanged post embo. All CN fine.
Resection
Courtesy Drs. Chanra Sen of neurosurgery and Seth Lieberman of ENT, NYULMC
Transnasal resection — access by Dr. Lieberman.  At this point tumor almost ready to come out.  These are some of the most amazing views of the living brainstem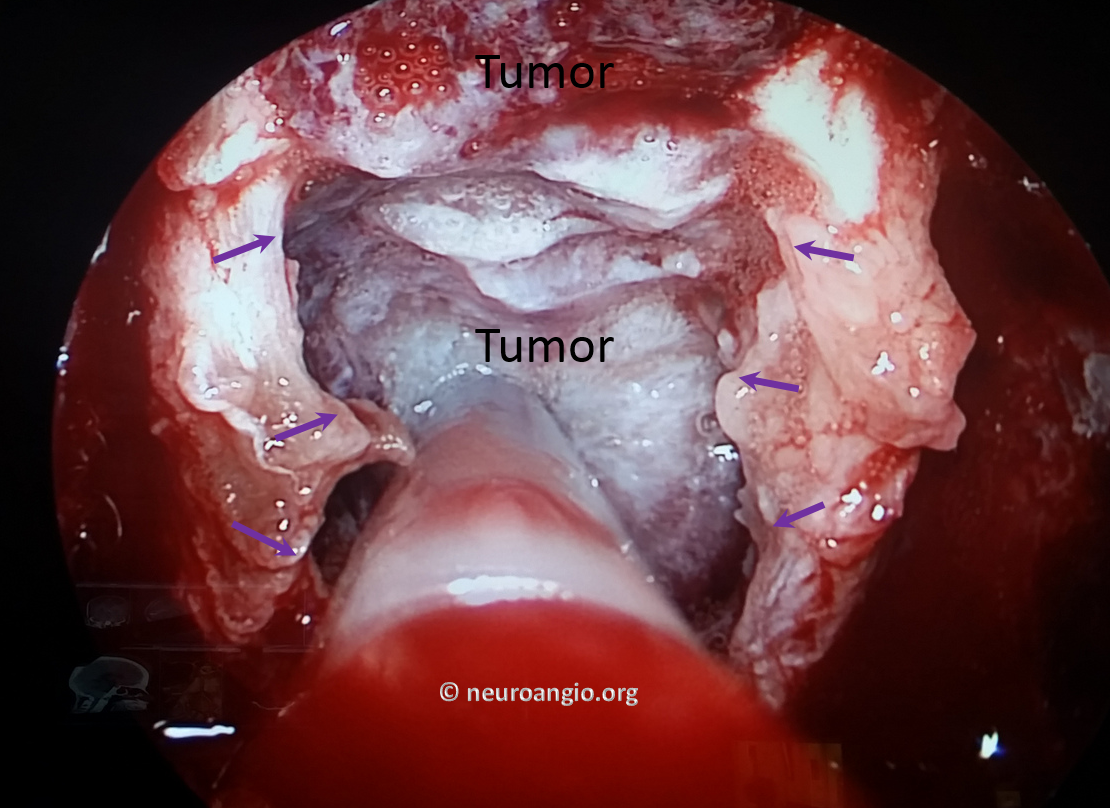 Tumor with posterior capsule intact is folded downward to reveal the vertebrobasilar junction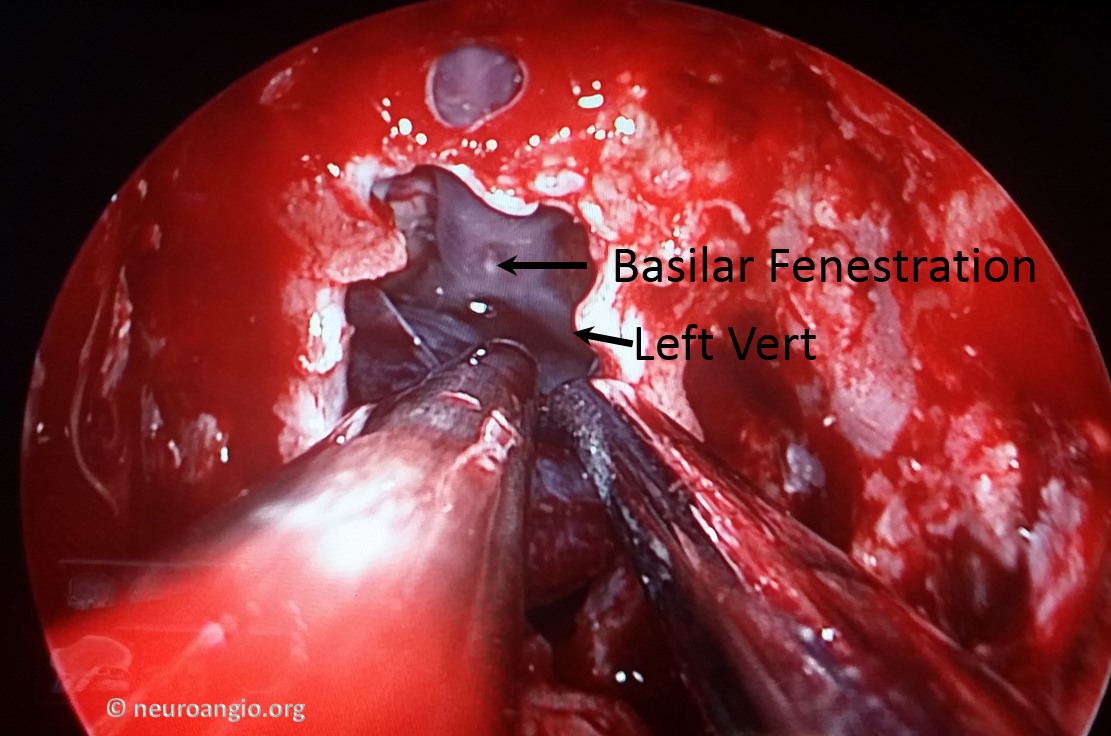 Working around the left lateral edge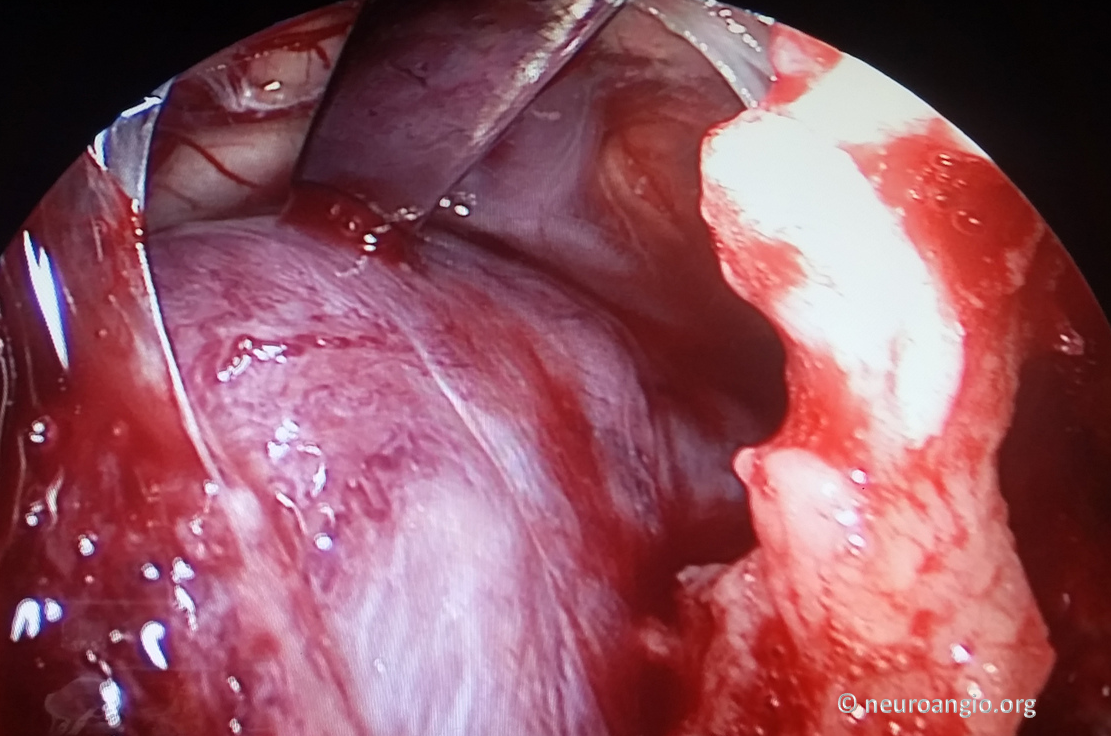 Hypoglossal nerve origin in view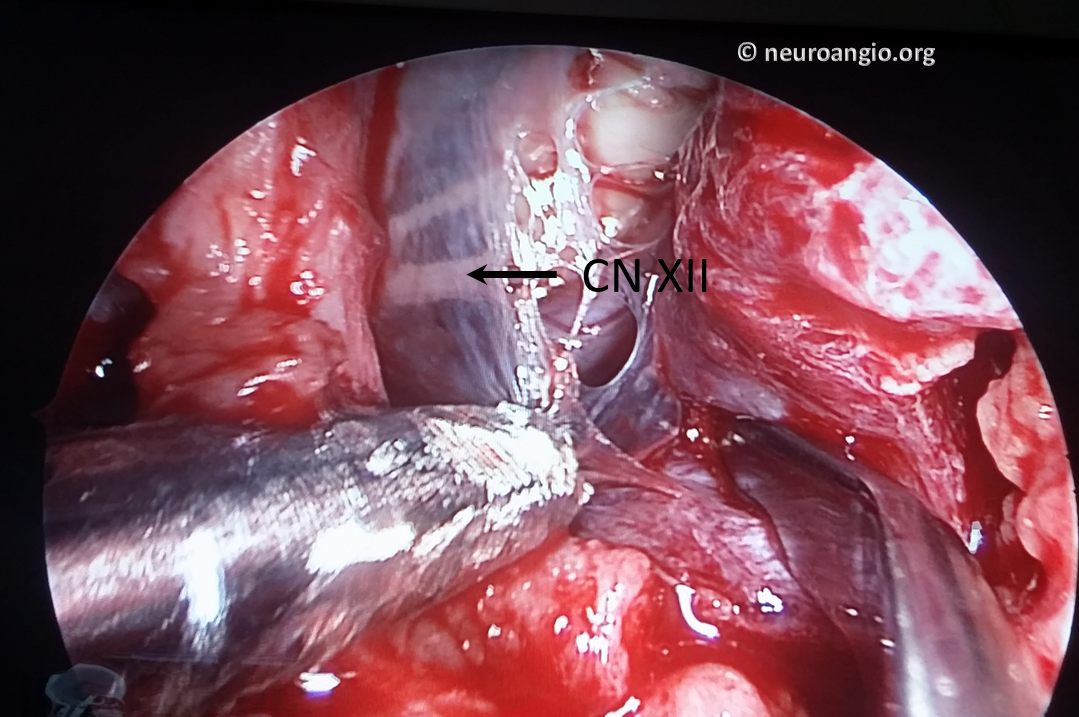 More hypoglossal nerve is visible now as arachnoid is removed
After removal of tumor. Amazing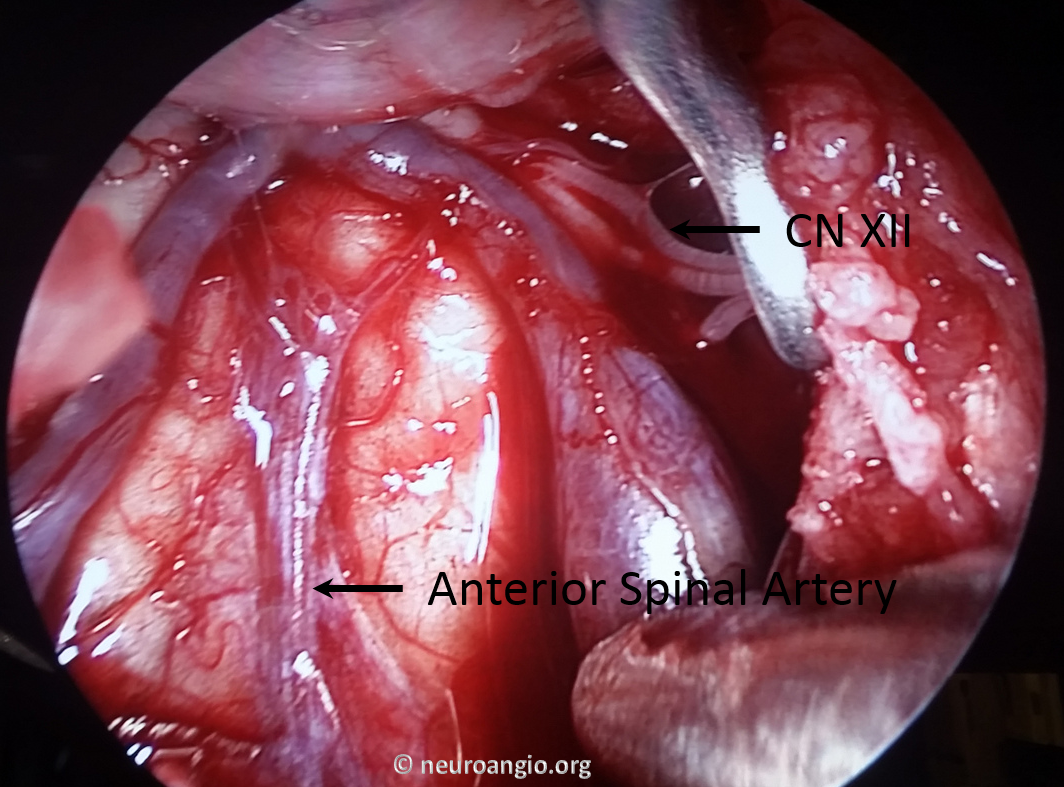 Another view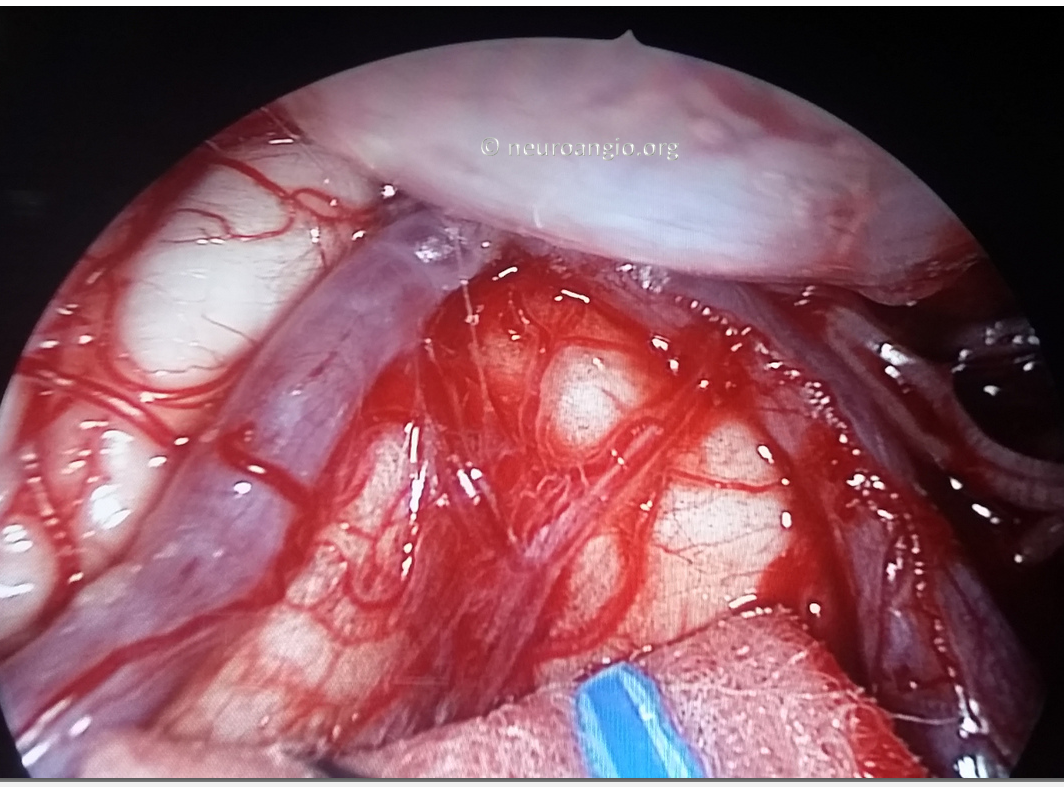 Finally, a video of the final neurosurgical part of the operation. If video link does not work click here to play manually
MRI post resection. Fat packing on both sides of dural defect is present
Fat packing is white. Dural reconstruction is red
Questions/Comments here 
See parent page Brain Tumor Embolization for more Cases