Another example of small particle skull base meningioma embo, pre-resection.  Patient presents with early V2 symptoms (numbness and dysesthesia) This one is broad, with one component along the sphenoid ridge, petroclinoid ligament, and cavernous sinus/Meckel cave, prepontine / ambient cisterns.  Arterial supply reflects location.  sphenoid ridge supply comes from either MMA or recurrent meningeal artery from the ophthalmic.  Lateral cavernous sinus/Meckel cave is property of the ILT and/or the accessory meningeal.  The prepontine / posterior cavernous part is MHT and/or ascending pharyngeal — ipsilateral and/or contralateral. The key is small particles (Contour 45-150 microns).  Embospheres can be treacherous — they are more spherical than Contours — which means more efficient vessel occlusion and more risk of cranial neuropathy.  For this reason we do not use Embospheres in cranial nerve sensitive locations.
CT shows significant hyperostosis
MRI with enhancement.
Right sided injections show no contribution
No major mass effect on vert or pial vertebrobasilar contribution.  Left jugular is occluded for some reason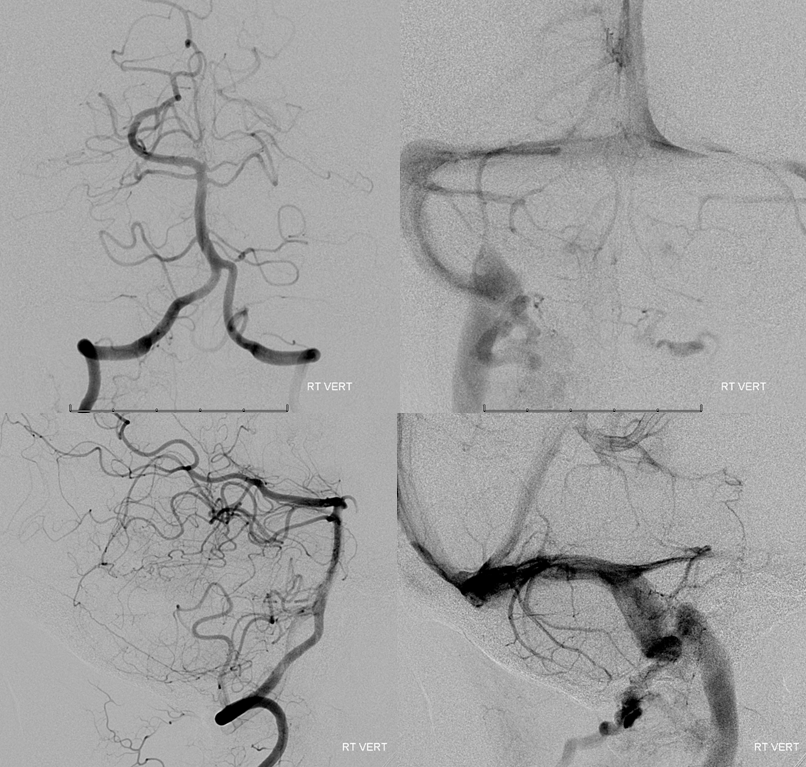 Left ICA shows both recurrent meningeal (red) contribution to sphenoid ridge component and MHT (white) to the posterior prepontine/ambient portion of tumor. Notice that the ILT is hypoplastic.  Venous phase images delineate cavenous sinus drainage and paucity of sylvian veins.  Good for surgery
Stereo pair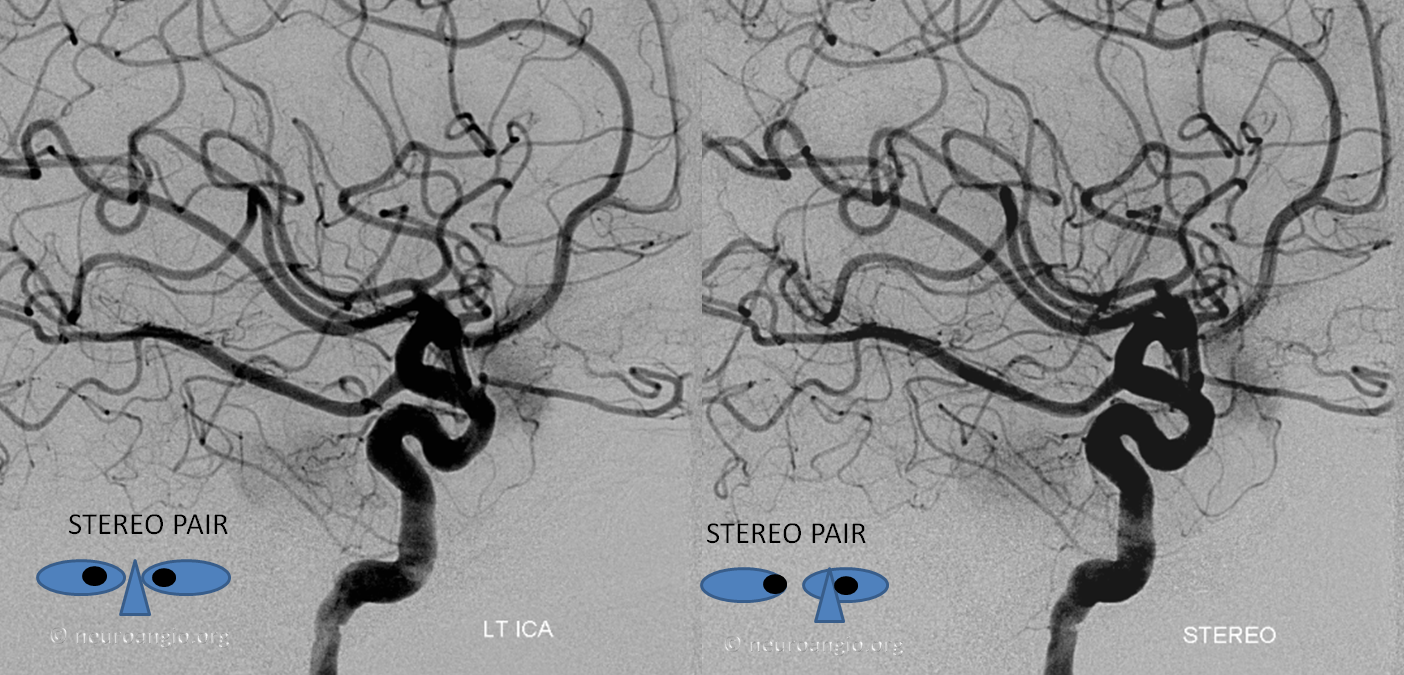 External with MMA and accessory meningeal (red) supply.  The MMA will go to sphenoid ridge (along with recurrent meningeal).  The accessory meningeal supplies the lateral cavernous / Meckel portions due to hypoplasia of the ILT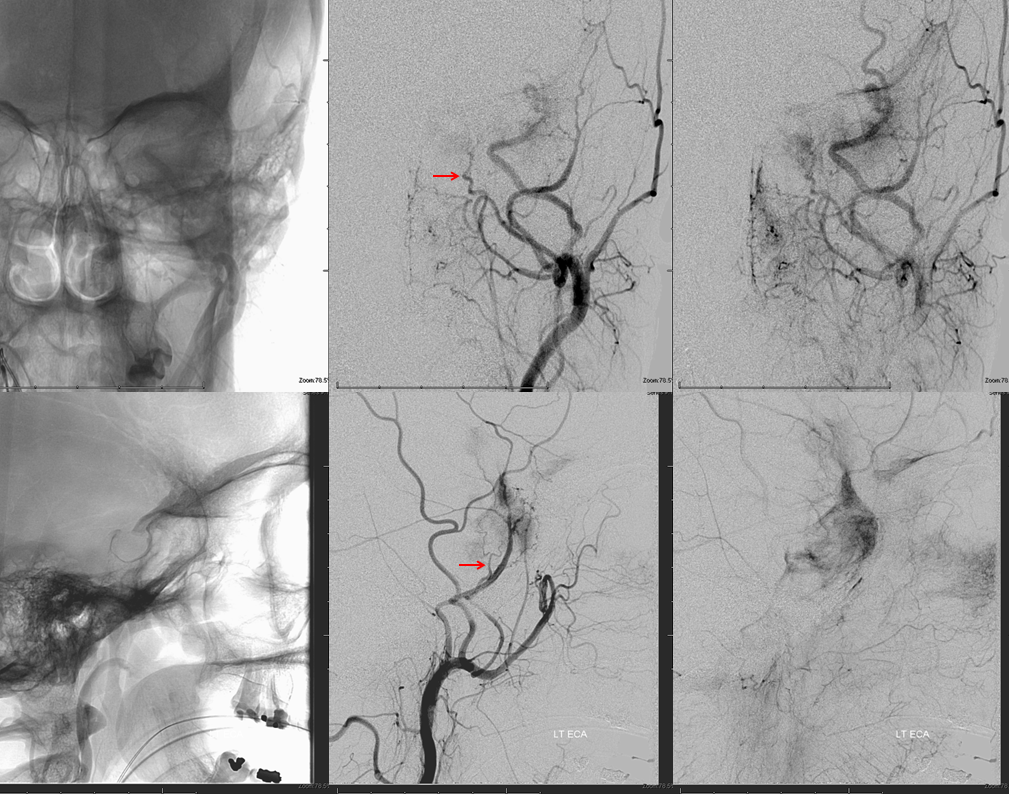 Stereo pair of same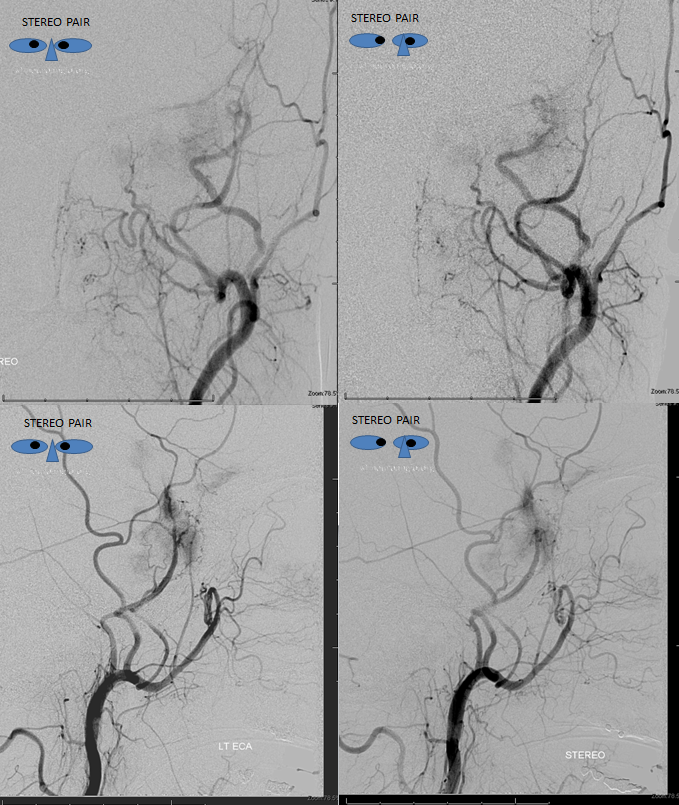 MMA pre embo.  There is a lot of hyperostosis
During embo — small particles, 45-150 microns, are puffed into the MMA, until everything is saturated and forward flow stops.  There is no eloquent territory here.  It is important not to be occlusive with the microcatheter here, so as to allow the runoff to carry particles into the tumor
After the embo, we like to close the branch with coils to prevent near-term recanalization but this is not necessary if surgery takes place next day or two, or if you want to save the branch for the future.  These are going to be cut tomorrow anyway. Notice the very small petrous branch at the proximal aspect of the MMA, heading posteriorly — this is part of the facial nerve arcade and goes to the greater petrosal nerve and facial nerve.  Generally speaking, embolization of the MMA from a very proximal position — at spinosum or just inside the skull — is a bad idea.  It is certainly a very bad idea if you see the facial arcade branch.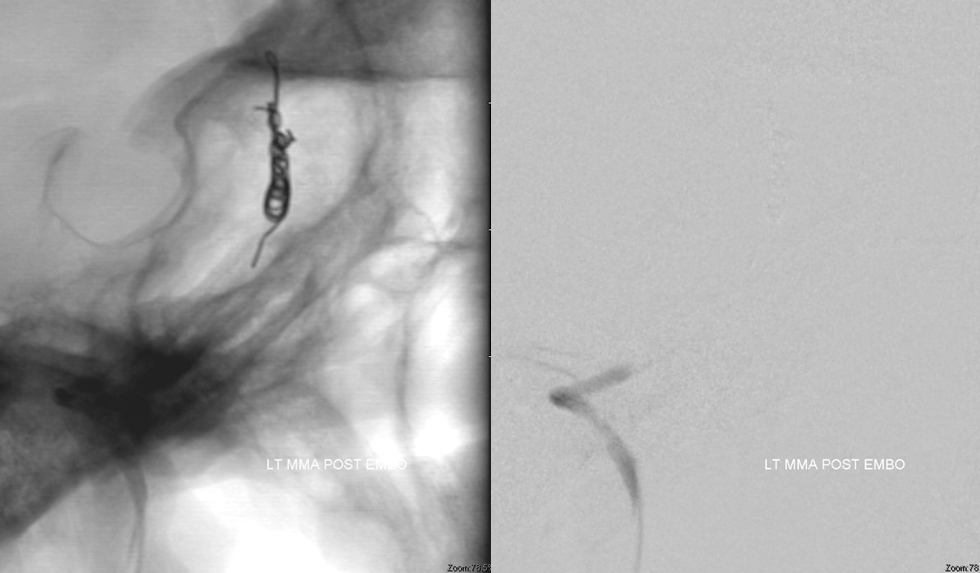 Next is the accessory meningeal. This picture is taken with microcatheter at foramen ovale position. Pretty juicy
The microcatheter is advanced more distally to achieve a more selective embolization. Small particles again. All cavernous sinus cranial nerves are at risk here — generally speaking even small particle mening embo is well-tolerated by the cavernous sinus and lower cranial nerves. The VII is one exception, i think.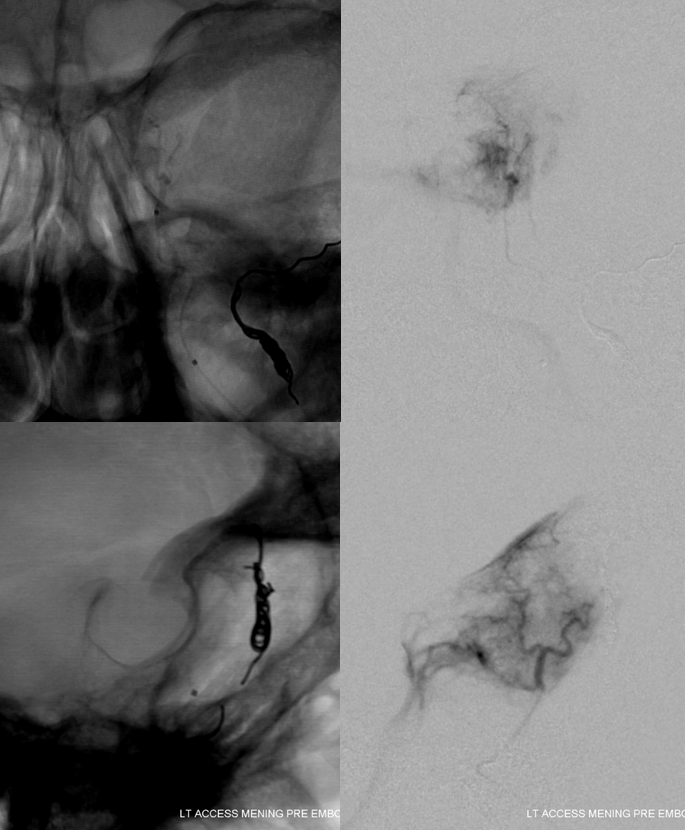 During embo
Progressive particle deposition results in disappearance of the tumor parenchyma, with only main supply trunks visible.   Sometimes new areas of tumor will open up with continued particalization; if not, the branch is closed with coils — detachable if the microcatheter is small, and pushable fiberoils (cheaper and more thrombogenic) if an 021 catheter is present and location allows for pushable coil use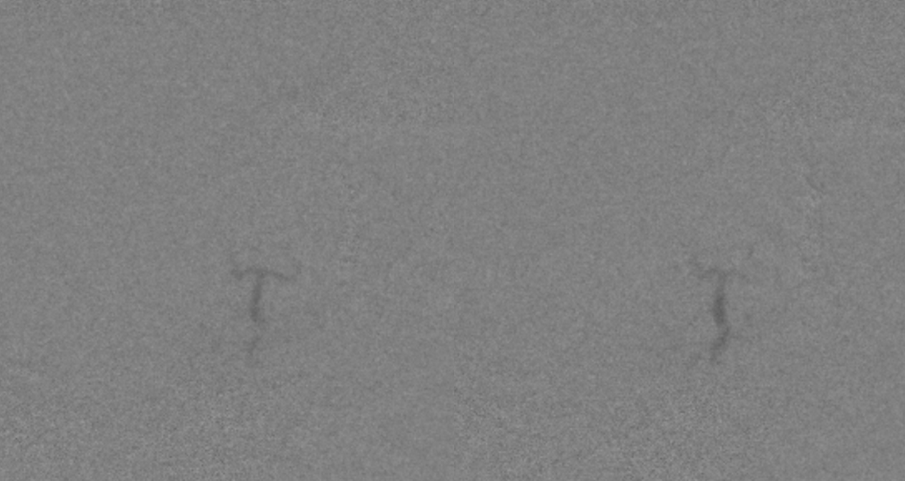 ECA post embo. A bit of residual at the lateral aspect of the sphenoid ridge is easily taken care of surgically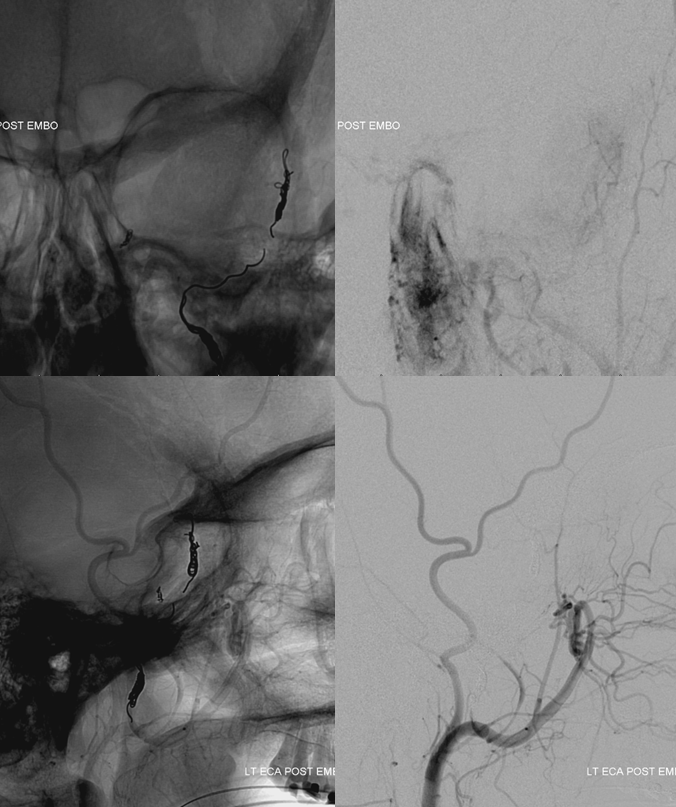 Now to the main supply, and the most important part for pre-op embo — MHT. Stereo pair for better understanding of the anatomy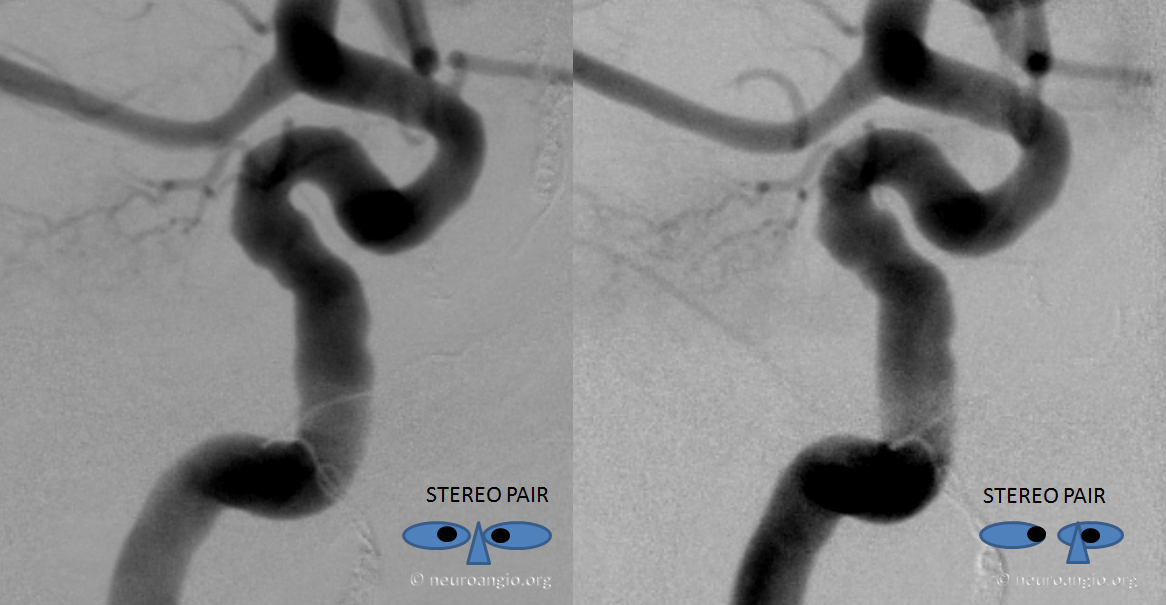 In the end, we get into it with as much luck as skill.  Our typical access setup is a synchro 10 wire and a steam-shaped Marathon catheter — big enough for 45-150 particles for sure.

Well worth the effort, frontal view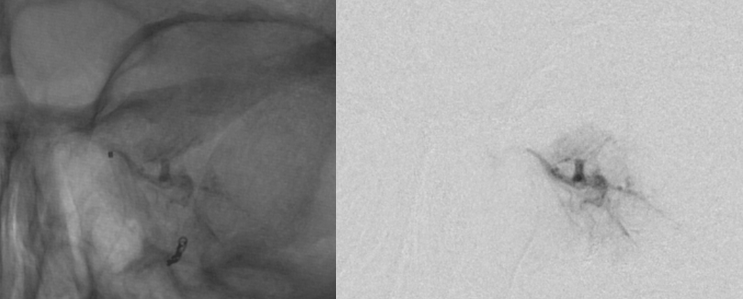 Lateral view is even better. Notice the round circle of the carotid artery in the middle of the tumor. No reflux into the ICA.  Particles away…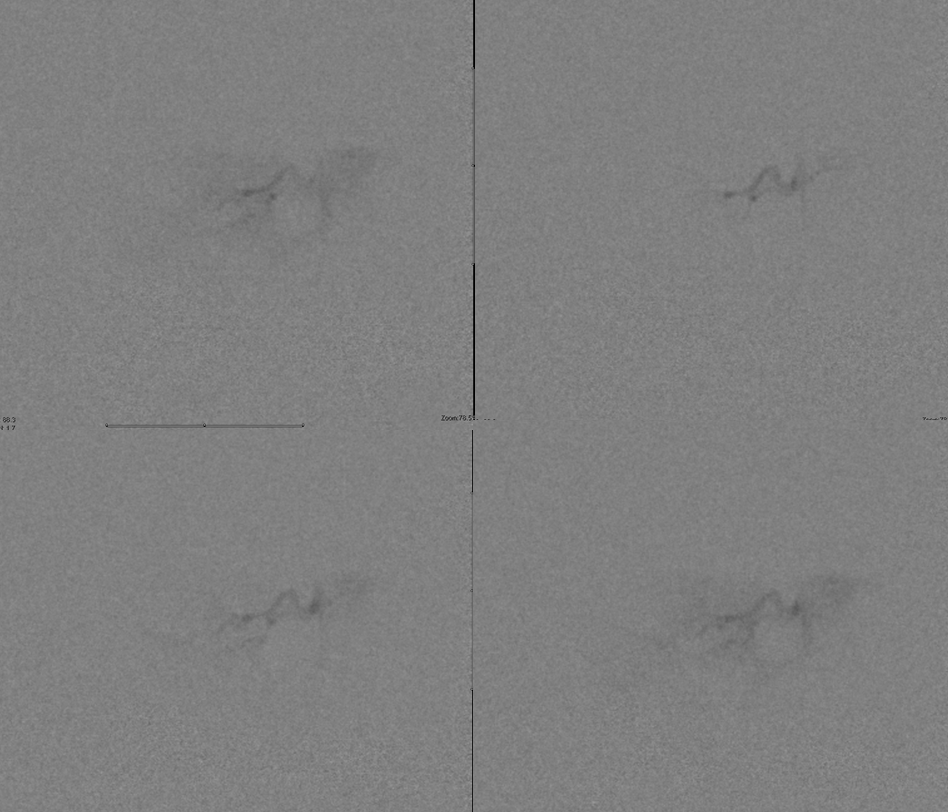 A gentle check in the middle of embo — still no reflux

More embo.  The reflexive apprehension about embolizing MHT or ILT i think is misguided.  They are neither more or less treacherous than their regional collaterals — neuromeningeal trunk of the ascending pharyngeal, MMA, accessory meningeal, etc.  It is just as easy to push particles through artery-to-artery anastomoses from the ascending pharyngeal or some other vessel into the carotid or vert as it is through the MHT or ILT.  In fact, both MHT and ILT are in some sense safer because the reflux is the "devil you know", whereas artery-to-artery anastomoses are perhaps less obvious. Anyway, that's just my opinion.  More embo, no reflux, all small particles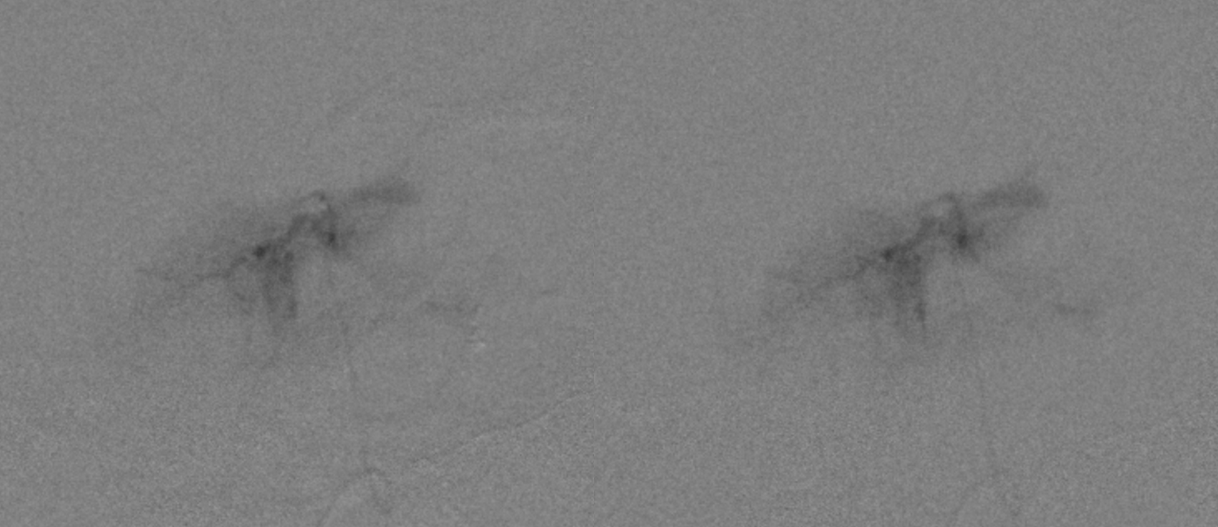 Another very gentle injection — contrast only, during embo.  There is barely any parenchymal blush left, and now, appropriately, we are starting to see some reflux (red arrows).  Very gentle injection is necessary, lest particles be stirred up and refluxed into the ICA.  Notice dense contrast blush of the tumor (white arrows) — an excellent sign of a very good embolization.
We do not have coils that can be delivered through the Marathon in the US yet, and liquid embolics such as Onyx or nBCA are not worth the risk — especially DMSO.  Post-procedure angiogram. The MHT part is gone.  Only the recurrent meningeal remains.  The origin of recurrent meningeal is very distal along the ophthalmic artery and therefore the embolization risk is relatively low — however it is still the ophthalmic and this region is easily removed surgically.  In fact, the recurrent meningeal was encountered and coagulated quite early in the subsequent operation.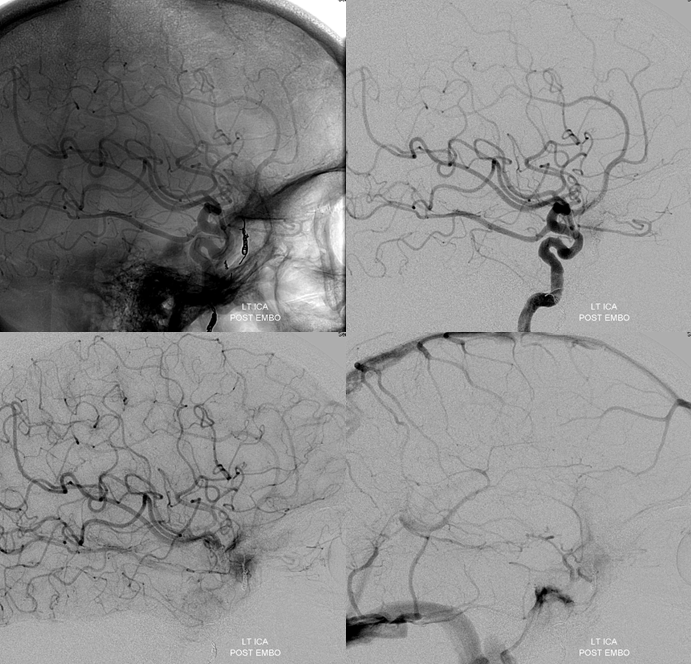 See Preoperative Tumor Embolization Page for more cases