Yet another demonstration that subarachnoid hemorrhage needs a full angiographic evaluation.
Case Courtesy Tibor Becske, MD; formerly Director, Interventional Neurology, Rochester Regional Health, NY; now chief of REX neuroendovascular surgery at UNC Health Care
History is sudden onset headache, anisocoria, nausea
Notice preponderance of hemorrhage in the left cerebellomdullary fissure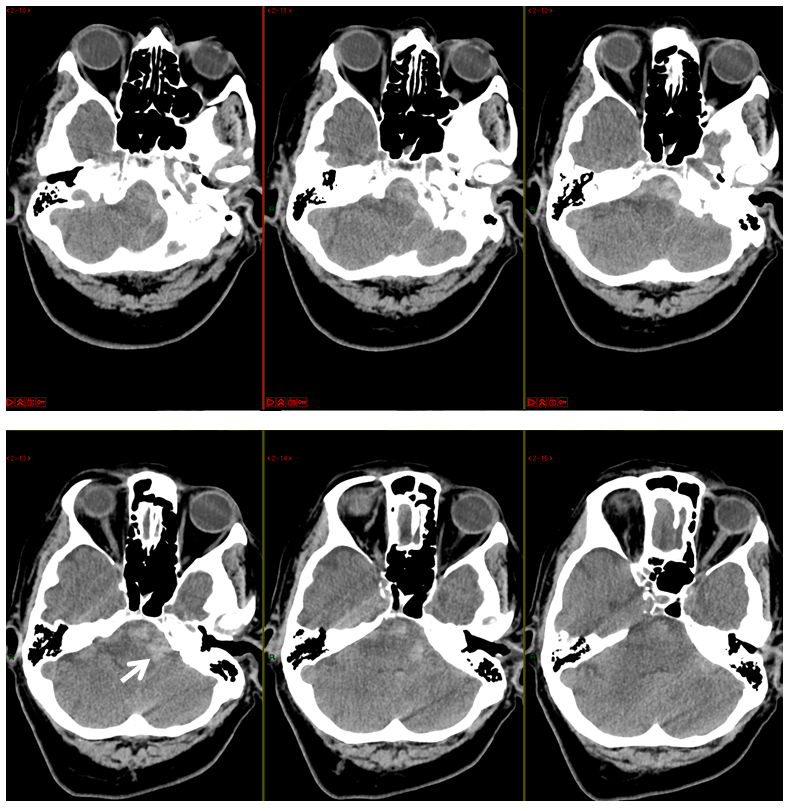 A bit later, some hydrocephalus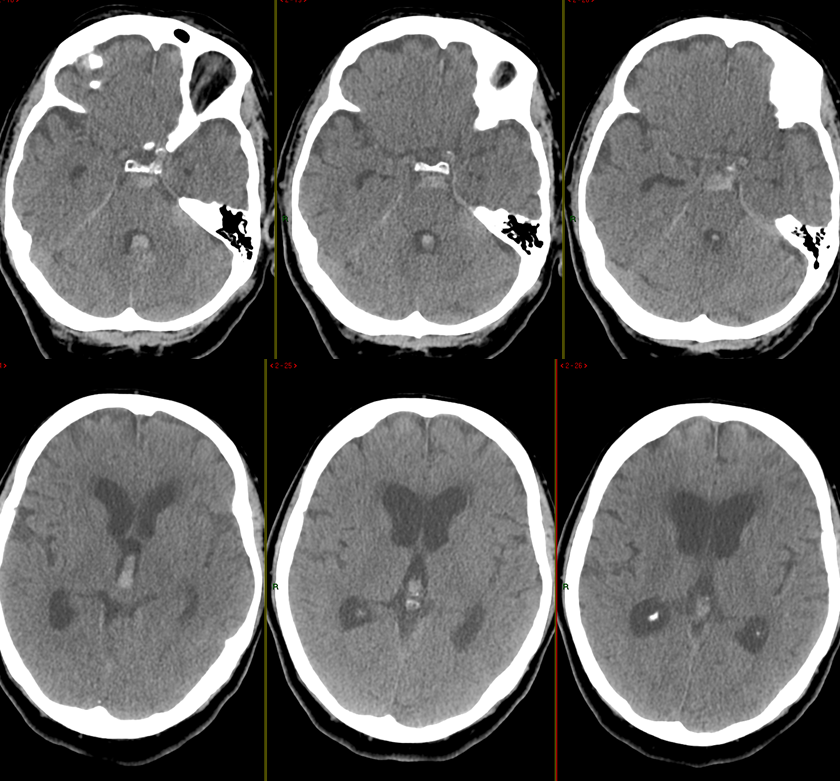 Vert injection is unrevealing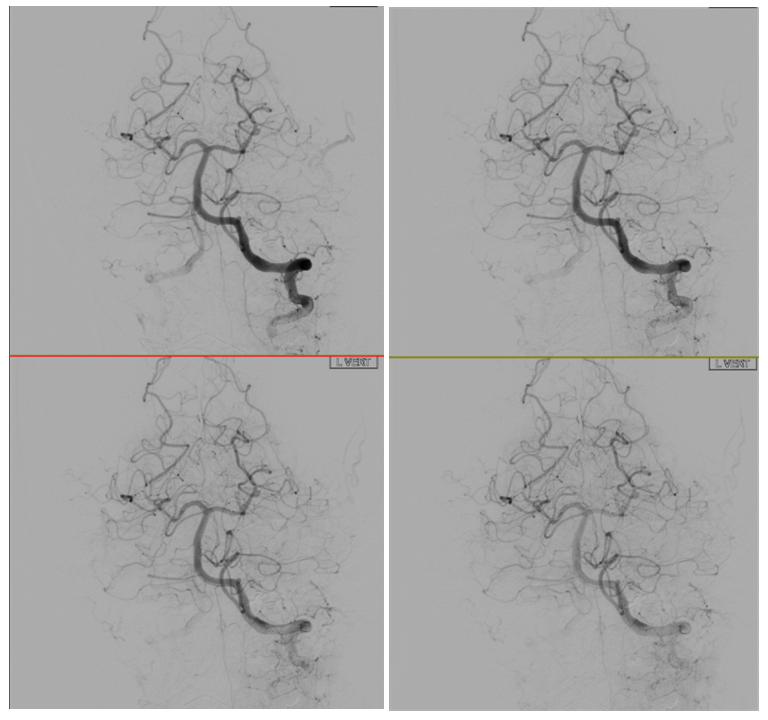 Never forget to check external carotids when you are doing an angiogram on a subarachnoid hemorrhage!  See anything?
Here are some helpful arrows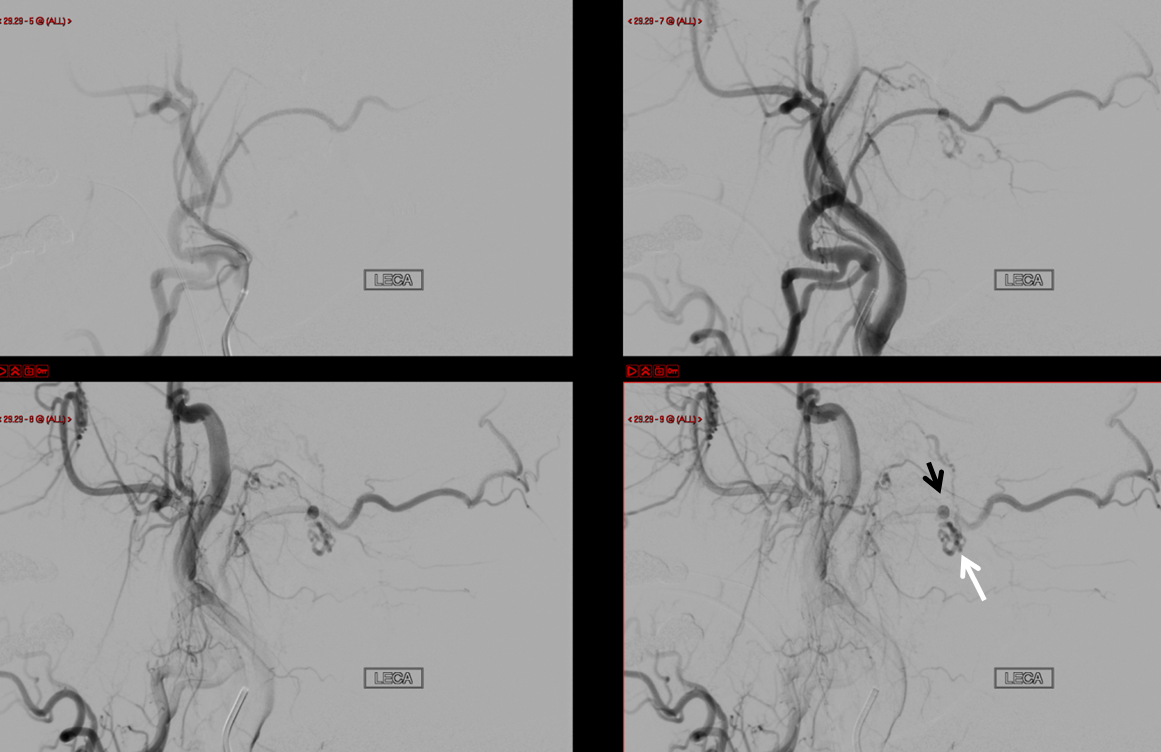 Which vessel is involved?  The one supplying the foramen magnum area. That would be the ascending pharyngeal artery.  Frontal views show the culprit aneurysm.  Venous drainage is via the vein of the lateral recess of the 4th ventricle (yellow) into the superior petrosal sinus (white) and sigmoid sinus (purple)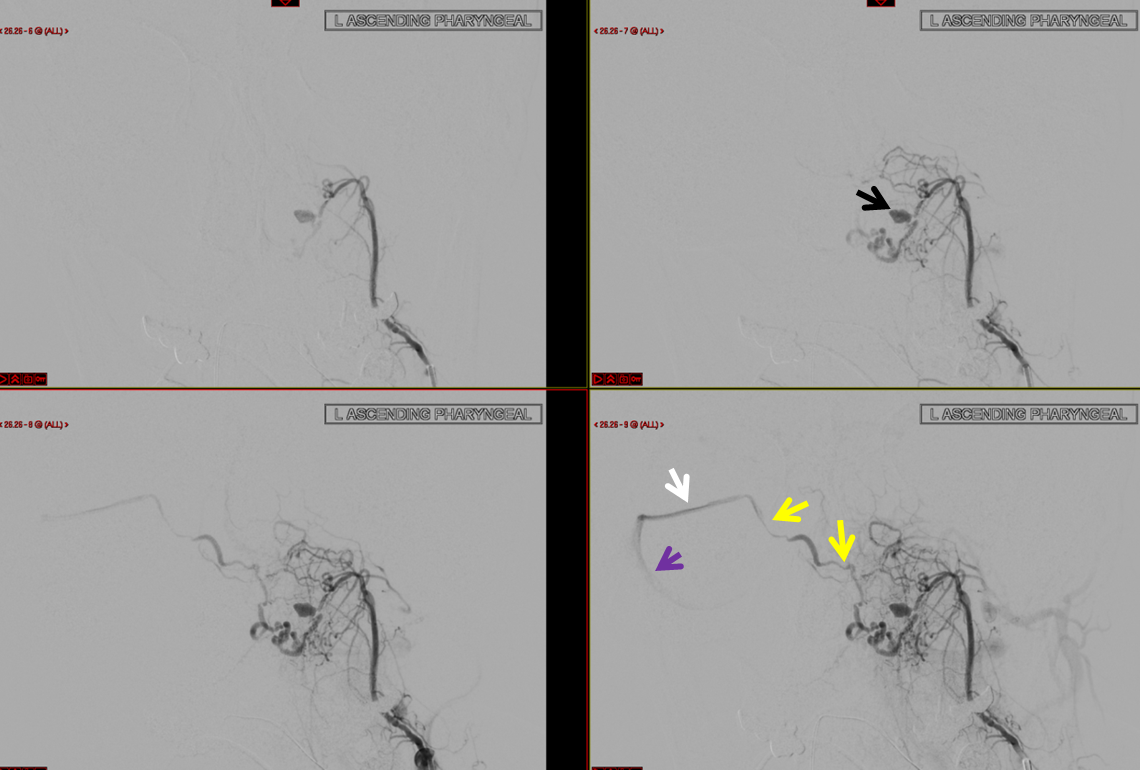 Lateral views. Pretty neat, right.  When its like this, diagnosis is easy — hypoglossal canal dural fistula with pial drainage and venous aneurysm rupture. What's hard is recognizing it on a global external injection (aside from having the knowledge to do an external injection and to make sure the imaging quality is good enough not to miss it — like having general anesthesia for example).  The location of the fistula with hypoglossal branch supply and proximal aneurysm make the diagnosis of hypoglossal canal dural fistula.
Where is the fistula location? It is most likely to be just proximal to the aneurysm, which is presumed to be on the very proximal venous side.  Penetration of embolic material into the aneurysm would represent reaching venous target.
Unsubtracted view
Getting there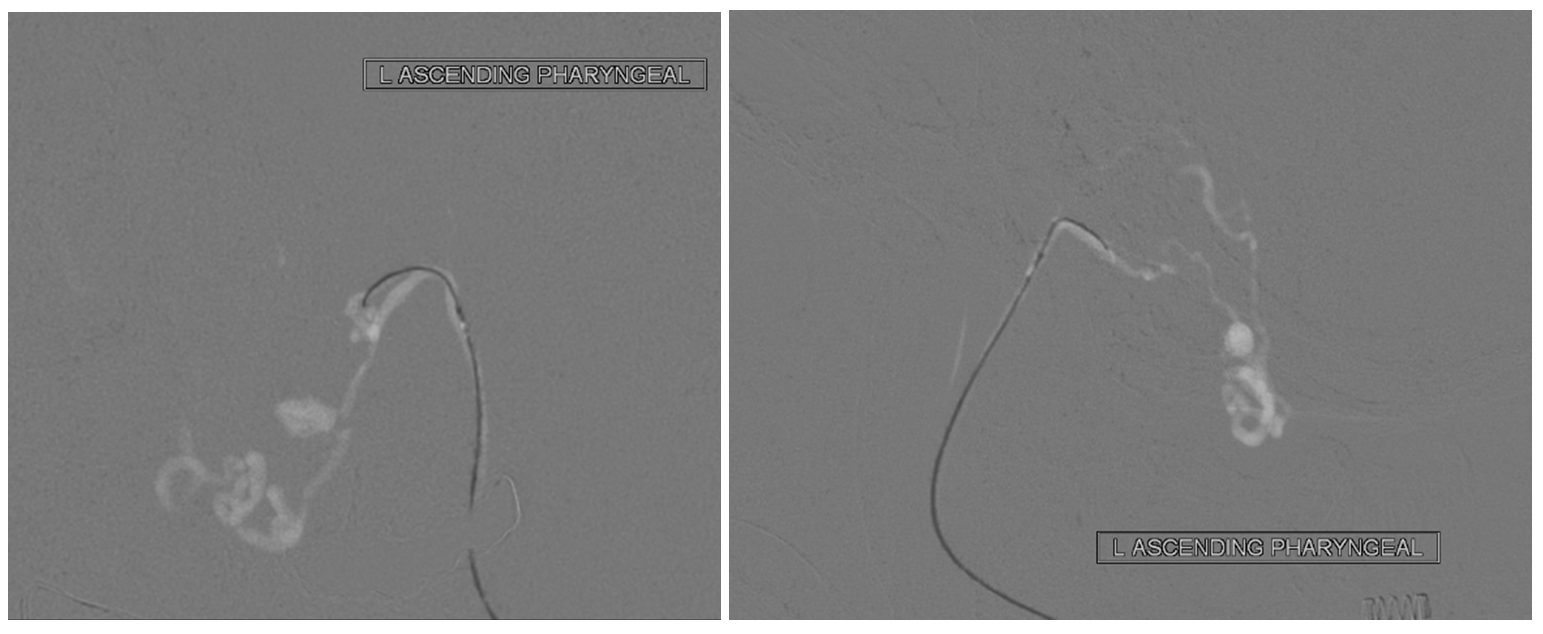 Frontal views from embolization position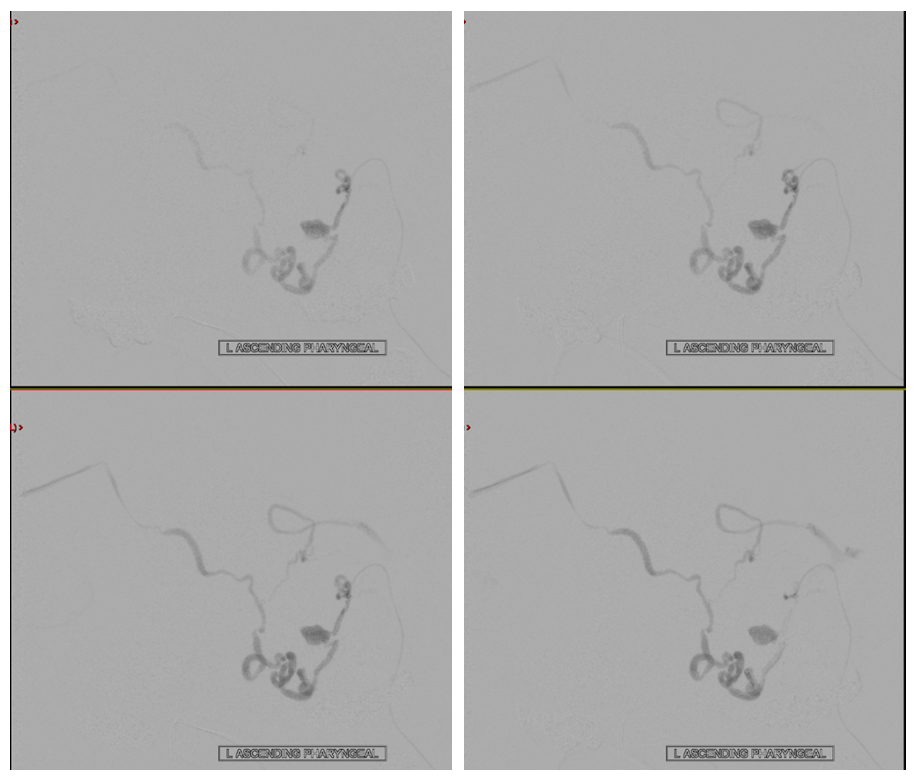 Laterals. This is a "wedge" position with flow arrest
Onyx cast penetrating well beyond the aneurysm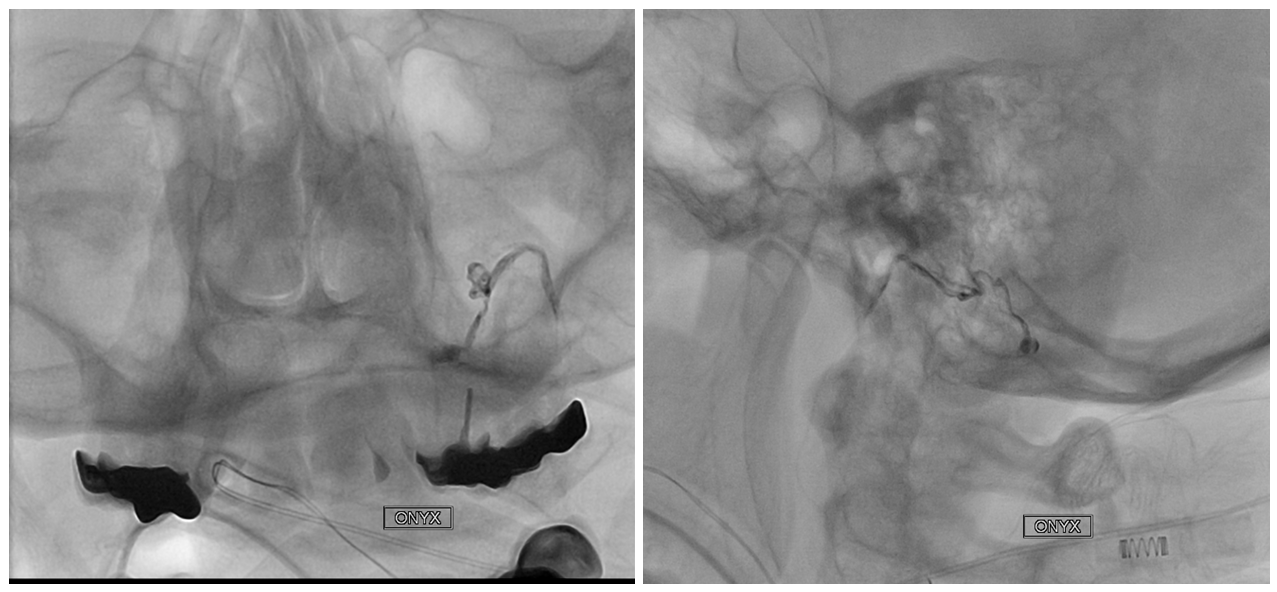 Post ECA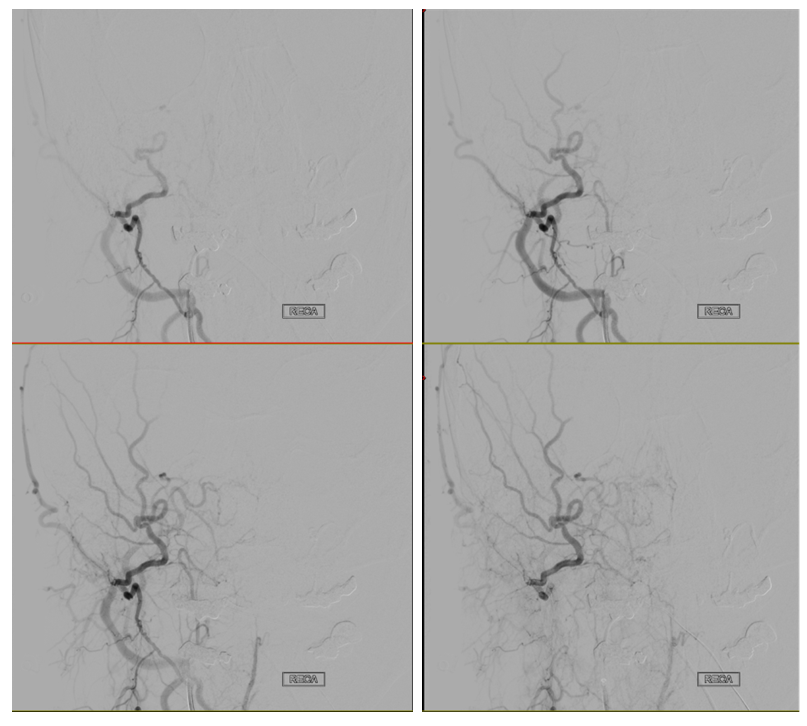 Post embo CT with beautiful Onyx cast in the hypoglossal canal arterial feeder, aneurysm, and venous network lateral to the medulla.  There was no CNXII or other issue after embolization. The location of Onyx in the hypoglossal canal and the adjacent venous aneurysm define this as a hypoglossal canal fistula for those who did not have access to angiographic material to make the same determination.  The proximal ruptured aneurysm is marked by red arrow. The aneurysm is located on the inner aspect of the hypoglossal canal, just where dural fistula is expected to be..  The slightly more distal venous ecasia reached by Onyx is marked by white arrow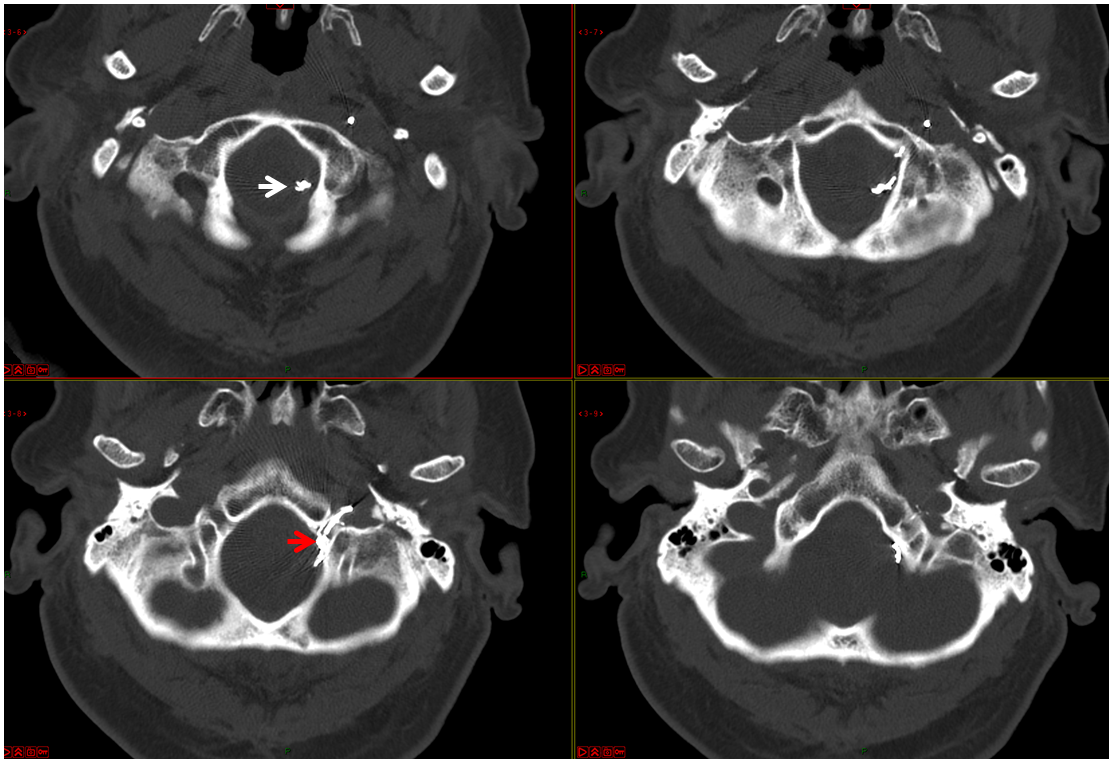 Follow up 6 months later, vert and ECA views.  Durable occlusion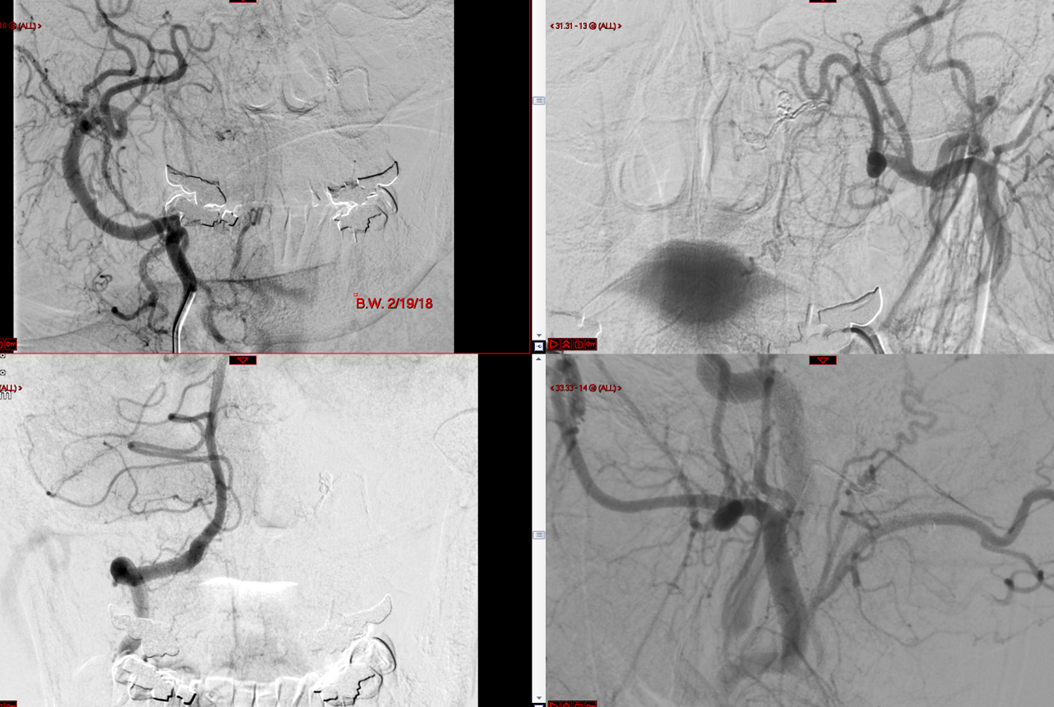 Neat, huh.  Dont forget to check those externals.  See companion case of foramen magnum dural fistula, supplied again by ascending pharyngeal (Case 2) They pretty much always are.
Also see Techniques Dural Fistula Embolization Page