Click here to join our mailing list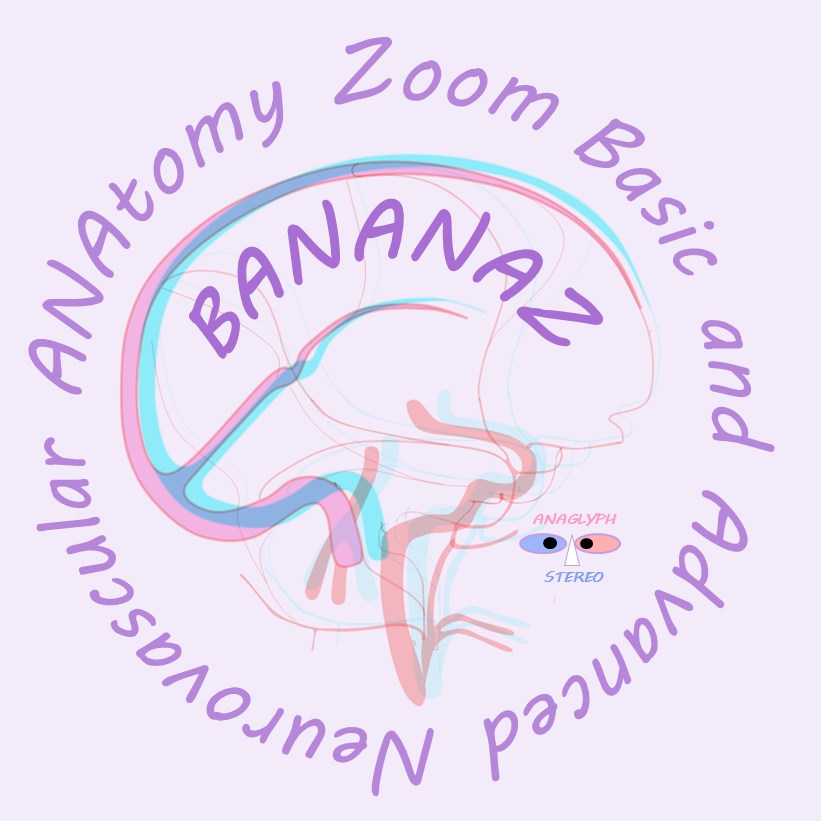 We had truly awesome cases and discussion in June 4th BANANAZ.  Thank you to all who came, and especially to our presenters Luca Quilici, Mohamad Abdalkader, Dodi Boccardi, and Hima Pendkarkar!  See recording of session on www.youtube.com/neuroangio
Basic and Advanced Neurovascular ANAtomy Zoom  — BANANAZ — is an online interactive meeting dedicated to neurovascular education.  We are not a passive experience webinar.  You can speak up, chat, and learn. 
The format is a combination of lecture / presentation given by BANANAZ core or guest faculty, followed by discussion and embo club format case presentations.  Anyone can submit cases for embo club — please email shapiro.maksim@gmail.com if you want to present. Cases should be 10-15 minutes long, to allow for discussion, which is really what this is about.
Past Events
2023
June 4th — embo club — Video Recording

Luca Quilici — lumbosacral epidural fistula
Mohamad Abdalkader — condylar osseous fistula
Dodi Boccardi — spinal pial fistula
Hima Pendkarkar — spinal AVM
Feb 26th — embo club — Video Recording

Drs. Michihiro Tanaka (spinal epidural fistula)

Sophia Janjua (parasagittal convexity / SSS fistula)

Dodi Boccardi (two direct CC fistulas 20 years apart, highlighting evolution of neurovascular treatments)

Tibor Becske (dorsal wall/blister pseudoaneurysm Pipe / retrograde PCOM coil)

and Guglielmo Pero (spinal micro avm / fistula).

Truly fantastic discussions for all cases!
2021
May 11th — embo club — no video — come and see
April 13th — embo club — no video — come and see
March 9th — Face Transplant and Delayed Aneurysmal SAH — Video Recording
February 9th — Intracranial Hypotension / CSF Venous Fistula and more — Video Recording
January 12th —  ABC-WIN Val d'Isere in Honor of session — cases / discussion —  Video Recording
2020
BANANAZ BITES
Finally, we periodically release some narrated videos of cases with good anatomical or other learning points, available on www.youtube.com/neuroangio channel.  Many more are found on the "Case Library" page
Questions, comments, feedback:  email neuroangio@neuroangio.org