Click here to join our mailing list
Join here

with Zoom on July 7th 8am EST for
Embo Club / Neurovascular Fellow Welcome Day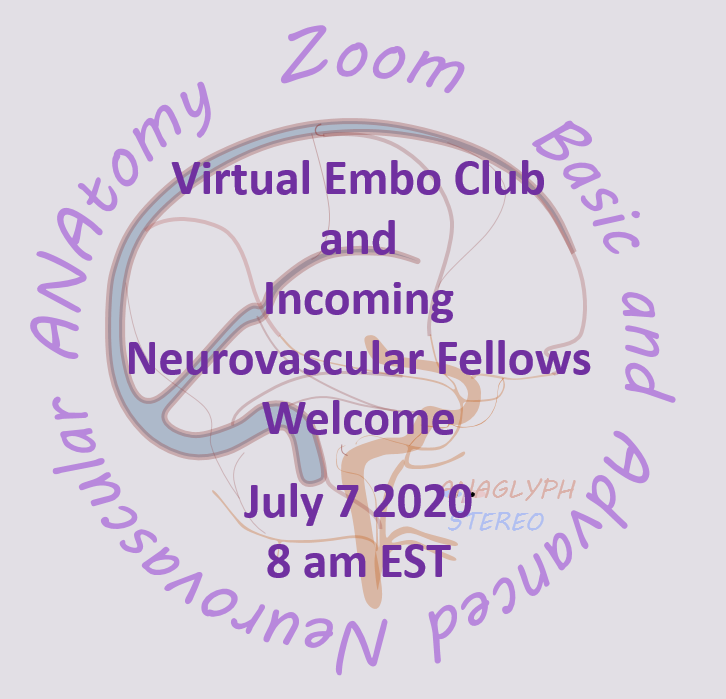 FEATURING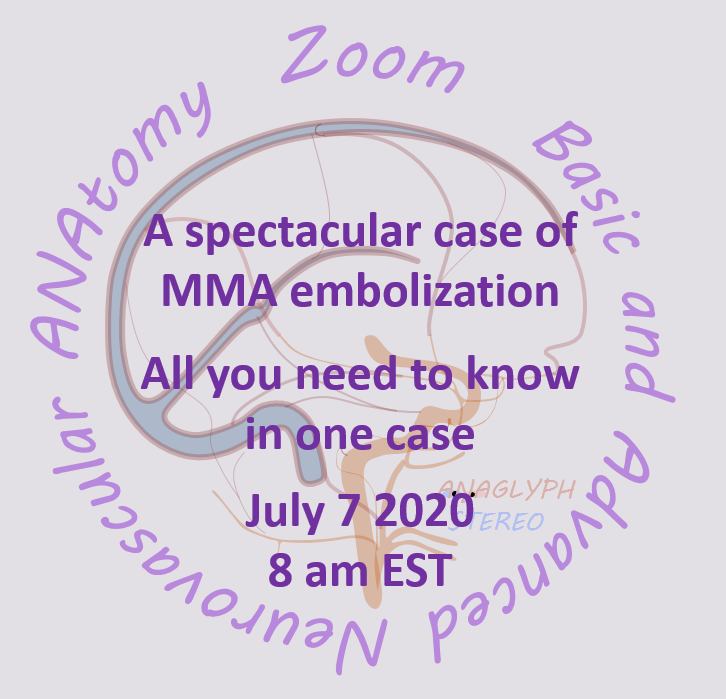 Basic and Advanced Neurovascular ANAtomy Zoom  — BANANAZ — is an online interactive meeting space for neurovascular education.  Anyone can join and learn.  The meetings are every Tuesday at 8 am — time is set to try to accommodate most habitable time zones on a spherical planet. 
There are two formats:
Virtual Embo Club is basically a meeting room for free format interactive presentations and discussions.  Anyone can present whatever they want — as long as its related to neurovascular.   Anyone can comment and discuss. Sessions will run every other week for ~2 hours.   Please email neuroangio@neuroangio.org if you want to present and let us know your topic so we can prepare for discussion.  Presentations should be 10-15 minutes long, to allow for discussion, which is really what this is about.
Presentation and Cases is a semi-structured event, with a 25-30 minute lecture on a du jour anatomical topic, geared towards neurovascular trainees (residents, fellows), followed by 25-30 min of cases highlighting the lecture topic and discussion.  The primary purpose is to discuss practical neurovascular anatomy.  Majority of lectures will be given by neuroangio.org core faculty, enhanced by guest appearances.   Topics are posted in the "Upcoming Events" section, and will loosely stick to a yearly July cycle.  If you have a case / illustration that fits the topic, you can email neuroangio@neuroangio.org and show it during the meeting
Recordings of prior Presentation and Cases meetings can be found on www.youtube.com/neuroangio
Upcoming Events
Tuesday, July 7th, 8-10 am EST — Virtual Embo Club / New Fellows Welcome
Tuesday, August 4th, 8-10 am EST — Anatomy Lecture and Embo Club Cases
Tuesday, September 1st, 8-10 am EST — Anatomy Lecture and Embo Club Cases
Past Events
March 31st — Virtual Embo Club Inaugural Meeting
April 7th — Superficial Venous System.  Video Recording  Group Chat Record
April 14th — Virtual Embo Club
April 21st — Venous Sinuses  Video Recording Group Chat Record
April 28th — Virtual Embo Club
May 5th — Cavernous Sinus  Video Recording
May 12th — Virtual Embo Club
May 19th — Deep Venous System Video Recording
May 26th — Virtual Embo Club
June 2nd — Posterior Fossa Veins Video Recording
June 9th — Virtual Embo Club
June 16th — Venous Aspects of Neurovascular Disease  Video Recording
June 23rd — Virtual Embo Club
June 30th — Neurovascular Fellows Graduation Day Video Recording
BANANAZ BITES
Finally, we have started to periodically release some narrated videos of cases with good anatomical or other learning points, available on www.youtube/neuroangio channel.  Many more are found on the "Case Library" page
Questions, comments, feedback:  email neuroangio@neuroangio.org